Sheldon Westcott Talks About His Fight, Who Shouldn't Be in the UFC & Boxing
February 10, 2012

Sheldon Westcott will fight this Saturday at AMMA 9 in Edmonton Canada. He is now 5-1-1 and will be facing a late replacement in Jay Jensen, who is 7-5. But Westcott wasn't always bound for MMA. In fact, if an accident hadn't taken place in high school, he probably never would have chosen to put on the gloves.
"I used to do track and field for Canada and I got hurt," Westcott told Bleacher Report MMA. "One of the guys I worked with at the time, he fought, had like 35 fights and he went come try it out, come try it out! In all honesty after I did my first fight I was absolutely hooked."
Westcott may fight now, but he still treats it with the same view that made him do track and field. It is a competition to him more then a fight. With his competitive attitude, it is the right fit.
That isn't to say that Westcott doesn't appreciate how MMA is different from other sports.
When asked if track and field compared to fighting, Westcott didn't hesitate in his answer.
"I've only experienced this feeling when I'm fighting," he said. "When you do any other sport you're not worried about getting punched in the face, you're worried about shooting the jump shot or sprinting as fast as you can. Yeah, losing is still there and no one likes to lose, but if I don't spell my p's and q's this guy is going to kick my head off! He's going to beat me up in front of three, five thousand people!"
The mindset may be different, but that is what Westcott loves. That love got him through his first loss and was so strong that he didn't even think of quitting after a such a rocky start.
"After that fight, I thought I won, one judge had me 30-27 and the other two judges had 29-28 (for his opponent)."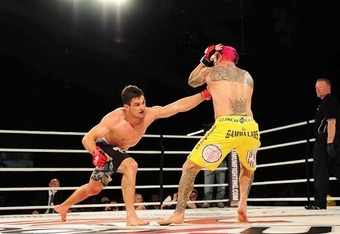 Instead of being broken-hearted over losing a split decision, which Westcott took only after six months of training, he saw it as a challenge. His first thoughts after the loss were different than many others' would have been.
"I need to get better. I'm a poor sport. I don't like to lose. I absolutely hate losing. It drives me that much to get better and not lose."
But Westcott's resolve was going to be tested. On his record, it shows that he didn't fight for a year.
It wasn't by choice.
Westcott mentions that he had about four or five opponents pull out on him before he found someone who ended up facing him. Finally, Jeff Kilisolsky signed to fight Westcott and showed up.
Westcott won by submission choke in the first round and after that things were easier.
That isn't to say there weren't bumps in the road. Westcott faced Thomas Denny at MFC 28 and came away with a draw. No fighter wants to walk away with anything other than a win, but it was especially agonizing because only two years before the fight, Westcott and a friend had watched Nick Diaz fight Denny.
After watching, Westcott made the claim that he thought he could beat Denny. Two years later, he got his chance and didn't get the win. He wasn't even sure he would get the rematch.
"I was like a crazy ex-girlfriend," he said. "I want this fight. As soon as the fight was done I asked for the fight."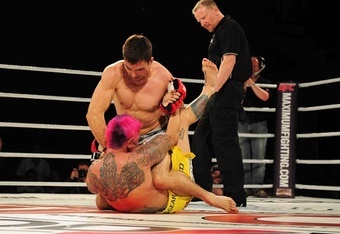 Westcott got his wish and won the rematch.
Westcott loves competition. That passion that won him the chance at a match and then the rematch itself bled over into boxing.
Westcott has actually competed in a four-round boxing match and did so while facing a heavyweight.
"I actually took a professional boxing fight in October," Westcott said. "I took it on three days' notice."
In an ironic twist, it was Westcott who was a replacement. His coach runs a promotion in Edmonton and his girlfriend boxes. Both came to Westcott and offered him the fight.
Westcott's response was a simple one.
"When?"
It was that weekend. Westcott admits that he was nervous before the bout, but went ahead anyway.
"I knocked him out in a minute or two."
Westcott isn't afraid to speak his mind, so when the conversation turned onto fighters in the UFC who don't deliver, he was vocal.
He wondered how Dan Stittgen had earned a contract with the biggest promotion in the world. Stittgen lost by KO in the first round at UFC 143.
"He (Stittgen) fought one guy who had a winning record, " Westcott told Bleacherreport MMA. "He fought nothing but bums and how the hell did that guy get into the UFC? I wasn't surprised that Stephen Thompson knocked him out, I thought he would have done it earlier."
Westcott even mentioned that he was willing to fight Stittgen either in the UFC or even in Aggression, the promotion he will fight for on Saturday.
Westcott believes in himself, which is why he is willing to take shots at fighters like Stittgen, boxing fights on short notice and even opponent changes for his MMA fights.
Because as a competitor and someone who had done track and field, he knows he can go the distance.
When asked about wanting a UFC contract, Westcott maintained his confident demeanor.
"I'll make it there, it's just a matter of time."
If he keeps winning fights and improving, he certainly will.
And with his attitude, he might just become a fan favorite as well.