2012 NBA Draft: 5 Seniors on the Fringe of the First Round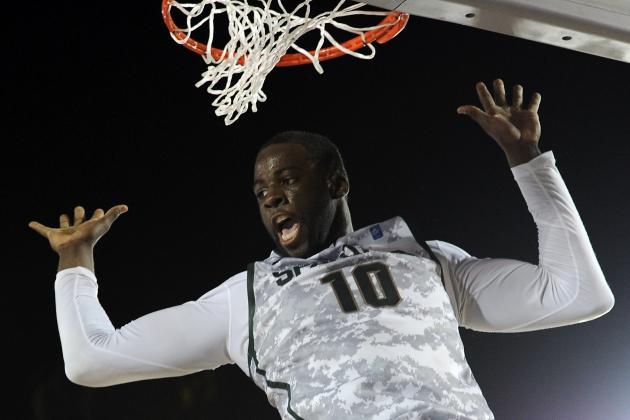 Harry How/Getty Images
Michigan State PF Draymond Green
Over the past years, underclassmen have been at the forefront of the NBA drafts. GMs and scouts salivate over the "potential" and "upside" in a kid who has been in college for a season or two.
Left in the rear-view mirror are the seniors who have given it their all over four years. Some have cemented legacies at their schools, while others have proved to be true and great winners.
In 2011, seven seniors were drafted in the first round. Of those seven, six were taken with the 21st pick or later.
The year before that, five seniors were taken in the first round. All five of those seniors were drafted with the 23rd pick or later.
It has become a common scenario for seniors to drop into the later half of the first round.
For these guys listed in the slideshow ahead, let's hope seniors being drafted in the first round doesn't become extinct.
Begin Slideshow

»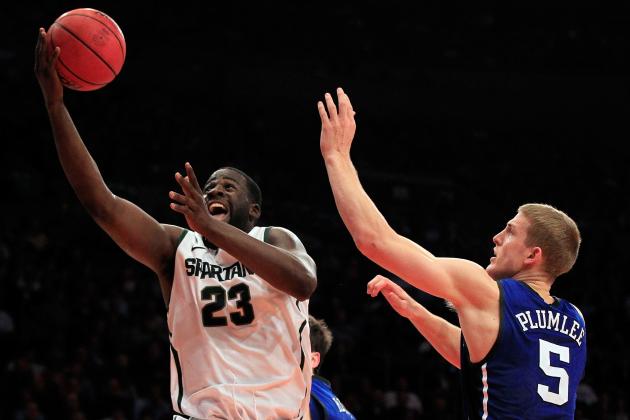 Chris Trotman/Getty Images
Michigan State PF Draymond Green
Michigan State Spartans Power Forward Draymond Green: 6'7" , 230 pounds, 21 years old
This double-double machine is the heart and soul of a Spartans squad that has shot up national rankings since beginning the season unranked.
Now at No. 11 (AP Ranking) in the nation, with a record of 19-5, Draymond Green has his team moving in the correct direction.
After having an injury scare on January 31st against Illinois in a heartbreaking one-point loss, Green responded with a monstrous 14 point, 16 rebound game against Michigan State's in-state rival, Michigan.
In that game, Green, by himself, had the same amount of rebounds as the entire Wolverine team did.
A small forward in a power forward's mold, Green has the strength and build to bang around underneath the basket.
But does he have the height?
He has the competitiveness and fire to get the job done, but will scouts and GMs worry too much about his stature?
NBA Comparison: Brandon Bass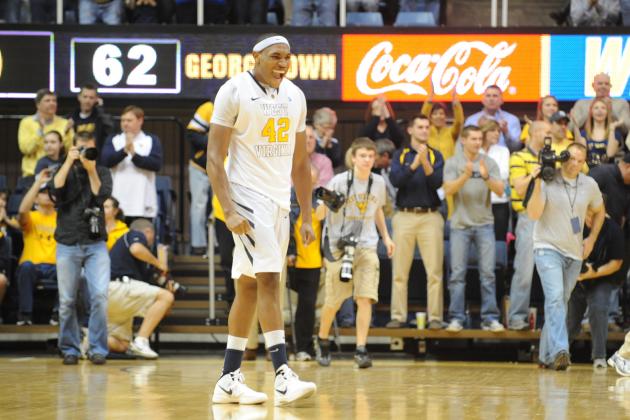 Mitchell Layton/Getty Images
West Virgina PF Kevin Jones
West Virgina Mountaineers Power Forward Kevin Jones: 6'8" , 260 pounds, 22 years old
Kevin Jones, one of only two seniors on a heavily-loaded freshman roster (nine total), is the main reason this Mountaineers squad has a chance at an NCAA tournament berth.
While easily leading his team in points per game (20.6) and rebounds per game (11.2), Jones' leadership and selflessness are other reasons why this young Mountaineer unit is doing as well as they are.
His points and rebounds per game aren't just good for first on his team, they have him leading the entire Big East in scoring and rebounding.
Could be possibly be a consideration for Big East Player of the Year if he continues this tremendous performance through the Big East tourney and possibly NCAA tournament time?
You bet.
NBA Comparison: Lighter version of DeJuan Blair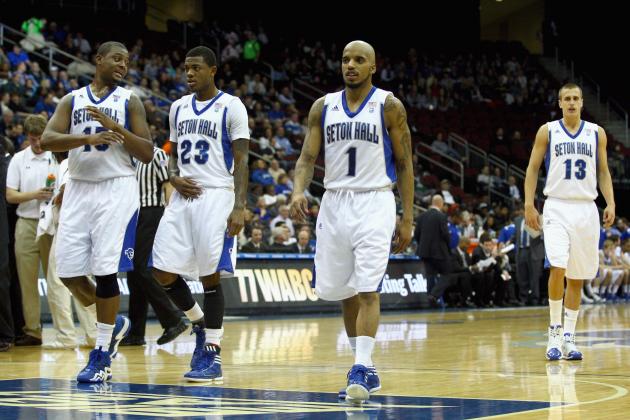 Chris Chambers/Getty Images
Seton Hall PF Herb Pope
Seton Hall Pirates Power Forward Herb Pope: 6'8" , 233 pounds, 23 years old
Coming off of a horrific junior season, Herb Pope had other ideas for his senior year.
His junior campaign consisted of 9.8 PPG and 7.9 RPG.
This season his numbers jumped to 15.7 PPG and 10.3 RPG (good for second in the Big East behind none other than Kevin Jones).
Rebounding is the focal point of his game.
Extremely strong, he could still afford to lose some weight.
His jump shot is inconsistent, but this is a guy who lives underneath the basket.
He dominates the offensive glass.
NBA Comparison: Ronny Turiaf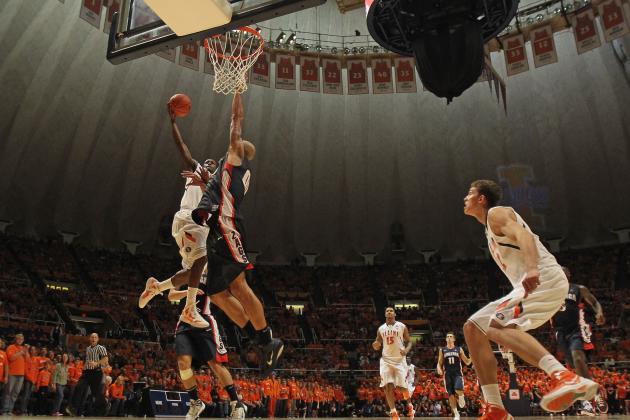 Jonathan Daniel/Getty Images
Gonzaga C Robert Sacre
Gonzaga Bulldogs Center Robert Sacre: 7', 260 pounds, 22 years old
Your typical NBA seven-footer, Robert Sacre is one scary dude. Inked and tatted, Sacre provides defensive prowess and a great back-to-basket offensive game.
For a man with his height and attitude, he should be raking in more than 6.6 rebounds per game.
His free-throw shooting has come down from last year, but shooting 77 percent from the charity stripe for someone his size is still extremely impressive.
When given time he can nail outside shots. He's someone who should take advantage of his height and size against smaller centers and power forwards.
If he can somehow find a nasty demeanor to play with, Robert Sacre could easily find himself selected in the late first round.
NBA Comparison: Spencer Hawes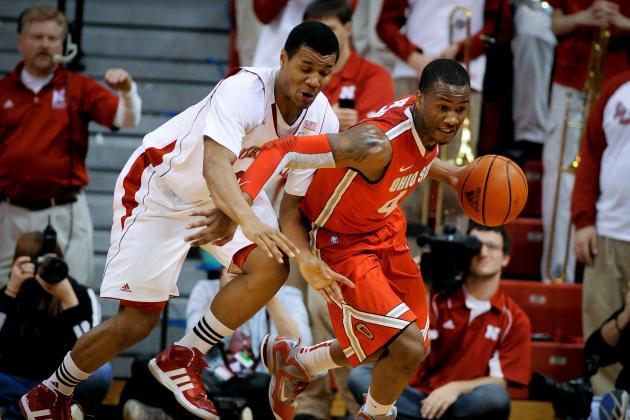 Eric Francis/Getty Images
Ohio State SG William Buford
Ohio State Buckeyes Shooting Guard William Buford: 6'5" , 210 pounds, 23 years old
William Buford does all of the little things to be successful.
Second on the Buckeyes in scoring, Buford's three-point shooting has diminished since last season.
I don't know if it's because teams know he is more of a threat this time around or if he is just off this season. But one thing is for sure, he owns a mean jump shot.
Standing at 6'5" and weighing in at 210+ pounds, along with his strength, makes him a dominant shooting guard.
As a defender he riles opposing players with his gritty defense and disruptiveness.
However, he will need to work on his passing to be successful.
NBA Comparison: James Harden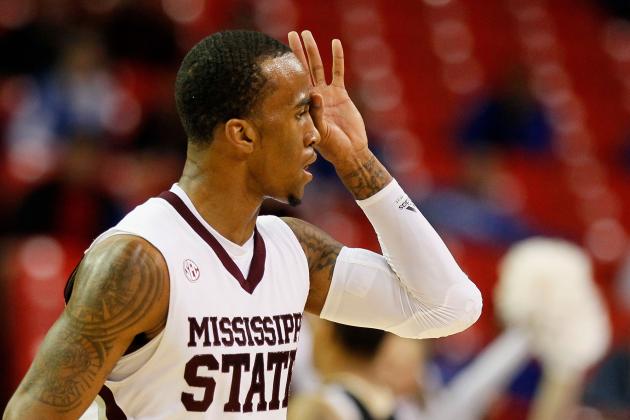 Kevin C. Cox/Getty Images
Mississippi State PG Dee Bost
Center Henry Sims (Georgetown Hoyas)
Considered the "best passing big man in the NCAA," Sims averages 3.6 assists per game to go along with his phenomenal free-throw shooting.
Small Forward Jeffrey Taylor (Vanderbilt Commodores)
A new and improved jump shot that extends beyond the arc is keeping Taylor in the first-round bubble discussion.
Center Reggie Johnson (Miami Hurricanes)
Using his physicality to his advantage, this mobile 300+-pound center could be a menacing rotation guy for any NBA squad.
Point Guard Dee Bost (Mississippi State Bulldogs)
Gets into the lane with ease. This 6'2" point guard from Miss. State must have a monster run showing off his jumper if he wants to sniff the guaranteed money.