Was Capello a Failure as England Manager?
February 9, 2012

Michael Regan/Getty Images
Lots of English journalists would have the world believe that Fabio Capello was a fraud, that he inherited a group of brilliant players and failed to get the best out of them, and he stuck £6m a year into his back pocket at the same time.
I simply don't think it's true.
Let's start at the top.  The money can be put to one side, it was the FA who decided that an international manager should receive £6m a year, not Capello.  It was a ludicrous wage to offer for what amounts to a part-time managerial role.  So I'd like to not mention money again, it has no bearing on the abilities of Capello whatsoever.
Capello was selected from fine stock.  His CV is magical; his medal cabinet at home must be bulging.The man has a pedigree of winning, albeit much of his success is based on Italy.  Now, maybe that's an issue, but surely an issue the FA should have taken into account before appointing him?
When we look back on Capello's England stint we will see two things in his favour, and that is our qualification for both major tournaments that he set-out to qualify for.  Bear in mind that we did not qualify for Euro 2008, and so the first tick on Capello's 'to do' list can be applied. 
The failure to qualify for Euro 2008 is a key point to note, because that was overseen by an Englishman, a person deemed to be more than qualified at the time to take us forward.  His appointment came after the expensive dismissal of another high-profile foreign manager in Eriksson.  Again, another manager with a large cabinet full of medals from success in Italy primarily.  Again...what is the FA criteria for an impressive CV?  It would seem that success in Italy features highly on this notional list.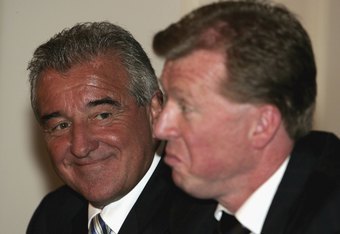 Phil Cole/Getty Images
So, Capello comes into the England fold and what happens?  We're looking at 42 games played, a win percentage of 66.7 in those games, and an average of over two goals per game, and 16 clean sheets kept.  In fact, his win percentage is far, far higher than that of the most recent 'legend' of England managers, one Terry Venables, who posted a win percentage of just 47.8 across 23 games.
It's an interesting anomaly really, how win percentage across many games is obviously the staple of successful league managers. It's not, however, the biggest strength for international managers, who must master the art of winning big games.  Capello has been to enough finals to show that he can win big games, whereas I'm not sure Redknapp can point to the same record at Spurs.  Lots of draws, some wins, but really only the 2008 FA Cup with Portsmouth as a 'big game' trophy win in his entire managerial career.  He also win the Intertoto Cup, but come on...
If you factor in the 42 games he has managed England, and look at those games where England have been unable to win the game, the list reads as such (in chronologial order):
France (a) 0-1 LOSS (Mar 2008) Friendly
Czech Republic (h) 2-2 DRAW (Aug 2008) Friendly
Spain (a) 0-2 LOSS (Feb 2009) Friendly
Holland (a) 2-2 DRAW (Aug 2009) Friendly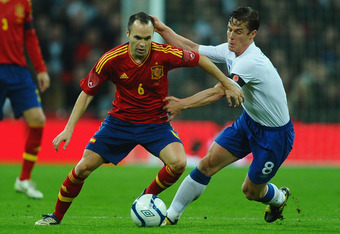 Laurence Griffiths/Getty Images
Ukraine (a) 0-1 LOSS (Oct 2009) Qualifier
Brazil (a*) 0-1 LOSS (Nov 2009) Friendly
USA (a*) 1-1 DRAW (Jun 2010) Tournament
Algeria (a*) 0-0 DRAW (Jun 2010) Tournament
Germany (a*) 1-4 LOSS (Jun 2010) Tournament
Montenegro (h) 0-0 DRAW (Oct 2010) Qualifier
France (h) 1-2 LOSS (Nov 2010) Friendly
Ghana (h) 1-1 DRAW (Mar 2011) Friendly
Switzerland (h) 2-2 DRAW (June 2011) Qualifier
Montenegro (a) 2-2 DRAW (Oct 2011) Qualifier
So, only losses to Germany, France, Spain, Brazil and away to the Ukraine.  Is that so bad?  As opposed to the times we used to beat everyone?  When was that again?  Even in our recent halcyon history we STILL lose to the likes of Germany in 1996, and again in 1990 (though we also lost to Italy in the third place play off as well). And even then we're talking about going back to 1970 when we lost to Brazil, before we find ourselves back in 1966.
This is the obvious problem we have, this amazing ability to ignore facts and reminisce about past glories like they were only last week, like nothing has changed.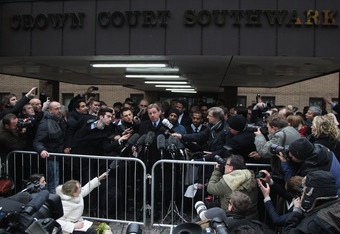 Dan Kitwood/Getty Images
Do the Uruguayan press put undue pressure on their national team because they've won the World Cup twice?  No, they don't. They support and back the team and understand that they are a country of 4 million citizens and cannot match the likes of Brazil in terms of sheer numbers and finance to develop the game.
France won the Cup in 1998, but their press is far less rabid than ours when it comes to pressuring the national team, far, far less.  They have expectations, they have hopes, but they have realism.
People will argue that English players are better than Uruguyan players, or French players. Or that the Premier League's financial success gives us a right to declare that we have an advanced footballing set-up and that we are ready and willing, and damn it we deserve to win the World Cup. 
Unfortunately, that's how ignorant and pompous we are now, especially our media, the likes of Patrick Barclay, Martin Samuel and Oliver Holt, though quite what authority they have to lecture any of us on football is a mystery.  And the desperate thing about it is that not only do the fans read and believe that we can and should win it, but the players also grow up on this diet of mania, and also believe it to be true. They believe they are already good enough but just need the right manager, the right system or the right captain.  No boys, no.  You're not good enough, not as a unit, and mostly not as individuals, you just aren't quite as good as the rest of the big countries in Euro 2012. 
We beat Spain 1-0 recently and the nation rejoiced.  But it felt so hollow; it felt like we were Wrexham and had just sneaked a 1-0 victory over Arsenal in the FA Cup.  Yes, it happened, yes it felt good for short while, but only a fool would believe we could repeat that result with any regularity.  We would lose to Spain 8 times out of 10 at the moment.  Germany, perhaps 7 out of 10.  Holland, again 7 out of 10.  Even Portugal, even France, we'd lose more times than we'd pick up points.
It really is time to take our heads out of the sand.  Capello didn't win us the World Cup, no.  Well done Oliver Holt, we were disappointing, yes, but I'd be pointing fingers at the application of key players before I ever picked on a coach like Capello.  Why should Rooney get away with it?  Why should Gerrard get away with it? Lampard, Terry, Cole?  Well, if you look at who writes the autobiographies of some of these players, and who writes the headlines after England losses, then you may have a better idea of how things work.
As for Euro 2012, we're about to face three teams in the group stage, and we've recently lost to two of those teams (France and Ukraine) and won 1-0 against the other (Sweden).  That's the way it is.  Accept it or suffer the acute pain of another generation of massive expectation and disappointment.