UFC on FX 2: Martin Kampmann vs. Thiago Alves Breakdown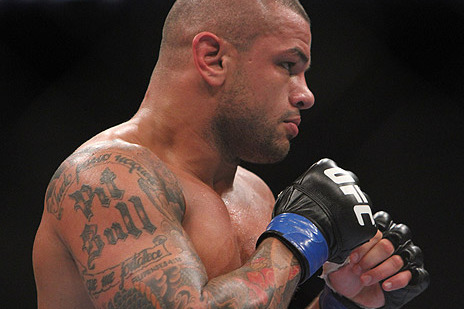 Scott Peterson/MMAWeekly
In early-March, two talented welterweights will meet in the main event of UFC on FX 2, and attempt to reclaim their spots as top 10 fighters in the division.
Considered 170-pound champion Georges St-Pierre's biggest threat in mid-2009, Thiago Alves lost three out of four fights, and dropped out of the top 10 welterweight rankings altogether.
At UFC 138, Alves bounced back with a submission win over Papy Abedi. The Brazilian will now hope to earn consecutive victories for the first time since October 2008, by beating Martin Kampmann.
With wins over the likes of Carlos Condit and Paulo Thiago, Kampmann was nearing contender status as he headed into a fight with Jake Shields in October 2010. However, the Xtreme Couture product then suffered back-to-back setbacks, in controversial losses to Shields and Diego Sanchez.
If he can follow up a bounce-back win over Rick Story with a victory over Alves, Kampmann would be well on his way to becoming a serious title threat.
Undoubtedly, this will be a pivotal fight for both Alves and Kampmann, so let's see which fighter has a better chance at picking up a second straight win.
Begin Slideshow

»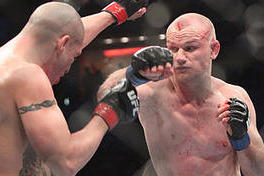 Ken Pishna/MMAWeekly
Striking
Martin Kampmann began his MMA career as a dangerous striker, recording knockouts in five of his first six victories.
However, despite working with Ray Sefo at Xtreme Couture, Kampmann hasn't been able to display that same knockout power against elite competition. In 13 UFC fights, Kampmann has only stopped one opponent with strikes.
Thiago Alves, meanwhile, has finished several opponents inside the Octagon with his dynamic striking game. At one point, Alves went on a run of five straight knockout victories, including a flying knee that finished welterweight legend Matt Hughes.
While Alves may possess greater knockout power, Kampmann is equally skilled on his feet. Though he has a greater chance of having his chin tested by a big shot, Kampmann could very easily outstrike Alves if he avoids eating any knees from the Brazilian.
Edge: Push
Chin
In 27 career fights, Alves has only been knockout out by an unexpected up-kick from Jon Fitch. Against Kampmann, Alves probably won't have to worry about being knocked out, but he will have to try to press the action and disallow the Danish fighter from being able to use a reach advantage.
Kampmann's three knockout losses have come against powerful strikers, but that is a category that Alves falls under. While he did withstand some big shots from Diego Sanchez, Kampmann will want to avoid leaving himself open as much as possible against Alves.
Edge: Alves
Takedowns/Takedown Defense
Against Jake Shields and Sanchez, Kampmann was able to completely shut down his opponents' takedown attempts. Even though he came out on the losing side of those fights, Kampmann proved that he has made major improvements in his wrestling.
Alves surprised many by defending the takedowns of Josh Koscheck in October 2008. However, Alves was unable to stay on his feet in his following two fights, against Georges St-Pierre and Jon Fitch.
While he may be able to prevent Kampmann from taking this fight to the ground on most occasions, Alves hasn't appeared to be the fighter he was when he beat Koscheck, possibly the result of a knee injury suffered prior to his fight with Fitch.
Considering his constant improvement in the wrestling department while training at Xtreme Couture, don't be surprised if Kampmann finds a way to take this fight to the ground at least once.
Edge: Kampmann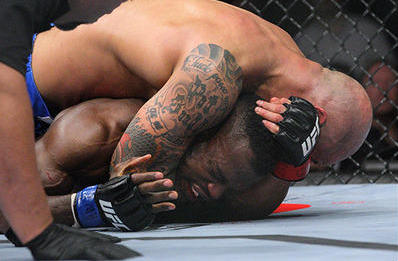 Lee Whitehead/MMAWeekly
Grappling/Positioning/Control
Martin Kampmann has never been controlled on the ground in his MMA career. Any time opponents have attempted to take Kampmann down, he has either caught them in a guillotine choke, or stuffed their attempt with balance and the help of the cage.
When fighters are able to take Thiago Alves to the ground, they are usually not threatened by anything the Brazilian has to offer. Many fighters have trouble with Jon Fitch on the ground, but Alves was unable to do much of anything underneath the American Kickboxing Academy product in their second meeting.
If he finds a way to take Alves to the canvas, Kampmann should put himself in a much better position to win this fight than he would be on his feet.
Edge: Kampmann
Submissions/Submission Defense
Though Alves has recorded two submission victories in his career, one came due to strikes and the other came after rocking UFC newcomer Papy Abedi. Considering Kampmann has never been submitted, there is little chance of Alves winning this fight via submission.
Although he hasn't been submitted since October 2005, three of Alves' eight career losses have come by submission, and few have threatened the Brazilian with submission attempts since.
If Kampmann, who has four submissions under the UFC banner, finds himself in a dominant position, expect him to try to finish this fight with a choke of some type.
Edge: Kampmann
Ground Striking
In all likelihood, Alves isn't going to want to go to the ground with Kampmann. Even if he does, we haven't seen enough of the Brazilian's ground game to assess his ground and pound.
Should Kampmann take Alves to the canvas, he will most likely focus more on maintaining the top position and working toward a submission, rather than posturing up and striking.
In short, ground striking probably won't be much of a factor in this matchup.
Edge: Push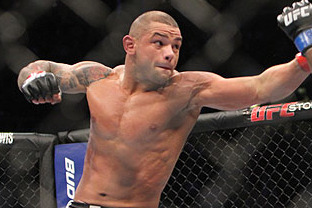 Ken Pishna/MMAWeekly
Experience/Game Plan
Training out of their respective fight camps at American Top Team and Xtreme Couture, Thiago Alves and Martin Kampmann both have excellent trainers and coaches behind them.
Additionally, Alves and Kampmann have each been competing in the UFC for more than five years, and went toe to toe with some of the best welterweights in the world during that time.
Expect both fighters to come well-prepared, and unaffected by the magnitude of this fight.
Edge: Push
Strength/Quickness/Reach
Kampmann possesses a slight reach advantage over Alves, but the Brazilian is more physically imposing in almost any other category.
Alves is a very large welterweight, having had trouble making 170 pounds multiple times before teaming with Mike Dolce. Despite his elevated strength in comparison with other fighters in the division, Alves is also very quick and agile at welterweight.
In order to win this fight, Kampmann will have to rely on his technique to overcome Alves' pure athleticism.
Edge: Alves
Conditioning
While Alves does have a size advantage over Kampmann, his need to cut weight to compete at 170 pounds has its effects in the later rounds of his fights.
Whereas Alves has faded in the later rounds of some fights he went on to lose by decision, Kampmann never seemed to slow in his past four fights, which all went a full three rounds.
Out of his eight fights that have reached the third round, Alves has only won half of them. Meanwhile, it could be argued that Kampmann should have won every single one of his fights that have gone the distance.
Edge: Kampmann
Lee Whitehead/MMAWeekly
While Thiago Alves has the power to put Martin Kampmann away, most of the Brazilian's previous knockouts have come against opponents attempting to completely avoid the striking game.
Against Kampmann, Alves could actually be at a disadvantage in the technical aspect of striking. Thus, Kampmann should be able to use his reach advantage and work with Ray Sefo to bait Alves into thinking he has no interest in going to the ground.
Once he has Alves thinking about his hands, Kampmann should be able to shoot in for a takedown without having to worry about his opponent sitting back and waiting to catch him with a knee.
Even if Kampmann isn't able to take Alves down, he has a good chance of out-striking his opponent for three rounds and earning a decision victory. If Kampmann does take Alves down even once, don't be surprised if Alves suffers his first submission loss since his UFC debut against Spencer Fisher.
Kampmann defeats Alves by submission (rear-naked choke) in the third round.