Sacramento Kings: An Open Letter to the Fans of Sacramento...
February 10, 2012

Brett Deering/Getty Images
Dear Sacramento Kings' fans,
As a Seattle Supersonics fan it pains me to reach out to you under these circumstances, but it would seem that someone wants to steal your team and transplant them in Seattle.
More than anyone, I would love to see professional basketball return to Seattle, but not like this.  I've been through the pain of losing a team and can honestly say that it never really goes away.  
Each passing season it dissipates a bit, but the gap between football and baseball seasons makes you wonder that you potentially missing something that everyone else gets to enjoy. The winter becomes just a bit colder, and the rain and wind sting just a bit more.
Ultimately, I warm my heart with the thought that Spring Training will be here sooner rather than later, and while the Mariners are hardly world beaters, they are better than nothing.  Yet it chills me to think the only way to fill that void is through the suffering of others by stealing Sacramento's team.
Which leaves me to wonder what becomes of you if the Kings were to leave?
Perhaps that's what saddens me most for your plight.  Sacramento may be a state capitol, but the odds of getting another team in any sport, let alone basketball, seem slim.  Please understand this is not meant to slight you or the city of Sacramento, but to help others understand the ramifications of what could happen.
For you there are no Mariner or Seahawk games to bridge the gap for the other nine months of the year. Meanwhile, you understand what will happen next, right?
"Why not root for the Warriors?"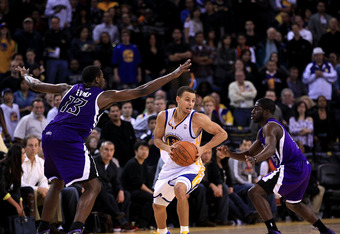 Ezra Shaw/Getty Images
People will offer this ridiculous bit of advice to you the same way others figured Sonics' fans would simply decide to root for the Trail Blazers.
It's nonsense.  You live and die with your team each season, how can you possibly change your allegiances?
Don't.
Stay strong.
Do whatever you can to remain loyal to the cause.
Whatever happens on March 1st, don't give up.
Rest assured, David Stern will not save you, but understand that he ultimately holds the cards.  
Statements like the following are simply not reassuring...
"Obviously, we certainly have been supportive of Mayor Johnson's efforts with respect to the building, and we sure would like to see that happen," Stern added, referring to Kevin Johnson, a former NBA player. "But we cannot guarantee or (assume) it, and we'll have to deal with the realities as we find them."
Translation: Placate the emperor with a palace and your kingdom will be saved.  
It's sad, but true.  You shouldn't have to give in to tyrants, but building a monument of greed is your best chance.  Just hope you don't get stuck with the bill...
Hopefully Mayor Johnson will deliver the assist you need to stay in the game and ultimately keep the team in Sacramento.  Replacing the Sonics with the Kings only shows that two wrongs will not make a right.  Instead it potentially opens up a Pandora's box that will allow any owner in the league to hold a city hostage until their demands are met, otherwise they can simply cry foul to Commissioner Stern to get his blessing on a move.  
Sadly I see no end to this cycle and believe that until Stern either leaves or gets a hold of his senses, this will only be the beginning of the end for quite a few franchises.  I suppose only time will tell...
Good luck Sacramento!