Who Should Los Angeles Dodgers Fans Want as Their Next Owner?
February 9, 2012

Kevork Djansezian/Getty Images
Details continue to emerge regarding the pending sale of the Los Angeles Dodgers, the most recent report coming from the Los Angeles Times, listing Memphis Grizzlies owner Michael Heisley as a candidate to replace Frank McCourt as the team's owner.
This comes on the heels of another Los Angeles Times report earlier this week that Donald Trump's son-in-law Jared Kushner, he of the Kushner family real estate empire, was also bidding on the team.
The addition of the 31-year-old Kushner's reported bid and now Heisley's pushes the list of potential buyers preliminarily approved by Major League Baseball up to 11.
Each brings their own unique set of qualifications to the table, chief among them being money.
Of course, thanks to McCourt and all his legal and financial troubles, money may ultimately decide who gets the team, as the league has agreed to let him choose the next owner from their approved list.  Does anyone think McCourt is going leave a single dollar on the table?
In any case, even if the new ownership group does have plenty of money to spend, that doesn't mean they are necessarily going to spend it in a way that translates to on-field success.  Just ask any Orioles fan.
Some owners are content to rake in the profits from cable deals and revenue sharing even if it means consistently fielding a losing team.  Others have a win-at-all-costs mentality, believing that the end (winning) justifies the means (spending).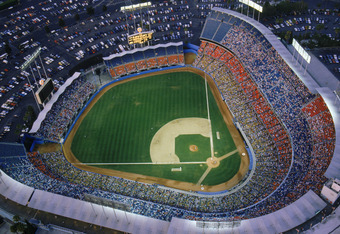 Getty Images/Getty Images
This being Los Angeles, the former won't fly here.  L.A. expects a winner, and they won't settle for anything else.
So who should Dodger fans want as their next owner?
Here's a look at each of the candidates, ranked in order from least to most desirable.
11. Michael Heisley, Owner, NBA's Memphis Grizzlies
The 73-year-old Heisley bought his NBA team back when they were located in Vancouver, B.C.  He pledged to keep the team there and then promptly relocated them to Memphis a year later. 
Not that the Dodgers are in any danger of being relocated to Tulsa or anything but still, is that really the kind of owner Dodgers fans want?  He sounds a little "McCourt-ish" to me.      
10. The Disney Family, Heirs of the Walt Disney Empire
Haven't we seen this act before? 
Well, the last time it was the Disney Corp. that owned a team, in this case the Angels, and to no one's surprise it wasn't long before the team was wearing periwinkle and Donald Duck was leading the seventh-inning stretch.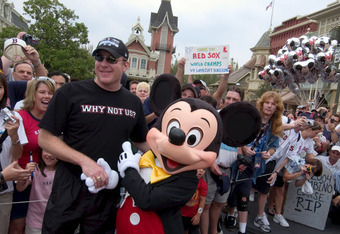 Matt Stroshane/Getty Images
It was truly a Mickey Mouse operation that was finally put out of its misery in 2003 by Arte Moreno, much to the delight of Angels fans.
This time it would be the Disney family, partnered with Shamrock Holdings CEO Stanley Gold, who would be owning the team, but my fear is the mentality would still be the same.
Shamrock is a hostile takeover firm and the irony is not lost here as there would surely be plenty of hostility among Dodgers fans if they were forced to be subject to the "Disney Experience:" that is, ridiculously overpriced attractions meant to take advantage of out-of-town tourists. 
9. Steven Cohen – Hedge Fund Mogul
Cohen made a name for himself on Wall Street in the 1980's working at a small brokerage firm before starting his own hedge fund company, SAC Capital Partners, and making billions in the process. 
His personal net worth is valued at $8.3 billion and he was recently ranked by Forbes magazine as the 38th wealthiest person in America.
The 55-year-old Cohen has historically avoided the media, the exception being when his ex-wife Patricia was suing him for, among other things, fraud and racketeering in response to their divorce settlement.  (The suit was dismissed last March in part because the statute of limitations had expired on several of her claims.)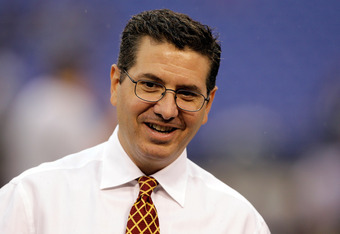 Rob Carr/Getty Images
He reminds me of Washington Redskins owner Dan Snyder, and we all know how that's worked out in D.C.. 
Plus, his company has experienced some legal troubles with the Securities and Exchange Commission involving insider trading by SAC employees, not exactly a ringing endorsement.
8. Peter O'Malley, Former Dodgers Owner
The Dodgers were a model franchise when O'Malley was the owner; however, he realized the game was changing from a financial standpoint and sold the team to News Corp in 1998. 
Now, with South Korean big-money corporation E-Land backing his play, he wants to buy them back.
To anyone who thinks O'Malley's ownership would restore the team back to the halcyon days of Dodger Dogs, Fernando Mania, and the Big Dodger in the Sky, I have three words for you:
Not.  Gonna.  Happen.
O'Malley is 74 years old, and while he's a familiar face to Dodger fans, what's going to happen
when he passes on? Will control of the team go to E-Land?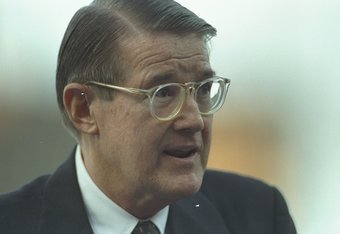 Elsa/Getty Images
If so, then the Dodgers will once again be owned by a corporation.  And corporations care about the bottom line more than they do winning. 
Plus, O'Malley was right. It's a different game today.  Players, fans, the media, the way all three interact with each other, it's like night and day.  Can you see O'Malley firing off tweets? 
It's the 21st century and the Dodgers would be better served with someone who is well equipped to handle that.
7. Tony Ressler, Co-Founder, ARES Management, LLC
Another investment billionaire, Ressler was previously a minority owner of the Milwaukee Brewers and has previously been linked to Peter O'Malley's bid but as of this writing is fronting his own group.
He has ownership experience, L.A. ties (his wife is actress Jami Gertz), and is actively involved in the community. 
Kind of a bland choice: nothing flashy but no glaring weaknesses, either.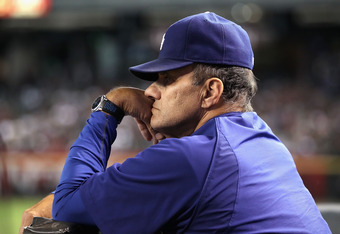 Christian Petersen/Getty Images
6.  Rick Caruso, Shopping Center Magnate
Caruso, who made his fortunes developing high-end shopping malls throughout Southern California, has lined up former Dodger manager Joe Torre to be his baseball man in his attempt to purchase the team.
Torre would be running the operations as a team president, but Caruso would be the owner, and therefore the final responsibility for fielding a winning product would lie with him.
He was previously a member of the L.A. Coliseum Commission, which has been rocked with financial scandals in the past year, but resigned his position in September out of protest with the way the commission was operating.  He has also reportedly considered running for mayor of Los Angeles.
It sounds like the man has a lot on his plate, and if he does indeed run for mayor and wins, what's that going to mean for the franchise?  Having Torre on board helps, but it seems like a timing issue and now doesn't appear to be the best time for him to be buying a baseball team.  
5. Stan Kroenke, Collector of Professional Sports Franchises
Kroenke collects sports teams like some people collect baseball cards.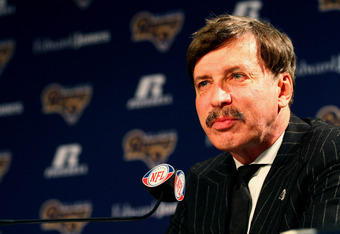 Dilip Vishwanat/Getty Images
He owns all or parts of the NFL's St. Louis Rams, the NBA's Denver Nuggets and the NHL's Colorado Avalanche, not to mention the English football club Arsenal and a professional lacrosse franchise.
No word on whether he tried to buy competitive eater Joey Chestnut. 
Kroenke's teams are generally successful, and when they aren't, it's certainly not for lack of trying on his part.
He's shown a willingness to open the checkbook when necessary while giving his general managers the autonomy they need to do their jobs. 
There is no reason to think he wouldn't bring that same attitude to Los Angeles, which would no doubt bode well for Dodger fans, but the concern here is that he might be spreading himself too thin.
The next Dodger owner should be 100 percent focused on repairing the colossal damage McCourt did to the city, fan base, and Dodger brand and Kroenke, by virtue of his other holdings, may not be in the best position to do that. 
4. Jared Kushner, Family Member, Kushner Real Estate and Media Empire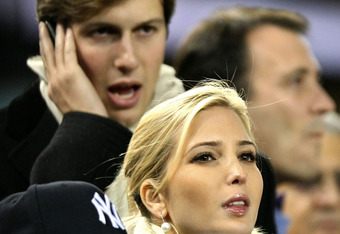 Nick Laham/Getty Images
At 31 years old, Kushner would be the youngest owner in professional sports, which would be particularly noticeable in baseball, as the sport is the walking definition of "old money" with 66 being the average age of its owners.
Kushner was born into his money but has proven to be a capable executive during his reign as owner of the New York Observer weekly newspaper. 
He's made bold decisions, admitted mistakes and reversed course when needed, and hired intelligent people and given them the leeway to do their jobs. 
And he married Ivanka Trump, so he's no stranger to the glitz and glamour life, yet doesn't appear to be addicted to it.
Baseball has historically been reluctant to open their doors to younger owners but this time they won't be able to block someone like Kushner from joining their ranks should McCourt accept his bid. 
The sheer fun of seeing how he interacts with the rest of his new colleagues alone would be worth it, especially if he goes all Mark Cuban on them. 
3. Leo Hindery – Managing Partner, InterMedia Partners
Hindery runs a private equity fund that focuses on media-related investments.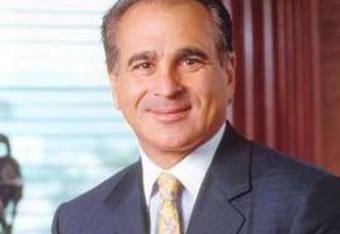 He founded the monumental cash cow that is the YES Network for the Yankees and with the Dodgers cable rights expiring next year, he will likely explore doing the same thing for them should he
become the new owner.
If he does, and is successful, it could mean a large, and I mean LARGE infusion of cash into a franchise that sorely needs it. The kind of cash that could turn the Dodgers into the Yankees of the National League where they can outbid anybody else for any player they want. 
Not that it would translate into on-field success, but after suffering through the McCourt era (error?), Dodger fans would certainly welcome the chance to find out what it's truly like to be a big-market team.
2. Alan Casden, Beverly Hills Real Estate Developer
This is Casden's second attempt to purchase the team, and oh, how things might've been had baseball approved his bid instead of McCourt's.
Back in 2003 when he was negotiating to purchase the team from News Corp., Casden expressed plans to build a sparkling new ballpark next to Staples Center for the Dodgers to play in, and put mixed and affordable housing in Chavez Ravine where Dodger Stadium currently resides.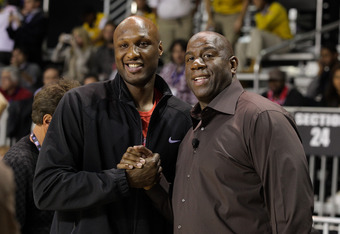 Noel Vasquez/Getty Images
All of which would've been privately financed at no cost to the taxpayers.
This would've undoubtedly been a boon to both areas while at the same time eradicating the nightmare that is getting in and out of Chavez Ravine during Dodger games. 
And Major League Baseball chose McCourt over him why, exactly?
Casden is a lifelong Dodger fan who once saw Sandy Koufax toss a no-hitter and worked at the stadium as a teenager. He is someone who understands what it means to be a fan and the Dodger faithful would be fortunate to have him at the helm. He would clearly be my number one choice if not for...
1. Magic Johnson, L.A. Laker Legend and Businessman
Johnson is one of only three basketball players to have won a championship at the high school, college, professional and Olympic levels.  (Quinn Buckner and Jerry Lucas are the other two.)
As a businessman, he made a fortune investing in underserved (re: minority) neighborhoods, putting state-of-the-art movie theaters and Starbucks franchises where no one else dared. His efforts led to entire communities being revitalized, with the positive impacts still being felt to this day.
Universally loved, Johnson has the personality, charisma and intelligence to be a successful sports owner. He's shown that much already by recruiting longtime baseball executive Stan Kasten to be part of his ownership group.
Kasten's record in the game speaks for itself.  He'd likely initially oversee the day-to-day operations before ceding control to his successor, much like he did in Washington, D.C., when the Nationals relocated there from Montreal.
But make no mistake, while much of the money would come from Guggenheim Baseball Management and its CEO, Mark Walter as well as other investors, this would be Magic's team, which means it would be L.A.'s team, with no penny pinching, looting, or mistreatment of employees and fans to go with it.
Instead, a restoration of pride in one of the all-time great franchises and a desperately-needed renewal of the bond with the fans and the multicultural communities in which it serves.
And for a franchise that famously broke the player color barrier 65 years ago, it would be simply poetic  if Johnson went on to become baseball's first African-American owner.
Now wouldn't that be something?