Manchester United vs. Liverpool: 5 Battles to Watch at Old Trafford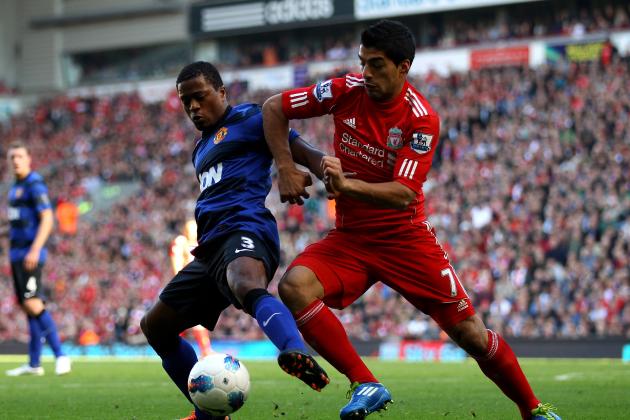 Clive Brunskill/Getty Images
Welcome back to Old Trafford, Luis
This Saturday, Manchester United take on Liverpool at home in one of the most eagerly anticipated fixtures of the English Premier League calendar.
The last time Liverpool went to Old Trafford, they returned with a 0-1 loss and an exit from the FA Cup.
In the subsequent three Anfield encounters, United have come away with two losses and one draw, and an exit from the FA Cup.
This time, the stakes will be ever higher, the atmosphere ever more hostile, the crowd ever more voracious.
For this Saturday marks Luis Suarez's first appearance against United after his racism controversy with Patrice Evra.
But war will be waged and battle will be done all over the pitch.
Here are five key on-field matchups that will make fascinating viewing for fanatics and neutrals alike—and feel free to list your picks below.
Begin Slideshow

»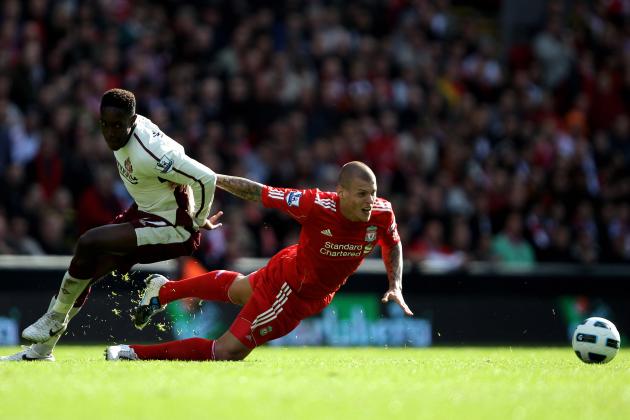 Clive Brunskill/Getty Images
Martin Skrtel faces Danny Welbeck, then of Sunderland
First, the clash between two rapidly improving first-team regulars.
Danny Welbeck has come on leaps and bounds this season, with his energy, pace, athleticism and powerful shooting causing problems for many a Premier League defence.
He has six league goals, joint fourth in the United charts, and two assists in just 14 starts—not bad for a 21-year-old in his first full season for the club.
Martin Skrtel, on the other hand, has formed one half of the second-meanest defence in the Premier League this season. Sent off in a miserable display at Tottenham's White Hart Lane early in the season, he has bounced back with a vengeance and ousted Liverpool legend Jamie Carragher out of Kenny Dalglish's starting 11.
His aerial ability and tackling have drawn admirers this season, as well as his reliability in covering for the constantly raiding Glen Johnson.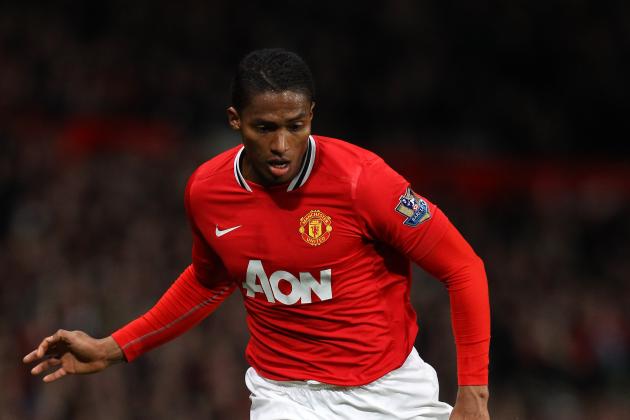 Alex Livesey/Getty Images
Valencia: United's most importan player?
Jose Enrique missed Monday night's home clash with Tottenham with a suspected tight hamstring.
Liverpool have not released an official explanation for his absence, but it is believed that he might return for their trip to Old Trafford.
Whether it will be Enrique or his able stand-in Glen Johnson taking the field for Dalglish, Liverpool's left-back will come up against one of the league's in-form wingers in Antonio Valencia.
The Ecuadorian's pace and direct running has been a huge problem for opposing full-backs this season, and his eight assists in merely 12 starts is a testament to his huge efficiency.
Wayne Rooney has gone on record paying tribute to Valencia's crossing qualities, and it is clear that Manchester United look a much more threatening and complete team with a flying winger in it.
But his opposite number will be one of the league's outstanding attacking full-backs, also capable of putting in a solid defensive shift.
Will it be Enrique/Johnson trying to contain Valencia, or vice versa?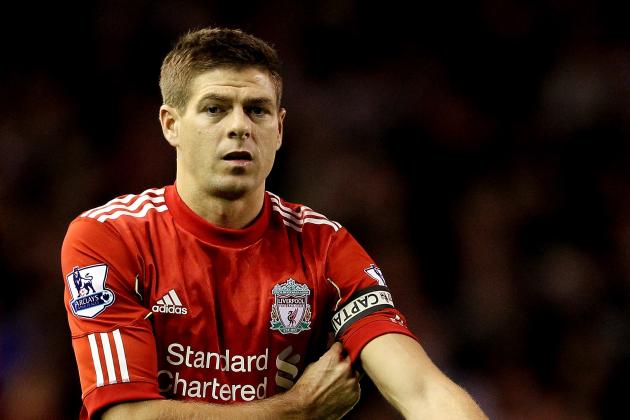 Scott Heavey/Getty Images
Steven Gerrard: Liverpool's Captain Fantastic
Isn't this one for the romantics?
Paul Scholes has slotted seamlessly back into Sir Alex Ferguson's team since coming out of retirement in January to fill in for their midfield gaps.
The erstwhile No. 18 and current No. 22 has quickly been in the thick of things, spraying his famous long passes, and has even popped up with a goal since his return.
And this legendary English midfielder will be coming up against another legendary English midfielder in Steven Gerrard.
Since returning from injury, Gerrard has once again taken up his mantle as the irreplaceable talisman for Liverpool, the effervescent midfield engine room, providing the leadership and attacking ability he has become so famous for.
There will be no room for sentiment as these two modern greats take to the field.
Michael Regan/Getty Images
Can Carroll soar above Ferdinand?
Two men at the opposite ends of their respective careers.
In the absence of regular captain and defensive rock Nemanja Vidic, Rio Ferdinand has taken center stage and assumed a familiar responsibility as the Red Devils' leader at the back.
Though armed with extensive experience at the very top level, Ferdinand is arguably in the twilight years of his career and has seen his declining pace exposed in a few occasions.
In Liverpool red, an improving Andy Carroll will fancy his chances against England's former captain.
With Carroll's aerial ability and physical style of play, he will pose problems for Ferdinand and his defensive partner, Jonny Evans.
Manchester United have become accustomed to seeing a Liverpool No. 9 wreak havoc on their defence.
Will Andy Carroll continue the trend?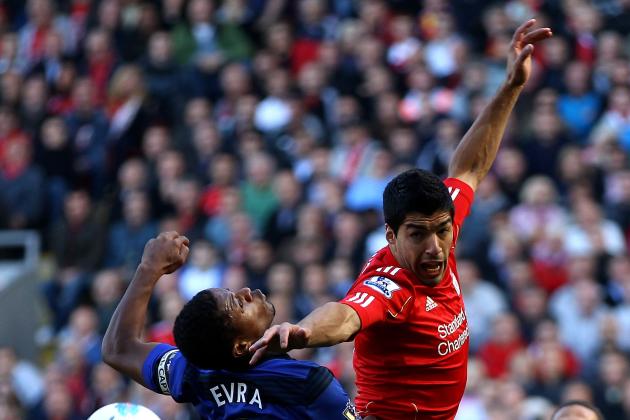 Clive Brunskill/Getty Images
Evra and Suarez: Old Trafford's main characters on Saturday
And of course, we wouldn't have a complete list if we left out the Evra-Suarez duel.
The confrontation and controversy between Patrice Evra and Luis Suarez has become emblematic of the fierce Manchester United-Liverpool rivalry, and will certainly fan the flames between the home and away crowds even further.
Long established as United's best choice at left-back, Evra has seen his not-so-immaculate positional awareness exposed by clever running from Premier League forwards, not least in the buildup to Dirk Kuyt's last-gasp FA Cup winner at Anfield just a few weeks ago.
Luis Suarez will provide trickery in abundance, and he has claimed that the expected abuse from the home crowd will spur him on even further. But will his tendency to embroil himself in the center of unwanted attention cause him to provoke his opposite number again?
Or will he reprise his destruction of the United defence in March 2011?
This is a battle that will take place both on and off the pitch—and it all starts with the pre-match handshake, or lack thereof, between the main characters of Suarezgate.
Join me for a live commentary on The Red Armchair, where I will be hosting a live matchday chat during the United-Liverpool game this Saturday. The match begins at 12:45pm GMT; hope to have your company during what will be a fiery encounter.