A Position by Position Look at the 2012 Cincinnati Reds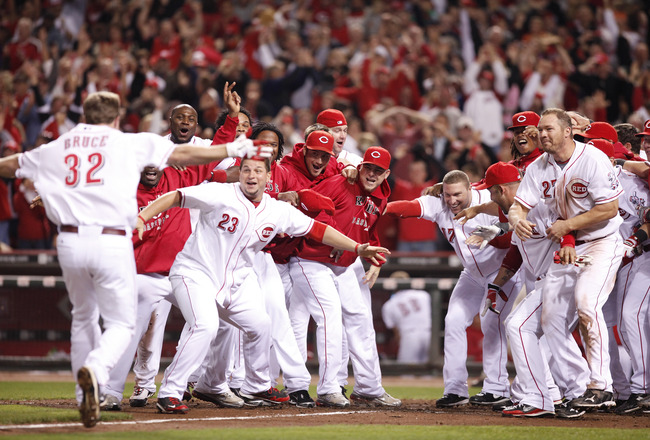 Joe Robbins/Getty Images
Remember this? I sure hope so. The Cincinnati Reds took the baseball world by storm in 2010 and won the NL Central. Last year, their attempt to defend that division crown didn't go quite the way we Reds fans thought it would but that doesn't mean they can't win it this year right?
This team is absolutely loaded, offensively, defensively and on the mound. They return much of the same offensive core from last season and the presence of young guns Zack Cozart and Devin Mesoraco without further ado, let's take a look around the diamond at the 2012 Reds who could, and in my opinion should, win the NL Central title and make a strong run at a World Series title this season.
Catcher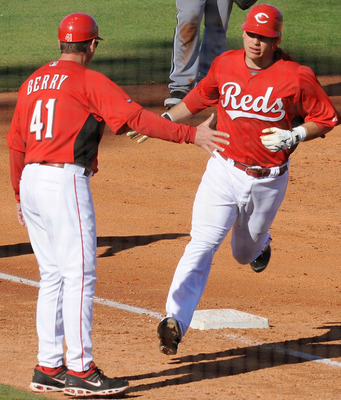 Norm Hall/Getty Images
I believe that by season's end Devin Mesoraco will have handled more of the workload, but Ryan Hannigan and Mesoraco are going to split time this year. Last season the Reds were in a similar situation with Hannigan and Ramon Hernandez. Under the split season system run by Dusty Baker, the Reds catching duo put together a very solid season. Their stats looked like this; .275/.348/.402 while smacking 18 HR, driving in 67 RBI and 55 runs scored. As you can see, the system worked very well and the two produced a season slightly better than that of Baltimore's Matt Wieters who I happen to think is a very solid major league catcher.
With a full season from Devin Mesoraco, Reds catchers should look to improve on last season. In Triple-A last year Mesoraco was phenomenal, his slash line was .289/.371/.484, and if that weren't enough, he added 15 HR, 75 RBI and 60 runs. Mesoraco is a superb catching talent, between he and Hannigan I expect their output to look something like this; .273/.356/.435 with 21 HR, 70 RBI and 60 runs scored. That type of production would compete quite nicely with Yadier Molina over in St. Louis.
First Base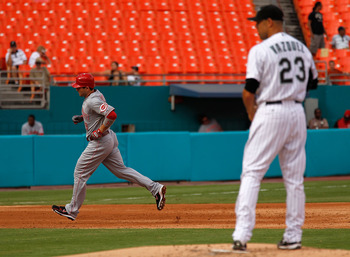 Mike Ehrmann/Getty Images
This almost goes without saying but with the departure of Albert Pujols and Prince Fielder there's no question as to who the best first baseman in the National League is. In Joey Votto, the Reds have a perennial MVP candidate, and there's no reason to believe that he won't produce like one this season.
Last season Votto's offensive statistics took a bit of a dip but not enough to be concerned about the 2010 NL MVP. Votto's season looked like this; .309/.416/.947, 29 HR, 103 RBI and 101 runs scored. Now, although Votto's offensive stats fell off a little, his defense was superb. Votto brought home his first Gold Glove award and made just six errors en route to a .996 fielding percentage. Votto sat all of one game last season and I expect him to again play between 155 and 162 games. Look for Joey Votto to bring home his second NL MVP award, second Gold Glove and a season something like this; .319/.417/.598, 33 HR, 110 RBI and 103 runs scored.
Second Base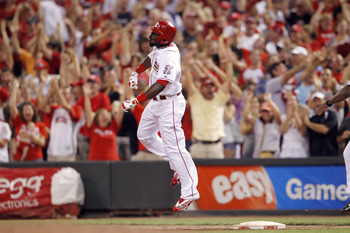 Joe Robbins/Getty Images
If you're anything like me, you jumped out of your seat when Brandon Phillips hit that home run against the hated St. Louis Cardinals. Phillips is most definitely in the discussion when addressing the top second basemen in the game. As a devout Reds fan, I love what Phillips brings to the table between his production and intensity on the field, I mean, the man single-handedly revitalized the Reds-Cardinals rivalry.
Last season, Phillips brought home his third Gold Glove (second straight), first Silver Slugger award and appeared in his second All-Star game, also his second straight. Outside of a healthy Chase Utley I don't think there's a more complete second baseman in the National League. This season I see a fourth Gold Glove, third All-Star game and a 20-20 season for Phillips. Expect his output to look something like this; .285/.340/.460 21 HR, 85 RBI, 105 runs scored and 22 SB.
Third Base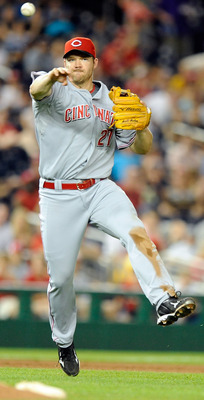 Greg Fiume/Getty Images
Scott Rolen is one of the better third basemen to ever put on a uniform. That may sound like a bold statement but if injuries hadn't taken their toll on Rolen we'd be looking at a man who was an absolute shoo-in for the Hall of Fame. Even with his history of injury, Rolen has managed 2000 hits, 300 home runs, a lifetime batting average of .282, eight Gold Gloves and seven All-Star game appearances.
Rolen's best days are behind him (he'll turn 37 during this season), but he still plays a very important role on this ball club. When Rolen is in the lineup the team has a very solid veteran presence and a man who still commands the respect of not only his teammates but the opposition as well. Last season was only Rolen's third season in which he failed to reach the 100 game mark.
I think Rolen will return this season and play 110+ games and his numbers could look something like this; .282/.350/.430 with 15 HR, 65 RBI and 60 runs scored. Although these are good (if not a little too optimistic) numbers for a 37-year-old third baseman, his contribution to the team cannot be measured solely by statistics and his presence will help propel the Reds to their second NL Central title in three seasons.
Shortstop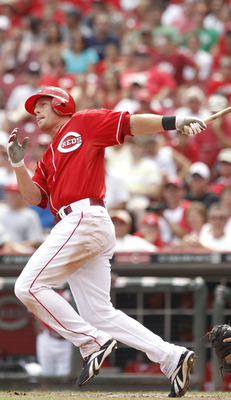 Joe Robbins/Getty Images
Last season's offensive, and on multiple occasions defensive, output from Reds shortstops was pathetic. Paul Janish and Edgar Renteria split time at shortstop and in 635 at-bats they produced numbers like this: .231/.283/.588, 5 HR (all by Renteria), 59 RBI and 61 runs scored. Last season it became quite clear that shortstop was the biggest gap in an otherwise potent Cincinnati lineup.
Enter Zack Cozart. His small sample size from last season comes to us through half a season at Triple-A Louisville and a season ending injury. This small major league sample size is hard to pull from but he produced two more home runs in 37 at-bats than Paul Janish did in 336. Cozart's largest sample size comes from his 2010 season in Triple-A Louisville where he produced quite well: .255/.310/.726, 17 HR, 67 RBI, 91 runs and 30 SB.
The only thing I would like to see Cozart improve on a little bit is his defense. In that same 2010 season at Louisville he had a fielding percentage of .977 with 15 errors in 654 chances. A fielding percentage in the .980s would be much more acceptable for a team like the Reds who seem to pride themselves on playing great defense. In any event though, Cozart will be a major upgrade at shortstop and as he enters his physical prime I expect numbers like this: .268/.320/.420, 12 HR, 60 RBI, 92 runs and 12 SB.
Left Field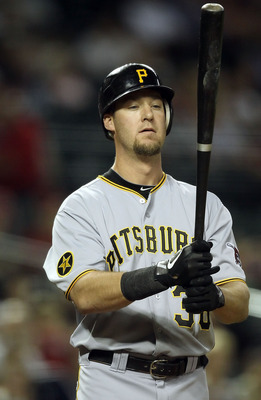 Christian Petersen/Getty Images
I'm sure you noticed the picture for left field is of Ryan Ludwick. Barring a fantastic spring from Chris Heisey I think Dusty Baker will stick with his m.o. and start the veteran Ludwick in left field. I would like to see Heisey get a chance to be the every day left fielder but he's appalling against lefties (.180 last season). Nevertheless, last season in a platoon/bech role, in 279 at-bats Heisey went .254/.309/.797 with 18 HR, 50 RBI and 44 runs scored.
In 2012 Heisey will be 27 years old, he's just now entering his physical prime. Ludwick however is 33 and seems to be entering the twilight of his career. In 2008 and 2009 Ludwick turned in one fantastic and one pretty good season. The last two years haven't been so kind and Ludwick dropped off considerably from his '08-09 form. This year the two will split time but a platoon role might suit the aging Ludwick well and it hasn't hurt Heisey's development yet. I see the duo producing like this: .260/.308/.452 with 28 HR, 75 RBI and 72 runs scored.
Center Field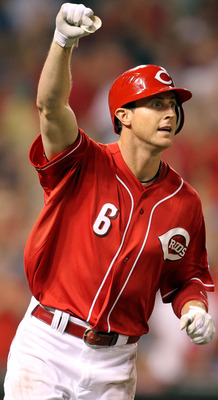 Andy Lyons/Getty Images
Make no mistake about it, Drew Stubbs is a phenomenal baseball player. I know everybody knocks him for his high strikeout totals but take that with a grain of salt. Stubbs just turned 27 this year he's already shown the potential for possible 30-30 seasons. On top of the offensive production, Stubbs is a great fielder. This combined with his speed and reaction time make him a virtual black hole in the outfield.
Now, my comments earlier about Stubbs strikeout totals are in no way an endorsement of striking out 200+ times. This offseason I think he will have worked hard on his plate discipline and I see a 10-20 percent reduction in strikeouts. Dependent on his pitch selection Stubbs may even be able to recapture the leadoff spot from Brandon Phillips but don't hold your breath on that this year. Expect season totals like this for Stubbs: .270/.325/.455 with 26 HR, 52 RBI, 94 runs and 52 steals.
Right Field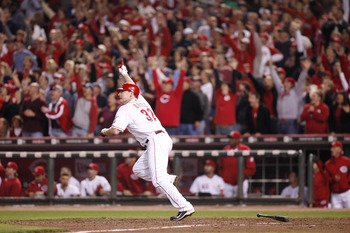 Joe Robbins/Getty Images
Jay Bruce is another of the Reds young, ultra-talented position players. At only 25 years old, he's the second youngest position player on the team (Mesoraco's the youngest). Despite his young age, I believe Bruce is becoming one of the top right fielders all of Major League Baseball. Bruce had one of the hottest single months of a season I've ever seen last May and followed it up with a dismal July.
Despite the the up and down 2011 season, Jay made the All-Star team and finished the season at .256/.341/.814 with 32 HR, 97 RBI and 84 runs scored. This season will be the first all-around complete season of Bruce's career. Jay Bruce's 2012 season should look something like this: .288/.373/.537 with 41 HR, 111 RBI and 96 runs scored, a second All-Star game appearance, first Gold Glove and first Silver Slugger award.
Bench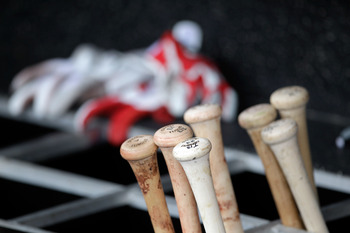 Rob Carr/Getty Images
The role of bench play is severely underrated when analyzing a baseball team. Having the right mix of youth, veteran leadership, clutch performance and stability is key to a winning franchise. This season I think the Reds have achieved just that. On any given day the Reds could have these players available off the bench; Chris Heisey/Ryan Ludwick, Devin Mesoraco/Ryan Hanigan, Miguel Cairo, Juan Francisco and Wilson Valdez. I believe that with the move for Valdez and the fast moving career of Juan Francisco Paul Janish will get optioned to Triple-A until an injury occurs or until the rosters expand in September.
I could go on for hours about how great I think the Reds role players are this season but I think that may be a topic for my next article. In any event, look for Juan Francisco, Chris Heisey/Ryan Ludwick and Devin Mesoraco/Ryan Hanigan to have the biggest impact coming off the bench with Cairo and Valdez providing valuable veteran experience while covering days off here and there.
Starting Pitching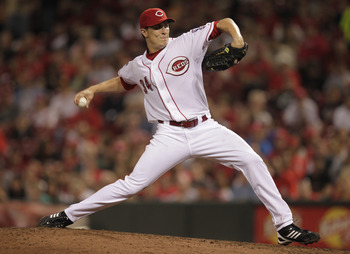 John Sommers II/Getty Images
The Reds starting pitching last year was a thorn in the side of the club. Their offense still produced near the top of most major categories but the starting pitching lagged considerably. This offseason the Reds moved top prospects Yonder Alonso, Yasmani Grandal, Brad Boxberger and veteran pitcher Edinson Volquez to the San Diego Padres for young ace Mat Latos. I love this trade. To the naked eye, it seems like a little bit much to offer for Latos but Alonso and Grandal were both blocked by better players, Boxberger projects to be a reliever and Edinson Volquez looked like he had rice pudding between his ears last season.
The rotation coming into the 2012 season should look like this; 1. Mat Latos, 2. Johnny Cueto, 3. Mike Leake, 4. Bronson Arroyo and 5. Homer Bailey. I know Aroldis Chapman is being molded into a starter but I believe he will begin the year at AAA and earn a call-up at some point depending on the success of Bailey. Seasons for our 2012 Reds starting pitching should look like this:
Mat Latos: 16-6, 3.23 ERA, 1.12 WHIP, 198 IP and 190 strikeouts
- Latos will thrive this season with increased run support. This will provide him with a greater level of confidence relieving him from the pressure of having to go out and keep his opponents under three runs a game. The effect of pitching in PETCO Park is greatly exaggerated when discussing Mat Latos's career thus far. Aside from last season where he let up eight home runs both home and away, Latos has let up fewer home runs on the road than he has pitching in PETCO. Great American shouldn't have that profound an impact on Latos.
Johnny Cueto: 20-5 2.75, 1.10 WHIP, 188 IP and 142 strikeouts
- Johnny Cueto had an impressive 2011 by practically every statistical measurement except wins and losses. Cueto posted a 2.31 ERA and 1.09 WHIP and deserved upwards of 15 wins last season based up on those metrics alone. This season Cueto will establish himself as a true number one starter.
Mike Leake: 12-8 3.67 ERA 1.15 WHIP, 180 IP and 120 strikeouts
- Mike Leake is only 24 years old but his poise on the mound rivals that of any veteran pitcher of 10+ seasons. He doesn't walk many batters, in fact, last season he walked just 38.Control is critical when pitching in GABP and Mike Leake's is quite good. I expect him to flourish as the Reds number three starter and he could even exceed my expectations
Bronson Arroyo: 15-12 4.14 ERA, 1.39 WHIP 225 IP and 154 strikeouts
- Bronson Arroyo is starting to get old but last year was an outlier. He was sick most of the year with mono and had a series of back aches and still managed to make 30+ starts for the seventh straight season. This year Arroyo will return to that model of consistency we've become accustomed to the past 6 seasons.
Homer Bailey: 14-9 3.83 ERA 1.24 WHIP 162 IP and 147 strikeouts
- Homer's my breakout pick for the 2012 season. If you watch as many Reds games as I do (which is nearly every one) then you know that Homer Bailey has great stuff and incredible talent. He's got a good live fastball (2 seam and 4 seam) that he pairs up with a big 12-6 hook, a slider and a splitter. Those five pitches will serve him well this year and I think he finally puts it all together en-route to becoming the pitcher Reds fans and management have always thought he could be.
Bullpen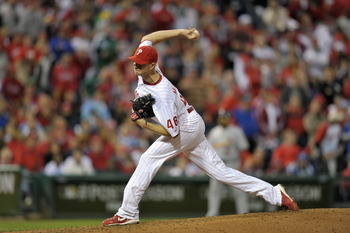 Drew Hallowell/Getty Images
In addition to solidifying the bench and starting rotation, the Reds front office finished creating one of the top bullpens in all of baseball. This offseason the bullpen lost Aroldis Chapman to the starting rotation and Francisco Cordero to free agency so the team brought in dominant lefty Sean Marshall and closer Ryan Madson. The Reds bullpen looks great this year with Madson, Marshall, Nick Masset, Bill Bray, Jose Arredondo Logan Ondrusek and Sam LeCure. I'll keep the rest of this brief and fully address the bullpen in another article but look for a lot of dominant performances when Reds starters turn games over to the very capable bullpen.
Madson: 2.27 ERA, 1.04 WHIP, 65 strikeouts and 42 saves
What Does This All Mean?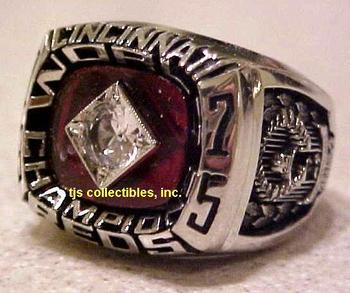 The team sports a dominant bullpen that should blow very few leads once they get them and can keep the team in ball games they're trailing in so they can win them in the late innings. The Reds lineup can flat out rake, I've got their starting lineup (counting both catchers as one starter and both left fielders as one starter) hitting 197 home runs, 628 RBI and 682 runs, look for them to also eclipse the 100 steal mark.
Their starting rotation could produce win totals into the 70's and Madson by my estimation should produce 42 saves. After all of that we're looking at a Cincinnati Reds team who could very well contend for a World Series title in 2012.
Keep Reading

Cincinnati Reds: Like this team?