If Chauncey Billups Never Plays Another Game, Will He Make the NBA Hall of Fame?
February 9, 2012

The Los Angeles Clippers were dealt quite the blow Monday night, when guard Chauncey Billups tore his left Achilles tendon in a 107-102 overtime victory over the Orlando Magic. The 35-year-old veteran had averaged 15 points per game on 38 percent three-point shooting in 20 games this year and is out for the rest of the season.
Though Billups said, word for word, "My career is not over," one must take a few things into consideration. As mentioned before, he is 35 years old and no longer the electrifying point guard he once was. At this point, he is little more than a reliable shooter.
That being said, the question poses itself: Should Billups' career be over, is he a Hall of Fame-worthy point guard?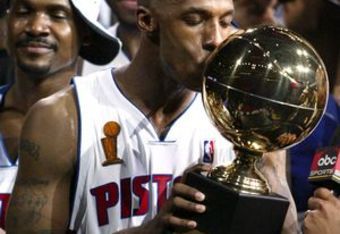 Well, it's honestly hard to say. Billups was something of a late bloomer in his NBA career, not becoming a star—let alone a household name—until his sixth season, his first with the Detroit Pistons. He spent six-plus seasons with that team, winning a championship in 2004 and garnering a reputation as one of the better point guards in the league who could both shoot and pass the ball effectively.
Billups' knack for draining key three-pointers during his time in Detroit earned him the nickname "Mr. Big Shot."
Billups was traded to his hometown Denver Nuggets for Allen Iverson just a couple of games into the 2008-09 season and continued his success there, before being sent to the New York Knicks as part of the Carmelo Anthony package about a year ago.
He did fine in New York, but definitely focused more on shooting than passing and only made 32 percent of his shots from downtown.
Therein lies the issue with Billups and his potential Hall of Fame candidacy. He has the accolades going for him, including being the Finals MVP of the NBA Finals he helped to win and also five trips to the All-Star Game, but he was never a truly conventional point guard throughout his NBA career. In 14 NBA seasons, he's averaged just 5.5 assists per game.
However, as dissenting as that may sound, Billups has one thing going for him that will one day lead to him being enshrined in Springfield: charisma.
Ever since the Boston Celtics drafted him with the third pick in the 1997 draft, Billups has had a reputation as one of the most genuine and likeable men in the game. Even though he's been traded five times in his career, he's always remained professional about it.
In fact, Billups has been such a nice guy throughout his NBA years that when the Knicks released him via the amnesty clause in December, he got upset and said he was tired of having that label.
Putting that little tirade aside, however, the fact remains that Billups was one of the best team players and leaders in the NBA during the prime of his career. You aren't a championship-winning point guard and five-time All-Star in this league without having some great leadership qualities.
That being said, when push comes to shove, Billups will definitely make the Hall of Fame even if this injury does signify the end of his NBA career. His passing and defensive numbers may not be the best compared to greats like John Stockton or Jason Kidd, but he still was one of the best of his generation.
He's been "Mr. Big Shot" for years as a player, so it's only fitting that his nickname continue with him receiving Hall of Fame status.