Missouri Football: 5 Most Important Players for the Tigers in 2012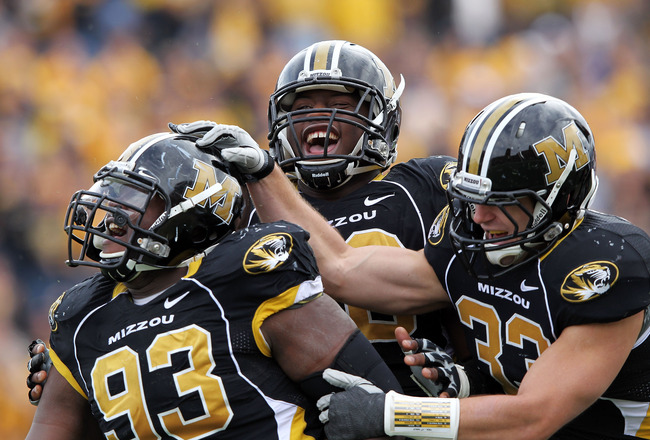 Jamie Squire/Getty Images
With National Signing Day behind us, the Missouri Tigers are in full transition mode out of the Big 12 and into the SEC.
With very mixed feelings about Missouri's potential in their first full SEC season, one thing we do know is that they will definitely bring a very talented squad to the SEC East.
With 12 returning starters and one superstar freshman, let's take a look at the five Tigers players who will play the most important roles for the team in the 2012 season.
James Franklin
Sarah Glenn/Getty Images
It was quite an experience watching James Franklin mature as a quarterback over the course of the 2011 season.
He struggled early, but looked like a veteran with a strong command of his offense by season's end.
The Missouri offense loses a couple weapons in Michael Egnew and Wes Kemp, but with the addition of Dorial Green-Beckham and the return of T.J. Moe, we should see the same good numbers from Franklin in 2012.
He approached 3,800 total yards and 36 touchdowns last season.
SEC defenses are faster and more physical than those in the Big 12, but Franklin is an athlete and his skill set will keep defenses honest and on their toes.
Cam Newton did it. James Franklin can do it, too.
Sheldon Richardson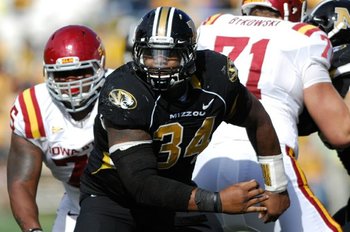 Defensive tackle Sheldon Richardson has all the physical tools to be an elite defensive lineman, and those skills were the reason why he was the fourth overall recruit in 2009.
We're now in 2012, and it's time for Richardson to break through and wreck havoc on the big stage.
The spotlight is on him now, with his sidekick Dominique Hamilton off to graduation.
Sheldon Richardson has the ability to command a double team as well as get after the quarterback from between the tackles.
2012 is going to be Richardson's year. He needs to prove that he's a guy that big SEC offensive lines should key on.
Henry Josey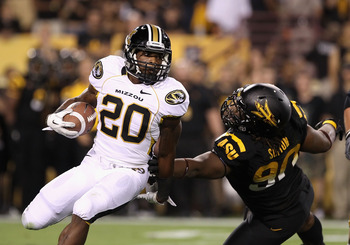 Christian Petersen/Getty Images
We know that Henry Josey has skill. He burst on the college football scene in 2011 with almost 1,200 yards in nine games until being lost for the season against Texas.
Missouri's running game this season really hinges on the recovery of Josey's knee.
After Josey, the Tigers are rather thin. Kendial Lawrence produced nicely, with three 90-plus-yard games and three touchdowns after he took over the starting reigns, but I'm not convinced he can handle a full season's workload.
Henry Josey is detrimental to Missouri's offense in 2012, and they need him back and healthy more than anything to release some tension from this transition.
Elvis Fisher
It's official. Elvis Fisher has been granted a sixth year of eligibility and will be a member of the Missouri Tigers next season.
Fisher sat the entire 2011 season because of a knee injury, but prior to that he started 40 consecutive games for the Tigers and earned All-Big 12 Honorable Mentions in 2009 and 2010.
Elvis Fisher is one of the most experience and valuable players on the Missouri roster, and his return couldn't be timelier.
The SEC is a league where big, quick and athletic offensive linemen are crucial to success, and having Elvis Fisher on deck is the best news Tigers fans have right now.
Dorial Green-Beckham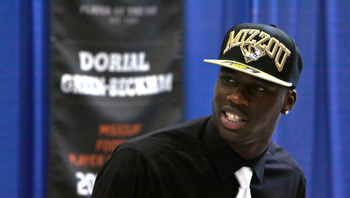 He's a savior of sorts. Dorial Green-Beckham made a lot of people happy in his home state when he decided to play for the University of Missouri.
He's not going to win the Tigers a national championship. He may not even win them a conference championship. But his signing is one that will be felt for years to come in Columbia, Missouri.
DGB gives Missouri the deep threat they've never had. He's 6'6", 220 pounds, and possesses the speed to blow by cornerbacks as well as the strength and physicality to go across the middle and catch the ball in traffic.
The James Franklin-Dorial Green-Beckham connection is going to produce instantly in the SEC East, and that is one thing that I'm 100 percent sure about.
Keep Reading

Missouri Tigers Football: Like this team?