San Antonio Spurs' Gregg Popovich the Best Coach in NBA History?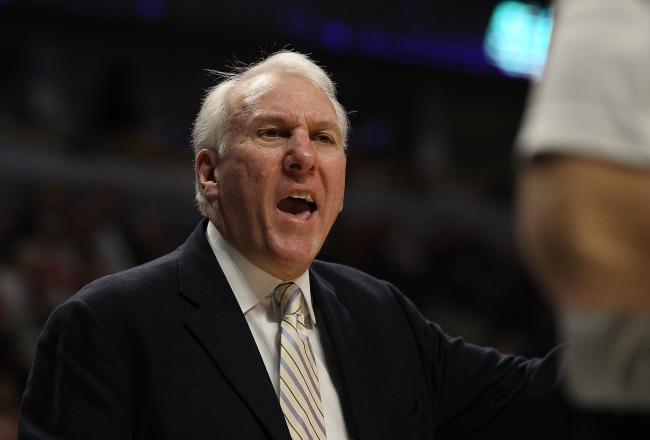 Jonathan Daniel/Getty Images
There's indeed a difference between Phil Jackson's illustrious career and what Gregg Popovich has done for the San Antonio Spurs.
On paper, the difference is that Jackson won 11 NBA Championships while Popovich still searches for only his fifth.
Maybe we should ignore the numbers and just listen to Mavericks' coach Rick Carlisle. He thinks Popovich is "the greatest coach, really ever in this game, because all their guys function within their system at a high level."
Better than Phil Jackson, though?
If you caught the display of sheer coaching genius Carlisle had just witnessed, you'd be inclined to agree.
The Spurs' 101-100 overtime loss to the Dallas Mavericks was a Popovich masterpiece. It proved that one game can mean much more than another marginal change in the standings.
Life after the game hasn't been pretty for the Mavericks. Confidence rattled, Carlisle's team struggled to a 2-3 record in the five games since. While it's hard to attribute the slide entirely to Popovich's mind games, letting his bench thoroughly embarrass the Mavs' starting five couldn't have hurt.
The Spurs, meanwhile, have won six straight after the loss (along with 15 of the 22 games played without Manu Ginobili as San Antonio's supporting cast has risen to the occasion).
The recent stretch includes two wins over Memphis, an impressive defeat of the hot 76ers, and a beauty against Oklahoma City in which Parker put his stamp on the Spurs' season with 42 points and nine assists. During that span, San Antonio has climbed the power rankings and seen signs of its once dominant defense returning to life.
Where do you rank Pop all time?
Oh, by the way, Tim Duncan's been playing like his old self over that six-game streak as well, averaging 17.7 points, 10.8 rebounds and 2.2 blocks while shooting 51 percent from the field all in just under 30 minutes a game.
The San Antonio bench's inspired performance against Dallas has become a source of confidence for the team as it continues its annual nine-game road trip. If there were ever a case to be made for losing a battle in order to win the war, Popovich made it against the Mavericks.
This is perhaps what most differentiates Pop from so many of his peers: Beyond the X's and O's, he knows how to get the most out of his personnel, and he understands how to implement a team-centered approach on both sides of the ball.
This ability to put middle-of-the-road players in a position to succeed is the true mark of a coaching legend. After all, a coach can't be defined by the superstars he inherits.
While it's true that Popovich's career has been graced by Tim Duncan, he never had the opportunity to work with Jordan, Pippen, Shaq and Kobe in their primes. Phil Jackson's ability to direct the game's biggest egos is laudable, but one wonders if he could replicate what Doug Collins is currently doing for the Philadelphia 76ers.
For those who forget, Collins is the guy who helped build a young Bulls team into contenders during his first head-coaching gig from 1986 to 1989. His stewardship of the nascent Jordan and Pippen pairing amounted to three straight playoff appearances, including a trip to the Conference Finals. Once the team was on the brink, Phil Jackson came along to collect the trophies.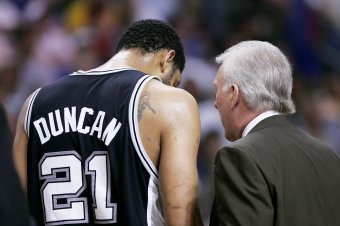 Brian Bahr/Getty Images
When Jackson was short a superstar, his teams were demonstrably mortal. In one-and-a-half seasons without Michael Jordan (1993-1995), Phil Jackson's Bulls lost twice in the Eastern Conference semifinals. From the time Jackson's Lakers lost Shaq in 2004 to their acquisition of Paul Gasol in 2008, Jackson fared even worse (discounting the 2004-2005 season that Phil spent sulking instead of coaching).
Without a second superstar to accompany Kobe, the Lakers lost twice in the first round, managing a modest 42-40 record in 2006-2007.
When you give Mike D'Antoni a point guard like Steve Nash and a platoon of sharpshooters, you get an "offensive mastermind." When you give Phil Jackson the very best players in the game, you get 11 championships.
A brief study of the rosters Gregg Popovich has taken to the top reveals a very different kind of coach. That's not a knock on Tim Duncan's supporting casts over the years. They've been good—they just haven't been Kobe Bryant.
Since his debut as the injury-riddled Spurs' interim head coach in 1996, Pop hasn't had a team finish with anything worse than a 50-32 record during the regular season. In the 14 consecutive seasons his Spurs made the playoffs, he's lost in the first round only three times. After a dominant regular-season campaign last year, a healthy Ginobili would likely have propelled them from that first round once more.
If Pop had taken lessons from Phil Jackson, he would have known to retire well before Duncan entered the twilight of his career. Mike Brown might be coaching the Spurs right now.
Instead, he remains committed to a team that analysts give up on year after year. He has redefined that team as its talent base has changed. And, he has watched that team remain every bit as good as the pundits' Western Conference flavors of the month (as indicated this season by victories over the Mavericks, Thunder, Clippers, Grizzlies, Nuggets and Blazers).
Whether you run the numbers or not, Popovich stacks up pretty well with the best. If you've watched this team as closely as Rick Carlisle has, you'd probably agree that he is the best.
This article is
What is the duplicate article?
Why is this article offensive?
Where is this article plagiarized from?
Why is this article poorly edited?

San Antonio Spurs: Like this team?