5 Reasons Jeremy Lin Will Rescue the NY Knicks from NBA's Doldrums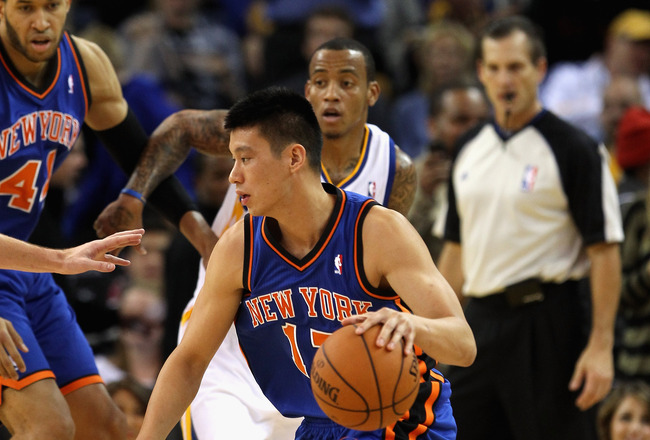 Ezra Shaw/Getty Images
Just when you thought the New York Knicks were a hopeless mess destined to be a complete disappointment this year, out of nowhere, the excitement level couldn't be higher.
All because of Jeremy Lin.
The 23-year-old has taken the league by storm, and it has rejuvenated a cynical fanbase that was beginning to get the "here we go again" mentality. 26.5 points and 7.5 assists in two straight wins will do that for a team.
Can he continue to keep this up? Here are five reasons Lin will put on a cape like some sort of superhero and rescue this ailing franchise.
1. High Percentage Shooter
Christian Petersen/Getty Images
One of the biggest problems for the Knicks this season has been their lack of shooters in the backcourt.
I know he's barely cracked the 100-minute barrier this season, but shooting 10-of-19 and 10-of-17 in his first two career starts is incredible.
The key for Lin has been not settling for three-pointers. He has been extremely aggressive in penetrating to the hoop, and the results have been aces.
Considering the team is shooting a ghastly 42 percent from the field with brick layers Toney Douglas (32 percent), Mike Bibby (33 percent) and Iman Shumpert (36 percent) leading the way, Lin is the perfect guard for this team.
2. Lin Has Perfect Timing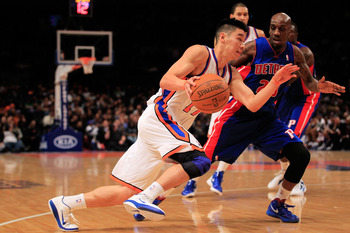 Chris Trotman/Getty Images
Amare Stoudemire has just tragically lost his brother. Carmelo Anthony pulled a hamstring and is out for a week or two. Baron Davis just had another injury setback.
The stars of the team were forced to miss games at a time when the team needed them most. Right now, the Knicks aren't battling the Miami Heat and Chicago Bulls for playoff seeding; they are battling to overtake the Milwaukee Bucks just to make the playoffs.
Lin has essentially given the team one big shot of 5-Hour Energy, and now, everyone has a pep in their step again. Lin has made them believe when everything looked as bleak as the chances of Tom Brady winning another Super Bowl.
3. Pure Point-Guard Skills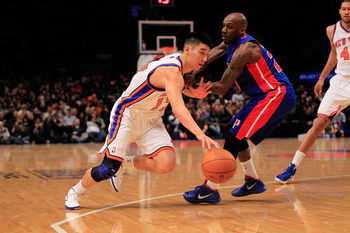 Chris Trotman/Getty Images
The Knicks have been fooling themselves this year trying to use Landry Fields, Toney Douglas and Iman Shumpert at the point. They all averaged under four assists a game and really struggle to be the quarterback on the court the way all true point guards have to be.
Lin can quarterback.
He has run the offense beautifully and is passing the ball to his teammates in a spot where they are in a strong position to score. He has averaged 7.5 assists in this incredible two game run, and there's no reason to think his assists will be dropping anytime soon.
Imagine his playmaking ability alongside Amare Stoudemire when he comes back.
4. Tebow-like Following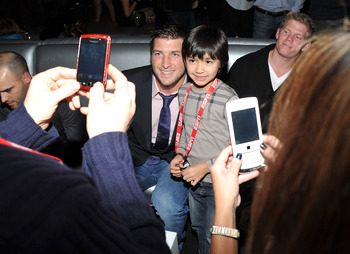 Theo Wargo/Getty Images
Tim Tebow became more than just an NFL star because of his strong devotion to his religion.
Well, we have the Tebow of the NBA.
Lin is a devout Christian and would like to be a pastor when his NBA career is over. That attracts a whole different type of fan that doesn't necessarily care about the Knicks.
Lin is making the Knicks one of the hottest stories in the league, and people that aren't fans are beginning to follow the team closer. Toss in the fact that he is a Harvard grad that is only the fourth Asian-American to ever suit up in the NBA, and you have a unique individual that is completely against the grain when comparing him to the rest of NBA players.
For the first time all season, people care about the Knicks around the country, and the ticket sales have skyrocketed for their upcoming games because of it.
5. Saving His Coach's Job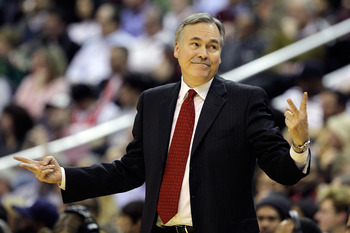 Rob Carr/Getty Images
Mike D'Antoni is a great coach. He is an offensive genius and has the proper assistants to coach up the defense.
But he was looking like the guy to take the fall if the Knicks continued to play sub-.500 ball. Now, D'Antoni's seat is cooling off because of Lin, and he knows it. He recently told reporters he was going to ride Lin "like friggin' Secretariat."
He knows the importance of Lin and the incredible turnaround his team has endured thanks to a 23-year-old that was previously written off by two separate teams.
I know it's only been 80 minutes over the span of two games, but Lin is achieving something that undrafted players could only dream of. He has turned into the story of the season and has the opportunity to turnaround the league's signature franchise.
This unbelievable story is just getting started.
Keep Reading

New York Knicks: Like this team?