Indiana Hoosiers Return Home to Take on the Fighting Illini
February 8, 2012

Andy Lyons/Getty Images
Thursday night at 7:00 PM CST, the Indiana Hoosiers (18-6, 6-6 BIG) will try and continue their momentum as they welcome the Illinois Fighting Illini (16-7, 5-5 BIG) to Assembly Hall in Bloomington.
Indiana was able to get back to .500 in the Big Ten after a big road win against in-state rival Purdue on Saturday night. It was their first Big Ten road win against a team not named Penn State since Tom Crean took over in 2008. And with four of their six remaining Big Ten games taking place at Assembly Hall, the Hoosiers have a very good chance of finishing with their first winning record in the conference under Tom Crean.
Meanwhile, Bruce Weber's Illinois team is facing their worst stretch of the year. The Illini have lost four of their last five games, including a 74-70 loss at home this past Sunday to the Northwestern Wildcats. If things don't improve rapidly for this team, Weber could be coaching his last stretch of games for the University of Illinois.
Illinois' underachieving play as of late doesn't come from a lack of talent; they have a number of athletic players on the wing and a pretty special big man in the middle of their lineup.
Junior guards Brandon Paul and D.J. Richardson lead the attack out on the perimeter for the Fighting Illini.
Paul is Illinois' leading scorer at 15.1 points per game on the season, including an uncanny 43-point performance in a home win against Ohio State just a few weeks ago. D.J. Richardson comes in just under that 12.2 points per game. Either one of these players can get hot from the outside, but they are at their best when they are slashing and trying to get to the basket.
Joe Robbins/Getty Images
Freshman Tracy Abrams has started the last few games for Illinois at point guard and is beginning to earn more minutes than senior transfer Sam Maniscalco at that position. Abrams is a decent facilitator of the offense, but he is more of a combo guard who prefers to shoot first.
Perhaps the biggest surprise of the season for this Illinois team is the standout play of sophomore center Meyers Leonard. After a disappointing freshman campaign, Leonard has improved significantly and comes into Thursday's game averaging 13.3 points and eight rebounds a game. He is a dual threat with his back-to-the-basket play as well as his ability to step out and consistently knock down 15-foot jumpers.
Indiana's best defensive game plan should look a lot like what they did against Purdue on Saturday night. They need to cut off the dribble penetration of Paul, Richardson and Joseph Bertrand and make the Illini beat them with the outside shot.
Illinois is a poor three-point shooting team and also struggles on the offensive glass. The Hoosiers can cheat on defense by sagging off the Illini guards and making them hit tough outside shots. So long as Indiana can rebound like they did against Purdue, they should be able to limit Illinois offensively.
Victor Oladipo will draw the assignment on Brandon Paul. And It wouldn't be at all surprising if Tom Crean goes small and elects to start the game with freshman Remy Abell on D.J. Richardson, electing for defense over offensive production. Abell has been getting better and better as the season goes on as one of Indiana's strongest on-the-ball defenders. He's also slowly gaining confidence on the offensive end with each passing game. He could be an integral part of the Hoosiers' plan going forward.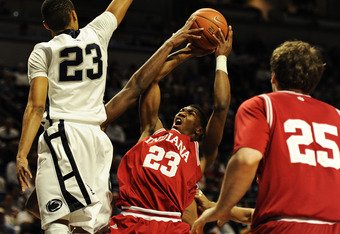 Patrick Smith/Getty Images
The matchup between Cody Zeller and Meyers Leonard is the one to watch for the night. Both of the talented youngsters have futures in the NBA and play a similar style of basketball. Leonard isn't quite the athlete that Zeller is, but he has a larger frame than the freshman. Zeller's challenge will be to beat Leonard down the floor to establish early position on both ends. Leonard isn't nearly as dangerous of a player when he's forced to make jump shots.
On the offensive end of the floor, the Hoosiers need to push the pace in this game. Illinois is a team that struggles to score and also has problems holding onto the ball. Indiana needs to take advantage of missed shots and Illinois' turnovers and get out and run with the basketball.
Victor Oladipo is coming off a career offensive performance against Purdue, finishing the game with 23 points, eight rebounds and four assists. Oladipo did it all on offense on Saturday. He was able to hit a couple of jump shots to keep the defense honest, but it was his sharp handling of the basketball and ability to get to the basket and draw contact that stood out. When Victor is playing with confidence and aggressiveness, he is as big of a part of Indiana's success as Cody Zeller. The Hoosiers hope he can continue this trend Thursday night. 
Christian Watford and Jordan Hulls struggled shooting the ball in their last game, going a combined 4-17 from the field and 0-6 from beyond the arc. They will look to bounce back and have better nights against an Illinois team against whom they have found success in the past.
There is no question that this is a game in which Indiana will be pretty heavily favored. It's a game that the Hoosiers don't necessarily need as badly as Illinois, which has caused Indiana problems in the past. If they are able to carry over the mindset with which they entered the Purdue game, the Hoosiers should walk away with a win on Thursday night.
For more articles by Dan, visit Hoosier Cafe