San Diego Padres' Farm System Success Bodes Well for Chicago Cubs' Future
February 8, 2012

Jonathan Daniel/Getty Images
ESPN's Keith Law has named the San Diego Padres' farm system as the best in MLB, thanks in large part to the drafting and trading by Jed Hoyer, who is now the Cubs GM.
This is certainly good news for Cubs fans. In fact, it addresses a key failure by the Cubs which, in the opinion of this analyst, is the main reason for the Cubs' long track record of failure.
Former GM Jim Hendry may have had a scouting background, but throughout his tenure on the north side, as both scouting director and GM, he failed to bring in star position players or ace starting pitchers.
For every Sean Marshall, there were several pitchers like Sean Gallagher.
For every Starlin Castro, there was a Felix Pie or Hee Seop Choi and then some.
But since Hendry was fired and replaced by Theo Epstein, the enormous task of rebuilding the farm falls to Hoyer and his top lieutenant, Jason McLeod.
McLeod who, like Hoyer, worked for Epstein with the Red Sox, has an official title of Senior Vice President/Scouting and Player Development.
Meanwhile, he is someone who can tell Epstein what he really thinks without fear of recrimination—which means they often disagree.
"Oh, big time," McLeod said. "We had a huge argument about Clay Buchholz. Huge. I loved (Buchholz) and he liked him, but not as much as I did, and Clay had some off-field issues I was convinced he was past. Epic argument.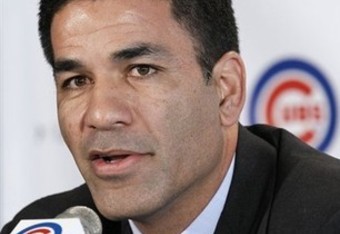 "Theo stormed out of the (draft meeting) room and threw something and everyone just stared at me in silence and I said, 'Let's take a break.'"
In addition to Buchholz, McLeod had a hand in drafting Jacoby Ellsbury, Dustin Pedroia and Jonathan Papelbon while with Boston.
His work with the Padres under Hoyer has helped transform San Diego from a bottom five to the top  farm system in two years, at least according to Law. And that is without Anthony Rizzo, whom Hoyer acquired but who is now the Cubs first baseman of the future.
Law had good things to say for the Hoyer/McLeod tenure with the Padres, as short-lived as it was. 
"Fans who were upset at the sudden departures of GM Jed Hoyer and assistant GM Jason McLeod for the Cubs should find solace in the fact that the prospects they helped bring into the system...remain in place. There are so many prospects here with high floors..."
So now that this team is in place in Chicago, the Cubs should expect an infusion of young talent, which can be beneficial in a couple of ways. Players can be called up to the parent club, of course, but they can also be used as trade chips.
Granted, the players that Law and others rank so highly in the Padres' system have not been proven at the major league level. Still, if poor drafting has been the bane of the Cubs all these years, then any news is good news.
Of course, the new collective bargaining agreement could hinder the Cubs' plan a bit. Teams that do not cooperate with the silly slotting system will now be penalized.
For this, we have Jerry Reinsdorf and Bud Selig to thank.
Yet despite this roadblock, the Cubs finally have a team in place that knows what it's doing, and more importantly, has a track record of success.
Success? We could get used to that concept on the north side.