Manchester United: 8 Bold Predictions for the Remainder of the Season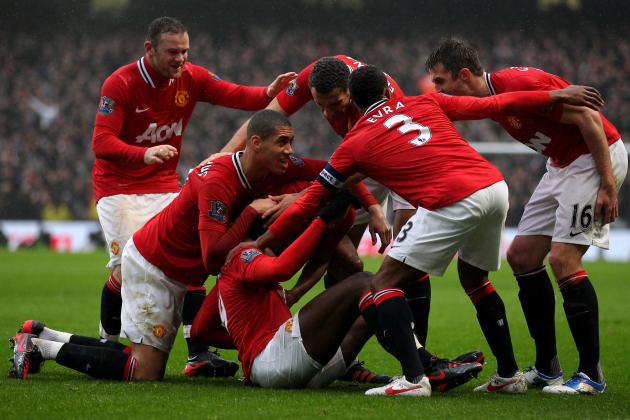 Alex Livesey/Getty Images

It's that time of the season again—well, getting close to it, but as Alex Ferguson would put it, "squeaky bum" time is approaching and the title race is getting down to the wire.
This season hasn't been the best of United seasons in recent years, with the Red Devils hit by an injury crisis that has caused a slight dip in their form. But as some of United's start-of-the-season performances showed, particularly the 8-2 demolition of Arsenal, at full strength the team is capable of some brilliant stuff.
So, as the fixture ticker edges closer to 38 and the title race continues to heat up, here are eight bold predictions for the remainder of this roller coaster of a season.
Begin Slideshow

»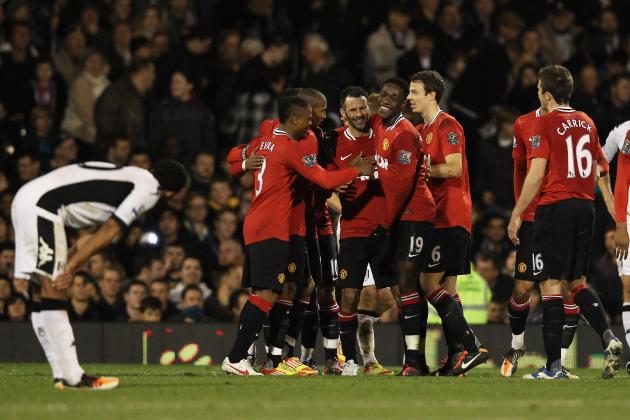 Clive Rose/Getty Images

I quote Sir Alex, "History tells you we play better in the second half."
We have become accustomed to the traditional surge in form from Manchester United in the second half of the season, the 2002-2003 season being a perfect example of that, though that may seem like ancient history now.
But statistically, in recent years as well, the United boss is rather accurate with his words.
In fact, for three consecutive seasons (07-08, 08-09, 09-10), Man United's match-winning percentage improved in the second half of the campaign, with the club scoring more goals per match as well.
Interestingly enough, in all three of those seasons, Manchester United started the second half of their campaign in positions behind the league leaders, as opposed to last season where because United were so far ahead in first, their second-half record fluctuated a little. So now, with United just three points behind City, expect them to fight back.
Even if you don't believe in all this statistical stuff, Sir Alex will have a lot of first-team players returning from injury over the coming weeks, so as the club returns to full-strength, expect their record to go up anyway.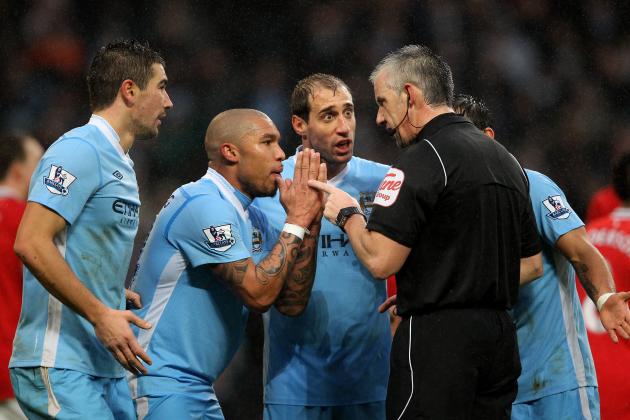 Alex Livesey/Getty Images

With the Citizens leading the table and with Sheikh Mansour beginning to curb his spending, the pressure is starting to mount on Manchester City.
Back in October, the Citizens were on the edge of opening up an eight-point gap over United but have since seen that lead drop to two.
Out of the Champions League, FA Cup and the League Cup, Manchester City have begun to show their nerves with a number of poor recent Premier League games as well.
Although the Citizens may have an amazing, star-studded squad, psychologically Man City are not as strong.
For the past two seasons, we have seen Man City's form dip a little as the season came to a close. Because this is the first time in recent history that Mancini's men are in the title race, Man United's experienced squad have the psychological edge over them, and the Citizens are vulnerable to stumbling.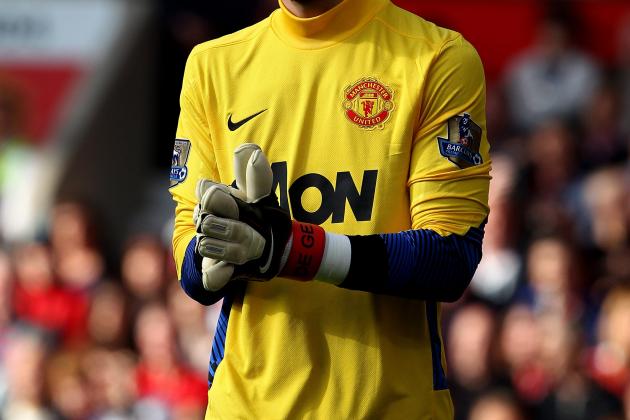 Clive Brunskill/Getty Images

David de Gea has endured a rather difficult start to his Manchester United career, with the £18.5 million man losing his starting spot to the more reliable Anders Lindegaard.
However, now that the Dane is out, de Gea will now have the chance to reclaim his spot.
There is no doubt about the potential of de Gea.
The Spaniard has demonstrated some brilliant goalkeeping throughout the season.
Just last week, he made an almost-impossible save to deny Juan Mata's top corner free kick. But de Gea continues to make simple errors that often proves to be fatal for United.
Lindegaard continues to hold the edge, statistically, over de Gea, with the Dane keeping more clean sheets and saving more shots than the Spaniard, all while playing a third of the amount of games de Gea has played.
Critics have been quite harsh on de Gea, and its easy to forget that the Spaniard is only 21 years old. To transition from La Liga to the more physical Premier League is a tough challenge for any player, so for someone as young as de Gea to succeed is an even steeper challenge.
The fact that he's an £18 million Manchester United goalkeeper adds even more pressure to the young man, especially when you consider that he is replacing someone as experienced and sturdy as Van Der Sar.
As well as that, de Gea has had a very nervy defense in front of him that often exposes his goal. Without Vidic, United's defense this season has been woeful, especially in the air, where de Gea is weak, so not all blame can be put on him.
However, the Spaniard has been improving, albeit steadily over the season. Against Chelsea, the Spaniard put in a brilliant performance behind United's shaky defense. As well as that save against Mata, De Gea made a number of crucial blocks to keep United in the game.
With a few more performances like that, de Gea will definitely prove his critics wrong. Its just a Mata of time, eh?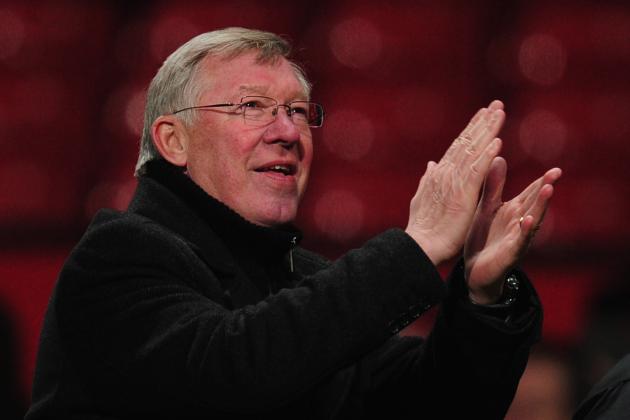 Jamie McDonald/Getty Images

I don't sense much excitement from the Manchester United camp about the prospect of the Europa League.
The very fact that Manchester United are even in this competition is a cause of embarrassment for Sir Alex, who is still reeling after that defeat to Barcelona.
The league is, after all, Europe's second division and will always be below the Champions League.
The competition is in fact more of a form of punishment for United's poor showing in the Champions League with the games being on Thursdays and giving less time for Sir Alex's men to prepare for the weekend's fixtures.
I don't think fans will be too enthusiastic to watch United play teams like Trabszonspor, Brugge and Panathanaikos, minnows they would usually face in the Champions League group stages, though opponents Ajax aren't looking too bad at the moment.
I think that in the end, the Europa League will just become another Carling Cup for Alex Ferguson. He has a much bigger problem to deal with in the form of Manchester City in the league, so expect the tournament to be a showcase of United's youth and fringe players.
Good news for Dimitar Berbatov.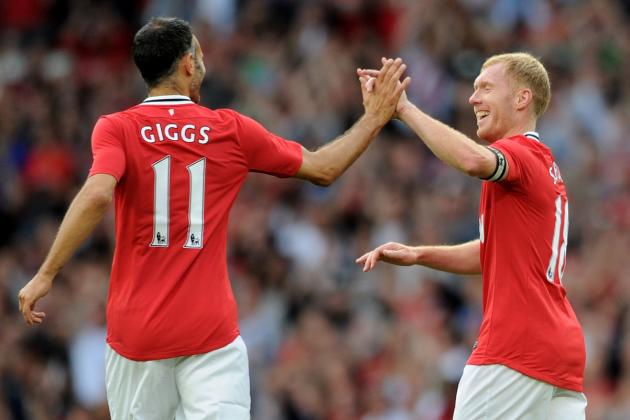 Chris Brunskill/Getty Images

Oh, what a joy it is to see Scholes in that United shirt again.
One can't help but admit that without him, United lost a certain edge to their game.
Too often this season their midfield has lacked the innovation and creativity of the Salford reborn 37-year-old.
Michael Carrick, a prospective replacement for Scholes, continues to be very poor and inconsistent. It puzzles me why Ferguson still puts the former Spurs man on his team.
Scholes' return against Bolton Wanderers was magnificent, with his passes providing the team with the creativity to produce a solid 3-0 victory, and the Ginger Ninja's stunning goal showed just how much United missed him.
Together with Giggs, who has also been brilliant this season, the two veterans provide the Red Devils with crucial experience needed in a young United squad. Their pairing in midfield gives the Red Devils the stability needed to see games through and the experience needed in big matches, with the impending crunch match against City on Ferguson's mind.
Though their age limits the amount of time spent on the pitch, with these two in the team, there is an air of security and steadiness in what can be a shaky midfield. So as the season goes on, United will continuously rely on these two veterans as they defy their age.
The only downside, Scholes wearing No. 22—I still can only picture the man wearing 18.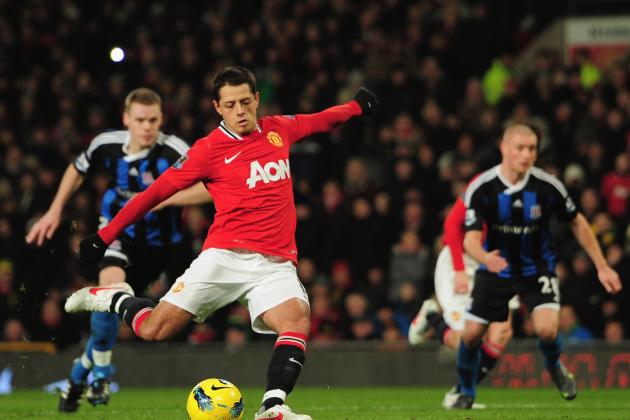 Jamie McDonald/Getty Images

Javier Hernandez this season has been confined to the bench due to the emergence of Danny Welbeck.
Welbeck definitely deserves some credit in what has been the youngster's breakout year, knocking in six goals.
However, the Englishmen lacks the virtuosity and ability of the Mexican to score goals.
Hernandez can hit the back of the net from almost anywhere and with every single part of his body. One can look to the Mexican's goal in the Community Shield for proof, where he scored by knocking the ball against his own face.
Oh man, what a season Chicharito had last year. Twenty goals in your debut United season really isn't too shabby at all.
Not only that, the Mexican also had this knack of scoring at exactly the right time, and I've lost count of the amount of times Chicharito has saved the game for United.
This season, however, we see a picture of a resolute Hernandez on the United bench. Although Welbeck has been pretty impressive, I still don't understand why Ferguson doesn't start Hernandez more, as Welbeck lacks Chicharito's stunning finesse in scoring goals, and the Mexican has also forged a solid partnership with Rooney.
However, with Welbeck's form beginning to dip and Hernandez continuing to make strong cases of a starting place, expect Hernandez—when Ferguson finally does give him a chance—to continue the impressive form he showed last season.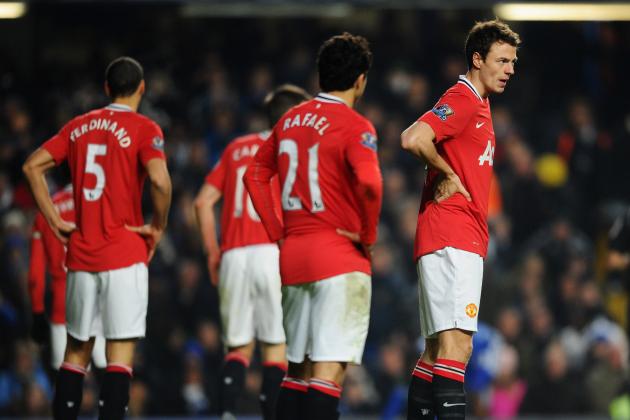 Mike Hewitt/Getty Images

This season has been one of the club's worst ever for its defense.
The Red Devils' back four look a completely different side from the one that once helped Edwin Van Der Sar to a record number of clean sheets.
United's 6-1 defeat at the hands of Manchester City is a testament to this, and really when you consider just how bad the back four have been this season, it's no surprise that United were knocked out of the Champions League.
First off, Patrice Evra has been poor. Very, very poor.
The extra attention on him due to the Suarez controversy has not helped the Frenchmen at all this season, and he continues to expose his fellow defenders in crucial situations this season, as Kuyt's goal at Anfield demonstrated.
Evra just doesn't demonstrate the same eagerness and drive that he used to for the club, which is a big problem when you consider that he's United's captain. Against Chelsea, the Frenchmen was poor, didn't seem to concentrate well and often looked fragile in front of Chelsea's pacy attack.
Rio Ferdinand and Jonny Evans, however, deserve the brunt of the criticism.
If I had a penny for every time Ferdinand loses concentration and jeopardizes his own goal, I would have one heavy, jingling wallet.
In fact, I would be ever richer if I had one for every time Jonny Evans is just standing around, completely unaware of the opponent striker's presence. Ferdinand is looking to be far past his prime, and Jonny Evans doesn't ever look like hitting his prime.
These two are one of the main reasons why de Gea has had such a hard time, as they both have failed to produce the kind of solid fortification that a young goalkeeper like him needs.
One of the main reasons why United's back four have been so poor is, of course, the absence of Vidic.
Without the Serbian, there seems to be no sense of communication and strength that is needed in a team like United's defense. They often look too fragile in front of their opponents, and as Chelsea showed the other day, they absolutely crumble under pressure.
The club's injury crisis definitely played a part in the back four's jadedness, as it proved that United were rather limited in the defensive area. Perhaps Ferguson should have never sold Wes Brown and John O'Shea, as that kind of experience and stability could really be needed right now.
Though, the young but talented Phil Jones and Chris Smalling are beginning to return to full fitness.
Shaun Botterill/Getty Images

It's hard to imagine another trophy-less season for Man United.
It's certainly been quite a while since the Red Devils last had one.
There's another person that can't imagine it, either: Sir Alex Ferguson.
The Scotsman will be absolutely determined to defeat Mancini and his Citizens, for it will prove to the world of football that despite all the money pumped in at Eastlands, Manchester City are still unable to find a way past Sir Alex.
Oh, what a scene that would be, with Ferguson and a cavalcade of Red marching through Manchester City center, and as the Etihad Stadium comes into view, the Scotsman hoists his beloved Premier League trophy, his 13th, into the air.
When nothing seems to work for United, when the team is bereft of confidence or even players, Sir Alex has always somehow figured a way to sort it out.
He's been at Old Trafford for 25 years, so the man has, after all, seen it all before. With United continuing to gain momentum, and as more players begin to return from injury, the club looks on the edge notching up that end of season gear Sir Alex always evokes.
Everything right now seems set, seems perfect for United's title run-in. The comeback at Chelsea proved that the Red Devils haven't lost their relentless determination, either, a champion's trait that no amount of Emirati money will ever be able to buy.
So with this man, this god at the helm, here's to say: Manchester United will be Champions come end of May. We've seen it so many times before.
United are, after all, the comeback kings of the world. Again, look back to the 2002/2003 season and the sheer turnaround that Sir Alex enforced. Surely if anyone can stand up to City, Ferguson and his Manchester United can.
No one's knocking him off his perch.