Utah Jazz Must Trade a Big Man to Better Balance the Roster
February 8, 2012

Ezra Shaw/Getty Images
At the dawn of the abbreviated 2011-12 season, Utah's biggest strength was clearly their frontcourt depth. Paul Millsap and Al Jefferson start at the power forward and center spots. Rookie rebounding machine Enes Kanter and sophomore sensation Derrick Favors fortify Utah's impressive second unit. 
Though this frontcourt depth is a luxury many teams would kill to have, it has become evident by maddeningly inconsistent play at the guard spots that Utah would be wise to deal one of their big men for a dynamic guard or small forward who can more evenly distribute the talent throughout Utah's roster.
As fun as it is to watch Utah's second unit take the floor and see Favors and Kanter pick right up where Al and Paul left off, Utah would be a much better team if they dealt one of their bigs and got some backcourt assistance in return.
The value of the guard or small forward that Utah would receive in part of this hypothetical trade would obviously vary depending on who Utah decides to part with.
In any case, the thought of Utah adding someone like Andre Iguodala or Danny Granger and freeing up minutes for the high-flying and ultra-efficient fan favorite Jeremy Evans is one that fans should be salivating over and Utah's front office should be seriously considering. 
Once the decision is made to wheel and deal with another NBA team, the decision of who to trade comes next. That decision is a very difficult one.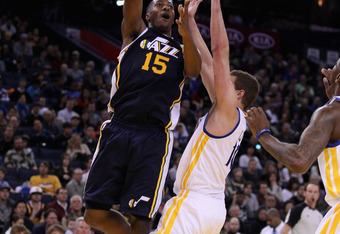 Ezra Shaw/Getty Images
Paul Millsap is likely the most attractive piece as he is an NBA veteran but is still in his mid-20s. He also has a reasonable contract and is the piece that the Jazz would probably get the most in return for.  He's also the most endeared to Utah fans and would be difficult to part with for all of the good qualities that were previously mentioned.
Al Jefferson could contribute to offensively anemic teams immediately, but commands a large salary and is still not going to make any All-Defensive teams anytime soon—though his defense has improved quite a bit this year.
Trading Favors or Kanter is an entirely different type of gamble. Dealing Favors or Kanter would likely be to a rebuilding team for a proven scorer. In other words, trading one of the young bigs would be a "win now" move. It would also be gambling on future production.
If Favors were dealt and became Amar'e Stoudemire 2.0, Utah would certainly be kicking themselves, even if a quality player was received in return.
If Kanter were moved and never really panned out in the NBA, then Utah would be congratulating themselves on a savvy move. Obviously, prognosticating future production is an inexact science with a wide range of variance, so dealing a young player who hasn't truly established their ceiling yet would be a risky proposition.