Super Bowl 2012: Justin Tuck's Gift Helps New York Giants Celebrate in Style
February 8, 2012

Win McNamee/Getty Images
While most players who win a Super Bowl will be content to get their teammates something bland, like a watch, New York Giants defensive end Justin Tuck decided that he wanted to do something classy and original for his teammates after defeating the New England Patriots. 
According to Sports Grid, the two-time All-Pro bought all of his teammates personalized bottles of Johnnie Walker Blue Label Scotch. He event took the time to give Mario Manningham, who made that spectacular catch on the Giants' final drive, a special bottle. 
In honor of what some are calling one of the greatest catches in Super Bowl history, Tuck gave Giants wideout Mario Manningham a bottle with the words "The Catch" engraved on it. Tuck said that he wanted to do something special for his teammates as a way to thank them for the hard work and effort they put into becoming, now, for many of them, two-time champions.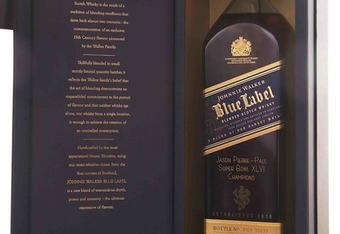 First of all, as a San Francisco 49ers fan, I am deeply offended by that label.
Second, give Tuck credit for doing something original for his teammates. 
Plus, the scotch set him back a pretty penny. It usually sells for between $150-200, depending on where you live. Considering that we are talking about New York, it was probably closer to $300 per bottle. When you add in the personalized engraving, he could have dropped $350 on each teammate. 
That's not to say that Tuck can't afford it. He made over $3 million this year, not including performance incentives. 
Sometimes you have to splurge to show your teammates that you are thinking of them or when they rally together late in the season to win a Super Bowl. 
Considering how unique the bottles are, and how much they could be worth, it does make you wonder if anyone will actually crack the Blue Label and drink it. 
Tuck and the Giants can celebrate their second title in four years by getting together to down some of the best, and most expensive, scotch in this country.
Now that he isn't busy tormenting opposing quarterbacks, and the team isn't busy beating down everyone in their path, they deserve to share a drink together.