College Basketball: Power Ranking the Big Ten Conference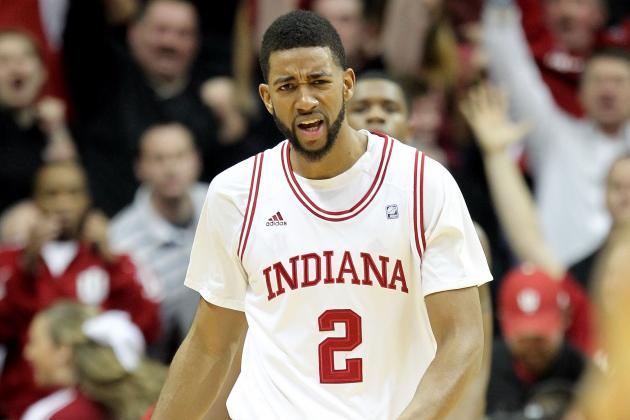 Andy Lyons/Getty Images
The Big Ten has been one of the most competitive conferences in the nation this year. Here are the power rankings for the Big Ten.
The Big Ten has been one of the most exciting conferences in college basketball and arguably the most competitive one.
Indiana has made a resurgence back to the top of the pack, Ohio State has been challenged by a tactical Michigan State, Michigan has impressed with its strong back court and there has been plenty of unexpected upsets.
The competition is fierce no matter which team is playing. Here are the power rankings of the Big Ten.
Begin Slideshow

»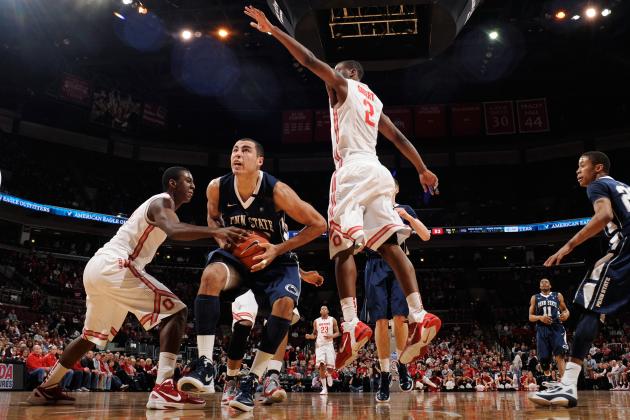 Jamie Sabau/Getty Images

After starting off non-conference play with a three-game winning streak, not much has gone right for Penn State, who now sit at the bottom of the Big Ten with a 3-10 conference record.
The Nittany Lions have show spurts of good play and were able to win a game against a solid Illinois squad and finish within six points of the Indiana Hoosiers.
However, for the most part, Penn State's offense just hasn't been able to get it going this season and is currently only averaging 61.8 points per game (298th).
The Nittany Lions will battle it out until the end, but they don't stand a chance in a strong Big Ten conference this year.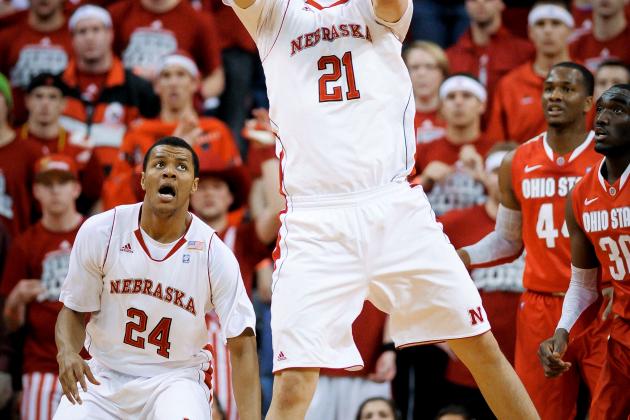 Eric Francis/Getty Images

Nebraska is another team that has had troubles getting enough offensive production this season, as they are currently averaging 62.2 points per game (293rd).
If it weren't for senior guard Bo Spencer, who averages 15.5 points per game, the Cornhuskers' woes would be even greater.
Despite its offensive struggles, Nebraska has been able to surface with an even 11-11 record. On the flip side, the Cornhuskers sport a 3-10 record in the Big Ten, but have defeated Indiana, who was ranked No. 13 at the time.
While the raw competition of the Big Ten will keep Nebraska chuggin' along, the Cornhuskers won't be doing any damage in college basketball this year.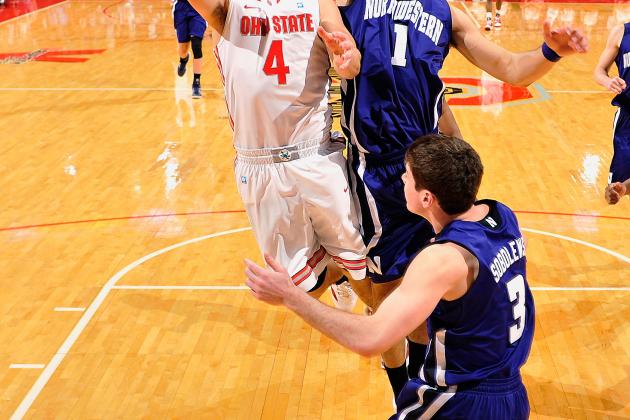 Jamie Sabau/Getty Images

Northwestern did very well during non-conference play, starting off with a 10-2 record going into conference play and having beaten a strong Seton Hall team that later defeated Connecticut.
The Wildcats' loss in their conference opener to Ohio State set the tone for their Big Ten performance, as they would start conference play with a 1-3 record despite taking Michigan down to the wire in an overtime loss.
Things brightened up dramatically for Northwestern when it beat No. 7 Michigan State. However, the Wildcats fell back into mediocrity with a three-game losing streak to follow that big win.
Northwestern is currently 5-7 in the Big Ten and is now coming off a big win against Illinois on the road. The Wildcats are dangerous because they are unpredictable and can bring their best game on any given night.
They shouldn't be underestimated at all, but will still probably finish in the lower half of the conference.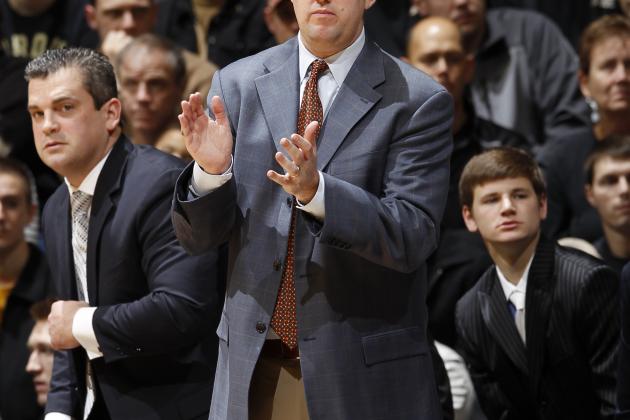 Joe Robbins/Getty Images

Despite an impressive 10-3 start to the season, Purdue hasn't fared well against Top 25 teams despite nearly winning games against Xavier and Michigan.
Purdue merely doesn't have the kind of energy that is needed to win key games. The Boilermakers were able to give Ohio State a run for its money with a career-high 24 points from D.J. Byrd, but have yet to get a quality Big Ten win under their belt.
The Boilermakers have some tough road games coming up on the back end of their Big Ten schedule against Michigan and Indiana.
Purdue still has a chance to end up in the top half of the Big Ten, but only if can resolve its 6-6 record by winning some key games in its final seven games of conference play.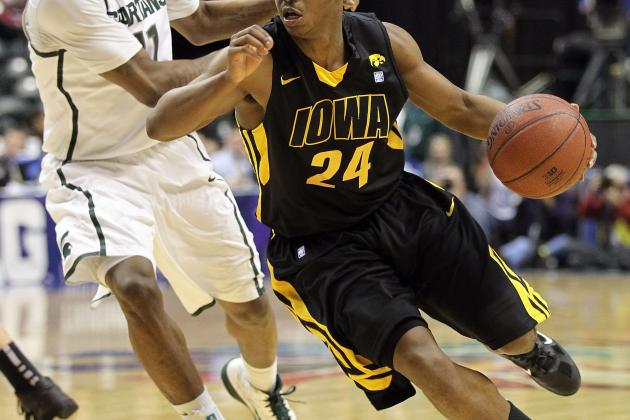 Andy Lyons/Getty Images

With a 13-12 overall record and a 5-7 record in the Big Ten, Iowa has remained a middle-of-the-road team for the entire season.
However, the Hawkeyes have stepped up when they were least expected to and beat Michigan at home and Wisconsin and Minnesota on the road.
The resiliency that this Iowa team has shown has been impressive despite its mediocre performance. As they close out Big Ten conference play, the Hawkeyes will take on Indiana and Wisconsin on their home courts and have a good chance to beat both of these teams with home-court advantage.
Iowa hasn't posted more than a three-game winning streak this season, which undoubtedly reveals inconsistency, but the team somehow manages to win big games.
Teams like this keep intraconference competition high.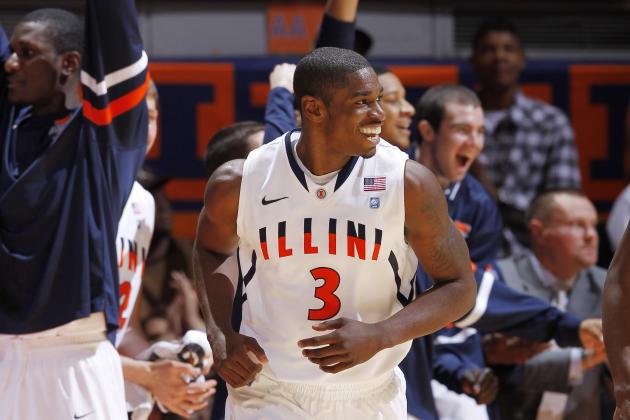 Joe Robbins/Getty Images

Illinois is one of the most surprising teams in the Big Ten this year. When the Fighting Illini were able to beat No. 18 Gonzaga in non-conference play they appeared on the national radar and then went on later to give No. 8 Missouri a run for its money by only losing by four points.
For a team that has a mediocre offense, Illinois stunned in the Big Ten when it started conference play 4-1 with a monumental win against No. 5 Ohio State.
However, since that statement victory, Illinois sports a 1-6 record that has brought the team off Cloud Nine and back to Earth.
The Fighting Illini were able to beat Michigan State recently, but without the Spartans' key forward Draymond Green.
If Illinois is to finish in the top half of the Big Ten, it will have to bear down for the remainder of conference play, as the Fighting Illini will face Top 25 fellow Big Ten opponents in five out its eight remaining games.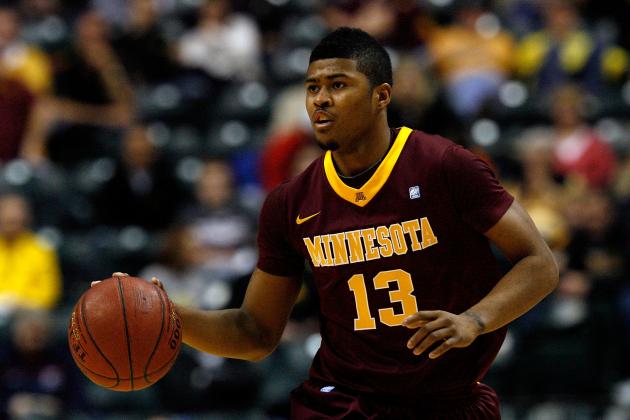 Chris Chambers/Getty Images

Minnesota was a frequently talked about team coming into the season and kicked off the season with an excellent 12-1 run. However, the loss of Trevor Mbakwe has really taken a toll on the Golden Gophers and crushed their hopes to be a top Big Ten team.
Despite starting Big Ten conference play with a four-game losing streak, Minnesota has been able to battle back and remain competitive in the ever-challenging Big Ten.
The Golden Gophers' first Big Ten win was a huge one, as they took down a hot Indiana team in Bloomington.
Minnesota is still yet to be among the elite teams in the Big Ten, but it shown resiliency through some setbacks and could make an underdog run in the NCAA Tournament this March.
Resiliency will be the key for Minnesota in its remaining Big Ten schedule as it takes on ranked opponents in five out of its seven upcoming games.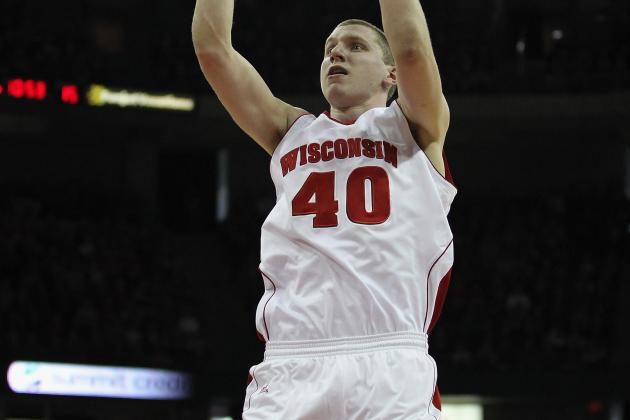 Jonathan Daniel/Getty Images

Wisconsin has been the mystery of the Big Ten this year and has shown unpredictably in both negative and positive fashions.
The Badgers started the season by going 11-2 in non-conference play with two losses to Top 25 teams in which they lost by a small margin.
They won their first Big Ten game and then fell out of the Top 25 rankings when they posted a three-game losing streak and fell to Iowa, Michigan State and Michigan.
However, after that losing spell Wisconsin has battled back to being a top Big Ten team and recently posted a six-game winning streak before falling to Ohio State in a hard-fought game.
Because of its inconsistency, Wisconsin has become somewhat of a "sleeper" team that has the potential to surprise in the Big Ten.
The Badgers have two big road games coming up at the end of their Big Ten schedule against Michigan State and Ohio State. If they can win those, they have a chance to finish as high as second place in the conference.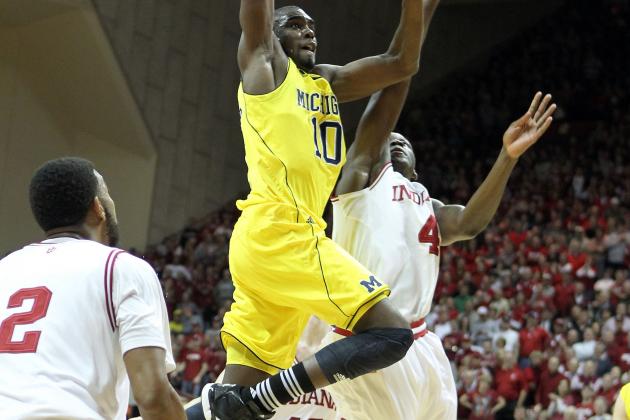 Andy Lyons/Getty Images

With one of the best pair of guards in college basketball in Tim Hardaway Jr. and freshman Trey Burke, Michigan has won some key games in the Big Ten, including victories over Wisconsin, inter-state rival Michigan State and Indiana.
However, the Wolverines' biggest downfall is their inability to post a significant winning streak from which they can get momentum in the Big Ten.
Although Michigan posts an impressive 9-4 record in the Big Ten, it hasn't been able to record a win streak greater than two.
Despite the lack of momentum, the Wolverines have proven that they are an elite team in the Big Ten and deserve to be nationally ranked.
Michigan has a huge game coming up against No. 3 Ohio State on its home court in Ann Arbor and if it can win that game the Wolverines have a good chance at winning the Big Ten conference title.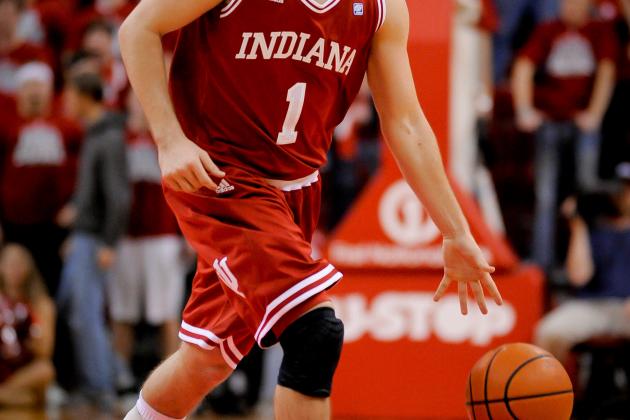 Eric Francis/Getty Images

To the delight of college basketball fans around the country, the Indiana Hoosiers basketball program has been resurrected and is an exciting team to watch this year.
The Hoosiers jumped out to an 8-0 start in non-conference play and shocked the nation by beating No. 1 Kentucky at home in Bloomington.
Indiana continued its undefeated streak for three more games until falling to Michigan State in its conference opener.
After proving victorious in two telling tests against No. 2 Ohio State and No. 13 Michigan, Indiana fell flat and tallied a three-game losing streak, getting wiped out on the road against the team it had just defeated—Ohio State.
The good news for Indiana, who has fallen to 7-6 in the Big Ten, is that its remaining games are against the bottom half of the conference excluding a home game against No. 12 Michigan State.
Look out for the Hoosiers. They're not finished shocking the nation.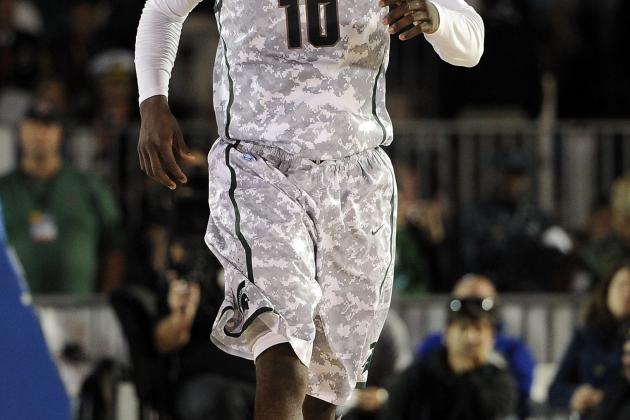 Harry How/Getty Images

Michigan State had a rough start to the season with two losses to Top 10 teams, Duke and and North Carolina.
However, after that initial obstacle, the Spartans went on a huge winning streak and won the rest of their non-conference games. They then carried that momentum into the Big Ten by beating a hot Indiana team in their conference opener and going on to win three more games before losing to Northwestern.
The Spartans' biggest weakness is their heavy reliance upon senior Draymond Green (who averages a double-double), which was evident when they fell to Illinois 42-41 in his absence due to injury.
Michigan State won its most telling game of the season this Saturday against Ohio State on the road, which has made the Big Ten title race very interesting. Both teams are now tied for first place with 9-3 records.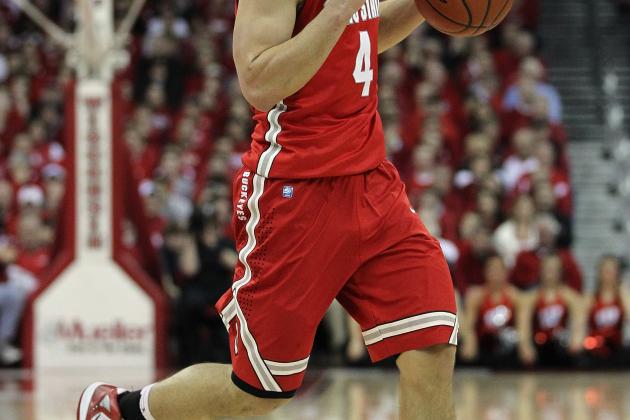 Jonathan Daniel/Getty Images

Ohio State has been ranked in the Top 10 the entire season and for a very good reason. The Buckeyes are one of the most talented teams in the nation and have one of the best forwards in Jared Sullinger.
With Aaron Craft manning the offense, Ohio State averages 76.9 points per game (29th) and 15.8 assists per game (21st).
The Buckeyes have lost three games in the Big Ten, falling to Indiana and Illinois on the road and the most recently falling to Michigan State at home. Since being stunned with a loss to Illinois fueled by a 43-point game by Brandon Paul, Ohio State was on a roll.
The team won six games in a row after losing to the Fighting Illini, defeating fellow Big Ten contenders Michigan and Wisconsin in the process.
However, the Buckeyes weren't able to stand their ground in their toughest Big Ten matchup of the year on Saturday against Michigan State.
They portrayed themselves as a vulnerable in that loss, which has called into question their ability to close out the Big Ten title.
Nevertheless, as it stands right now, Ohio State will most likely win the Big Ten and earn a No. 1 seed in the NCAA Tournament.