Drafting the Perfect Baseball Team for 2012, Using My List of Players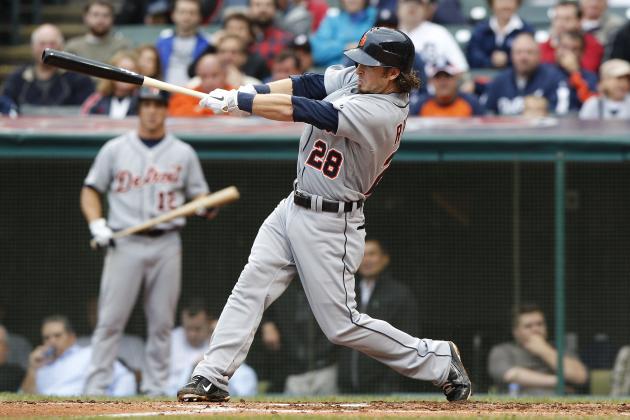 David Maxwell/Getty Images

Every year, I join MLB.com and set up a 12-team league, where I try and create the best team from a preset list of players that I want to pick. For the most part, I do get the players I want, and it usually works out well, in fact, last year, thanks to Adrian Gonzalez, my first-round pick, I made it to the postseason for the first time, although I lost in the league championship.
This year, I have compiled my "Billy Beane" list, or the players that I would draft in a perfect world, in the hopes that my team, the Nagoya Yowanes, make a second consecutive championship appearance.
The draft is 16 rounds, and each player chosen is from MLB.com's top 200 player list. Pitchers are replaced with pitching staffs, so for instance, I will choose two pitching staffs, like the Phillies and the Rangers, rather than individual pitchers, which most other leagues do.
Without further ado, I give you some players that you should consider drafting in order to build that championship-caliber fantasy baseball club, based on who I'd draft.
Begin Slideshow

»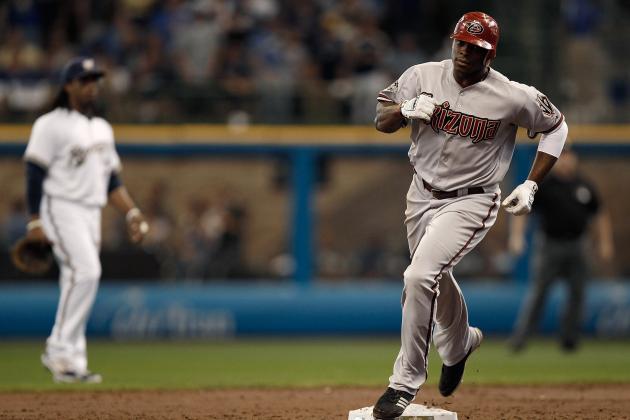 Jared Wickerham/Getty Images

In this draft, we are operating under the assumption that you do not get the first overall pick, more the middle, which is where I like to draft. With Matt Kemp and Albert Pujols presumably off the board, I tab Justin Upton as the face of my franchise.
Upton is a great hitter with good speed and yearly All-Star potential, all at the tender age of 24. The fact that he is so young shows that he has a chance to have an MVP-caliber season each year until he reaches his prime. He also plays in a hitter's paradise, Chase Field, for half the year.
Upton has clearly proven that he can be a franchise cornerstone in Arizona for years to come, and for that, he deserves to be a first-rounder.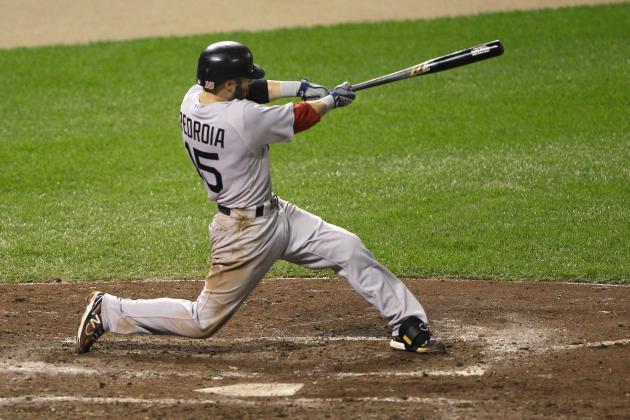 Rob Carr/Getty Images

Dustin Pedroia is a beneficiary of the hitter's paradise known as Fenway Park, and although he may only have 75 home runs to his credit, he still can hit, as evidenced by his .305 average.
Pedroia has made the All-Star game three out of five times, and has won the AL MVP. He, like Robinson Cano, is one of the better hitting second baseman out there, and is certainly worth investing a second-round pick on.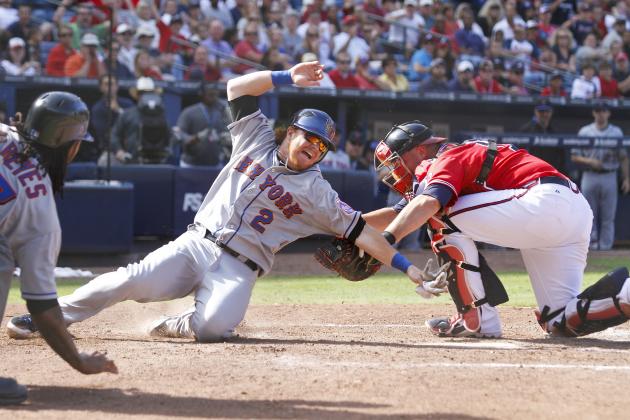 Daniel Shirey/Getty Images

Last year, I opted to select the best catcher available in the draft, Joe Mauer. That turned out to be a mistake. This year, I will hopefully do it again, only with better results.
Brian McCann is one of the very few Atlanta Braves I have come to respect. He's a great hitter who has managed to thrive playing in the tough NL East. McCann has made the All-Star team in each of his six full seasons, capped off with an All-Star Game MVP in the 2010 game. In addition, he is a five-time Silver Slugger.
McCann is definitely the guy that you want behind the plate, so if you're not averse to selecting a catcher early in the draft, I recommend him.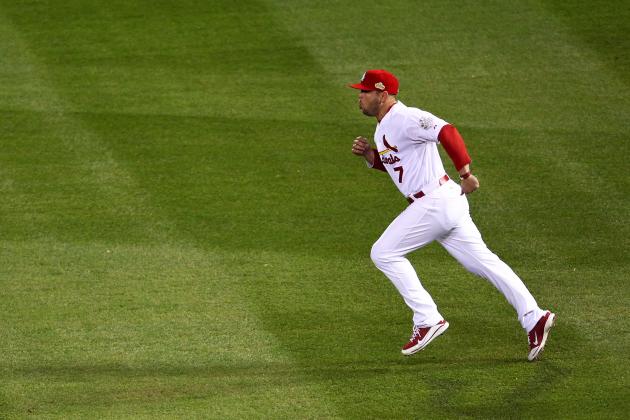 Dilip Vishwanat/Getty Images

With Albert Pujols flying off with the Halos, it's time for Matt Holliday to become the team leader.
Holliday has leadership experience, he was the young leader of a resilient Rockies team that made the 2007 World Series. In addition, he is a solid three hitter, with excellent protection from guys like Carlos Beltran and David Freese.
Though he is about to enter the age where baseball menopause sets in, he seems to be holding his own quite well, especially with his career .315 average. He is definitely worth taking a look at as a second outfielder.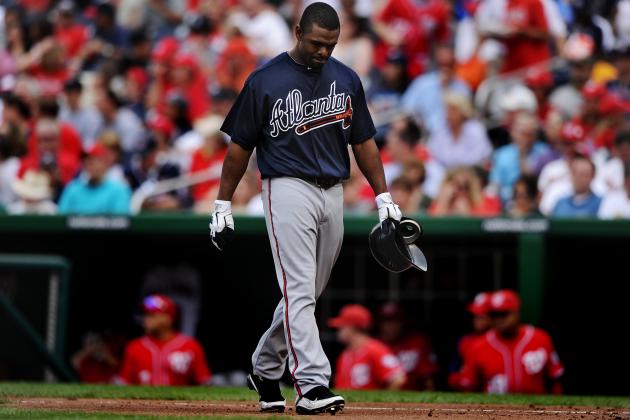 Patrick Smith/Getty Images

In fantasy baseball, steals count for points. In the case of Michael Bourn, most of his weekly points come from stealing bases.
Bourn moves from a weak Astros lineup to a stocked up Braves lineup full time, and is expected to contribute immediately.
Ordinarily, I would have gone for Jose Reyes, but considering that he is a second-rounder, and has leg problems, I decided to opt for a healthier Bourn as a typical leadoff hitter.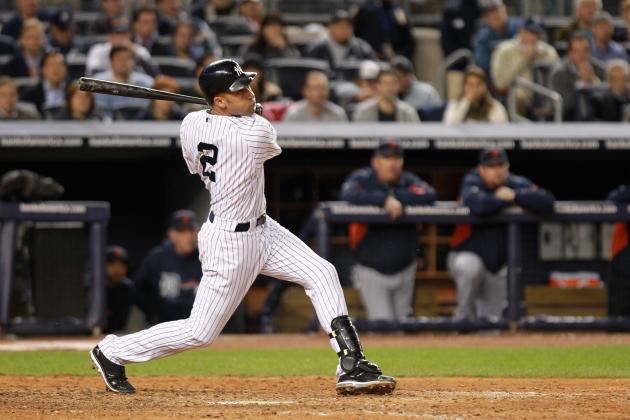 Nick Laham/Getty Images

There seems to be something about playing for the Yankees that makes you a better player. Considering Jeter has played for the team for close to 17 years, I would definitely put aside my anti-Yankee sentiment and draft him.
Jeter may be in his late 30's, but he can still hit, and at a hitter's haven like Yankee Stadium, that's good.
The only concern I have about drafting Jeter is the possibility that he slows down this year. After all, he did only recently reach 3,000 hits, and normally, unless you're Pete Rose, that means you start going downhill. Nonetheless, he seems to be a safe choice, if a little highly rated.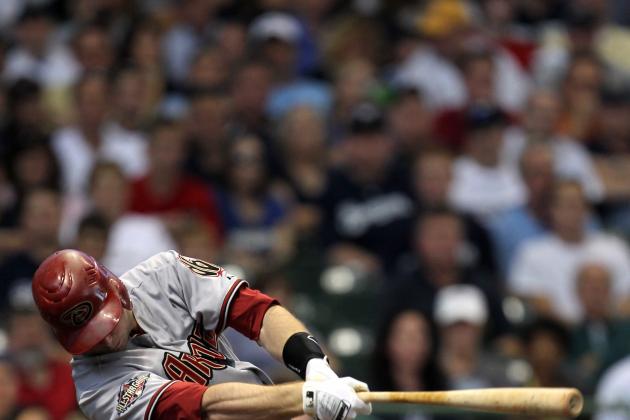 Jonathan Daniel/Getty Images

I'm not one to draft based on potential, but in the case of Paul Goldschmidt, he seemed too interesting to pass up.
Goldschmidt came up in August, and hit reasonably well, with a .250 average and eight home runs in two months' work. In the NLDS, he hit a game-winning grand slam that postponed the Diamondbacks' elimination by a game.
If all things go well, Goldie will certainly have a decent year with more evaluation time, but if not, it would be good to stock a backup first baseman. Nonetheless, depending on who you draft as your secondary option, he could be a good interchangeable player.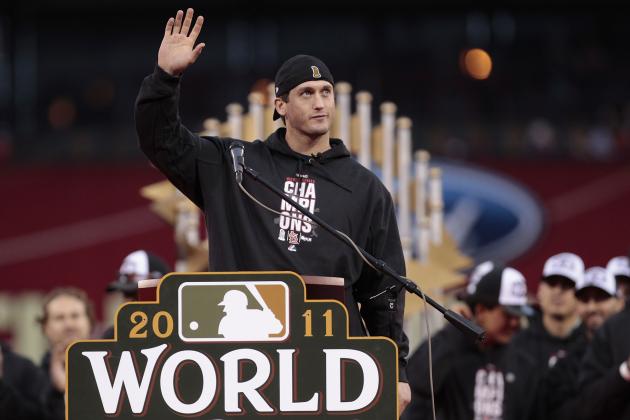 Whitney Curtis/Getty Images

David Freese is a novelty, a World Series MVP who was also a late bloomer. His 2011 season was a breakout, and his postseason performance was quite admirable.
If Freese can play like he did this past season in a full year, expect great things from him. However, like Goldschmidt, be prepared to draft a backup just in case.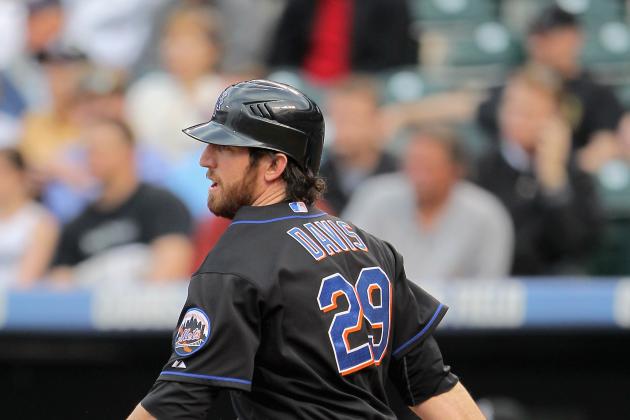 Doug Pensinger/Getty Images

Ike Davis was having a terrific season last year before David Wright fell on him. Imagine if he played the full year healthy. He could have had 30 home runs if he tried.
With Davis hopefully recovered from his injury, he would be a good choice as a backup, or in my case, a platoon with Goldschmidt. I like his power swing, and I think he is definitely poised for a breakout this year, especially with the fences moved in at Citi Field.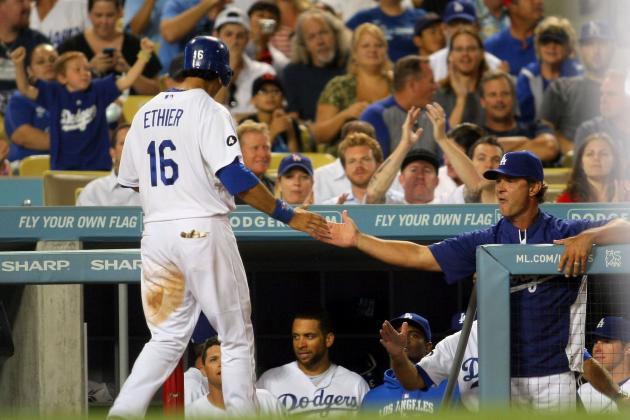 Victor Decolongon/Getty Images

I honestly have no idea why MLB.com has ranked Ethier so low, especially after the fine season he had last year, despite his injury. After all, he had a 30-game hitting streak, made the All-Star team and won the Gold Glove award, all while supposedly playing hurt.
Ethier is a good hitter who is basically the poor man's version of Matt Kemp, who presumably goes first overall. With that in mind, it wouldn't be a bad idea to pick him up as a fourth outfielder, or if you haven't filled out your outfield already, a third.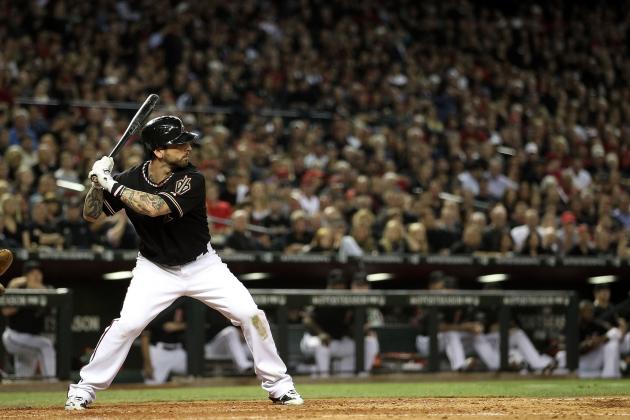 Christian Petersen/Getty Images

Ryan Roberts is a good bench contributor, I know this because I used him during my 2011 postseason run. Don't let his low average fool you, he definitely is a guy worth having as an emergency replacement. In the case of David Freese, should he not live up to expectations, I would probably use Roberts as my backup option.
If Roberts can play to the same level he did in September/October for Arizona, he would most certainly be worth the investment of a late-round pick.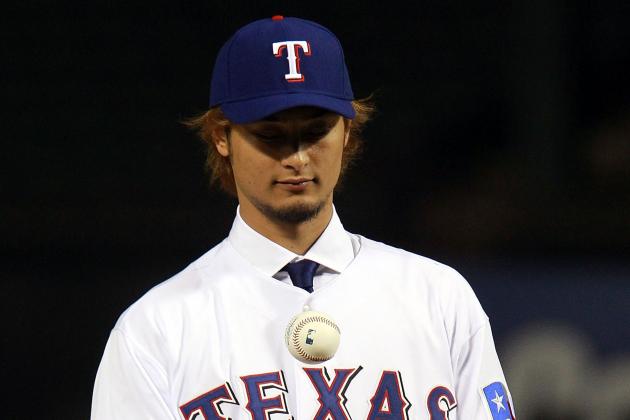 Ronald Martinez/Getty Images

The Rangers pitching staff may be one of the biggest surprises of the year. Signing Yu Darvish, putting Neftali Feliz in the rotation, basically this group of hurlers shows promise.
Even though losing C.J. Wilson obviously hurts, and the staff ace is Colby Lewis, it would be a mistake not to take more than a cursory glance at the Rangers staff.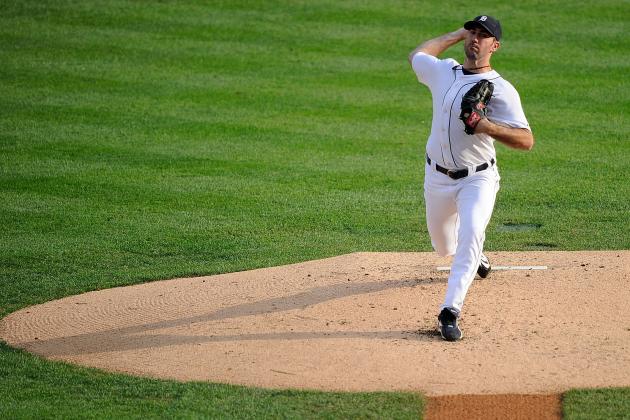 Kevork Djansezian/Getty Images

Two words: Justin Verlander.
The MVP and Cy Young winner is one of the biggest reasons why you should draft the Tigers as a primary rotation. His production could net you plenty of fantasy points every fifth day.
Moving along from him, Doug Fister is a solid second starter, as evidenced by his performance after being traded from Seattle. Max Scherzer and Rick Porcello are still young, but they are quality mid-rotation arms, and at the back, it's a competition between Jacob Turner, Andy Oliver and Drew Smyly.
Let's also not forget the 2011 Rolaids man, Jose Valverde.
All in all, the Tigers staff is solid, and maybe even worth drafting earlier.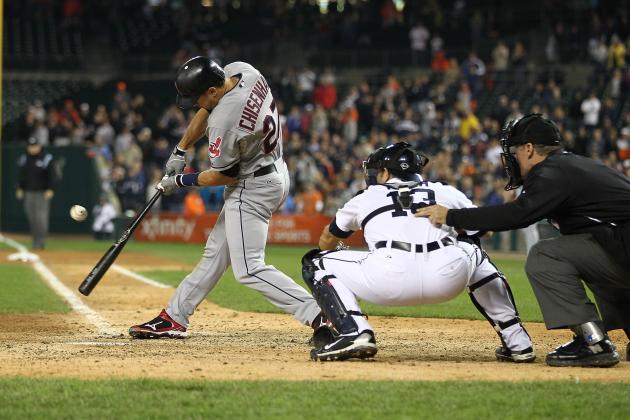 Dave Reginek/Getty Images

There's not much to explain why I would draft Lonnie Chisenhall, so I'll go for the old bench help argument.
In any case, you could pick any player for bench help with this choice. I chose Chisenhall because he's a slap hitter who has plenty to offer.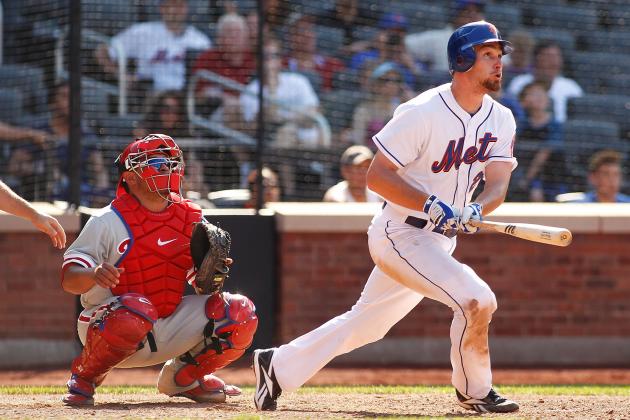 Mike Stobe/Getty Images

Dan Murphy is a sabermatrician's dream. He has a high on-base percentage, and is capable at any infield position. The only problem he has is his health.
Before getting hurt back in August, Murphy was sixth in the NL with a .320 average. Considering he was once a filler player, that's quite the offensive statement. Murphy will be a good backup, and could potentially fill in for any slumping player, provided he's in the infield. In short, he's worth a late pick.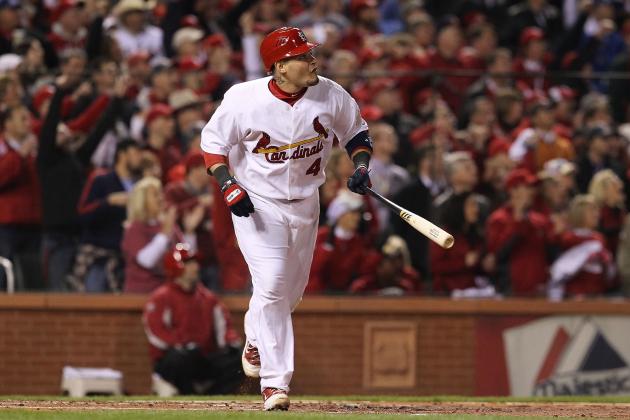 Jamie Squire/Getty Images

Molina may not be a great hitter, but that doesn't matter. The reason why you should use your final pick on a catcher is to provide yourself with insurance in case your starter gets hurt.
For me, that insurance was Nick Hundley, then Matt Wieters, after Joe Mauer got hurt. And besides, you never know what may happen with your late picks. Just look at what Cam Newton did in fantasy football.
I hope this draft guide helps you as you prepare for your draft day. Good luck and have a great year.