Los Angeles Galaxy: Ins and Outs, February 8, 2012
February 8, 2012

Victor Decolongon/Getty Images

Welcome back, Juninho! And Leonardo, too...
Bruce Arena's Los Angeles Galaxy just got another gift: Juninho is coming back. And it would suddenly be a shock if LA did not win the 2011-12 CONCACAF Champions League.
After things did not work out at Sao Paulo, Juninho-who was instrumental last season with Los Angeles, returns to LA for another loan period. Meanwhile, Leonardo is now a full member of the Galaxy after joining the club on a free transfer.
Juninho was an ever-present force in the center of the Galaxy midfield over the past two seasons, starting 55 regular season games as well as six of the club's seven postseason matches.
Leonardo finished his 2011 campaign early, starting just seven matches before succumbing to injury. The rehabilitation process for the Sao Paulo native is moving on strong, and it is expected that he will be back to full match fitness by the start of the 2012 MLS regular season.

Portland finally win at the Toolbox
It was only a preseason friendly, but the possibility of the Portland Timbers making life miserable for the Los Angeles Galaxy was realized in their 4-1 blowout defeat that had shades of Puerto Rico 2010 Revisited.
Dan Keat scored the only goal for LA in the 80th minute of play.
Up next for LA is an MLS Cup 2011 rematch with the Houston Dynamo at the Home Depot Center, scheduled for Friday, Feb. 10.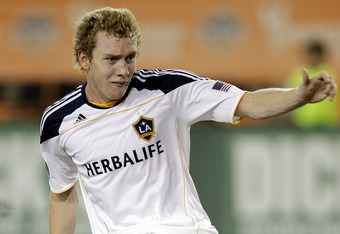 Bob Levey/Getty Images

Jack Mac, ready to attack
After being sidelined for a month due to a right ankle sprain, Jack McBean is ready to improve on his efforts from last season as a member of the Los Angeles Galaxy starting XI.
"When you go into any team I think it feels a little awkward in the beginning, especially me being five, six years younger than everyone," said McBean to Larry Morgan of LAGalaxy.com. "But this year's been going really well so far. Not to be the new guy coming in on the first day, you already know more than half the guys in the locker room.
"It's cool to be myself here, I guess. I know I can play with these guys. It's just all about confidence."