San Francisco Giants: Consequences of Not Signing Matt Cain, Tim Lincecum
February 8, 2012

Christian Petersen/Getty Images
The San Francisco Giants have two very important decisions to make. On the immediate horizon, Matt Cain's contract will expire after this season. If the Giants do not sign Cain to a long-term contract, he will hit the open market as a free agent and the price will spike up dramatically.
Cain has played for the Giants for seven years and he's only 27 years old. He should have several more high-level seasons and it's imperative the Giants sign him now, before he becomes a free agent. He will make $15.333 million in 2012.
Some so-called experts predict Cain will sign an extension similar to Angels' star pitcher Jared Weaver, who agreed to a five-year contract for $85 million. That would be a steal for the Giants.
I do believe Cain will give the Giants a bit of a hometown discount, but he will still command more than Weaver's deal. The Yankees and Red Sox are salivating at the possibility of Cain hitting the open market. Some analysts have predicted that Cain could receive a contract of $150 million for five years.
My gut feel is that Cain will indeed sign a long-term deal for five or six years. Look for a deal to be worked out for five years and about $96 million or six years and $115 million.
Cain is a family man and likes the Bay Area and the Giants. That stability is a point in the Giants' favor, but Cain will still be very expensive.
The longer the impasse lingers, the scarier this will become for Giants fans. The Giants and Cain would like to get something completed before the season starts. If they fail to accomplish this, the price of poker will simply continue to escalate.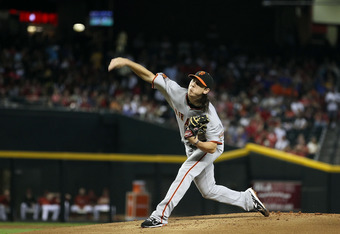 Christian Petersen/Getty Images
Tim Lincecum is another story completely. He is under contract to the Giants for the next two seasons, after completing a deal which will only secure his arbitration years. He signed a two-year contract for $40.5 million.
Lincecum will be eligible for free agency following the 2013 season. He is single and has no real ties to San Francisco, other than the fact that he does like the area, the climate and is loved in the Bay Area.
If the Yankees and Red Sox are salivating over Cain, you can imagine just how much more they will be clamoring for Lincecum. Five years and $150 million may even be less than he will command on the open market.
The Giants approached Lincecum about a long-term extension earlier in this offseason. Lincecum turned them down, preferring to sign a short-term deal and keep his free agency options open.
It's doubtful the Giants will be able to do anything with Lincecum's contract this season. That being the case, it will be imperative for the Giants to complete a deal prior to the 2013 season.
Lincecum will be even more expensive than Cain and the Giants will still owe Barry Zito another $27 million heading into the 2013 season. The Giants' ownership group will need to bite the bullet and get a deal done.
If Lincecum hits free agency, he will undoubtedly cost a lot more and the Giants may not have the desire or ability to go that high.
Every good team has a window of opportunity to win a championship and the Giants captured that title in 2010. As long as they have Cain and Lincecum pitching at a high level, their window of opportunity remains open.
If they were to lose either pitcher, the window begins to shut. If they lost both pitchers, the window will be closed, perhaps for a very long time.