Jake Ballard Tore ACL in Super Bowl XLVI: What It Means for the New York Giants
February 8, 2012

Gregory Shamus/Getty Images
The NYPD had barely begun to sweep the streets through the Canyon of Heroes following the New York Giants Super Bowl parade before the bad news began rolling in for their title defense.
Tight end Jake Ballard, who had a breakout sophomore season with 38 receptions for 604 yards and four touchdowns, suffered a torn ACL in the Super Bowl, according to the Giants official Twitter account.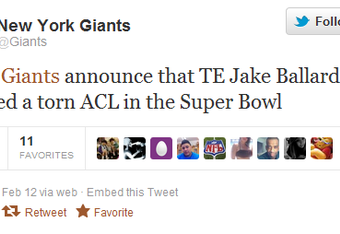 It may seem like good news for an injury of this nature to come just before the offseason, to give Ballard as much time as possible to get healthy.
However, most ACL injuries take a year to fully heal.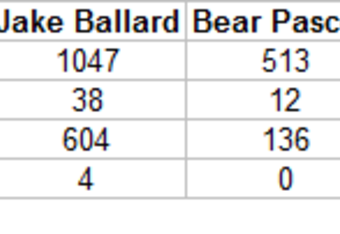 Patriots receiver Wes Welker was a rare exception, returning just eight months after going under the knife, but even he was far less effective fresh off surgery.
How does this affect the team going forward?
The Giants have depth at tight end, but who knows whether Travis Beckum and Bear Pascoe can be as consistently reliable as Ballard was throughout 2011. To put it in perspective, Ballard had more snaps, receptions, yards and touchdowns than Beckum and Pascoe combined.
That being said, the Giants don't utilize their tight ends as much for their receiving ability as their blocking prowess, so they should be okay to get by with Beckum and Pascoe for 2012.
And with pass catching threats like Hakeem Nicks, Victor Cruz and Mario Manningham at his disposal, Manning won't want for offensive firepower anytime soon.