NHL Trade Speculation: Leafs Expected to Remain Quiet Before the Trade Deadline
February 8, 2012

Marianne Helm/Getty Images
Leafs general manager Brian Burke is rumoured by many hockey fans to make a few key moves prior to the trade deadline on Feb. 27, 2012.
However, that might not be the case.
The Leafs front office possibly will remain quiet prior to the NHL trade deadline due to their specific needs. Those needs include a big top-six forward, preferably a center. With a limited market that suits those needs, the Leafs may be out of luck heading towards the trade deadline.
It was initially expected that the Toronto Maple Leafs were back in the hunt for Philadelphia Flyers winger James van Riemsdyk.
However, the 22-year-old is currently on injured reserve with a concussion, which lowers his attraction to the Leafs at this particular time.
Van Riemsdyk has suited up for 37 games so far this season, posting 11 goals and 11 assists for a grand total of 22 points.
The Leafs have also been rumoured to be in the hunt for Anaheim Ducks center Ryan Getzlaf.
Getzlaf seems to be the exact fit for the Toronto Maple Leafs. Getzlaf is still fairly young at the age of 26, he's big and can score goals.
Getzlaf has been displaying consistent play as of late, recording nine points in the past 10 games.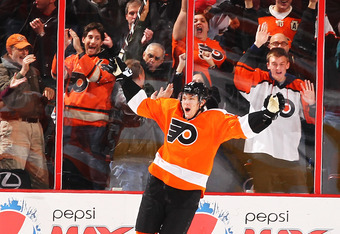 Al Bello/Getty Images
The Leafs would love to acquire the big centerman; however, with the recent elevation of Anaheim's overall team play, the Ducks will likely be holding on to some of their bigger and better stars.
The Ducks are 7-2-1 in their past 10 games.
With these two players likely off the Leafs' list of possible players to acquire, expect the Leafs to remain quite prior to the NHL trade deadline.
However, Leafs fans should not be too worried. The Leafs are currently on a three-game winning streak and are holding on to seventh place in the Eastern Conference.
Despite the possibility of being quite prior to the trade deadline, Leafs fans should remain positive for an exciting push into the playoffs.