WWE Elimination Chamber: The Case for an R-Truth Victory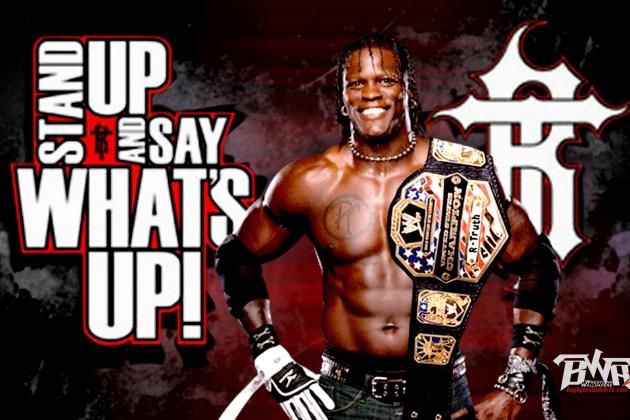 R-Truth is currently my second favorite WWE Superstar right now, (behind Cody Rhodes). The Truth is also going to be one of six men to participate in the WWE Championship Elimination Chamber in two weeks.
He's my preference out of all six stars to walk out of the chamber as WWE Champion.
Now, anyone can make a case for why anyone should walk out of EC with the WWE Championship. Hell, I could probably write an article on why Jack Swagger should be competing in the Chamber match this Sunday. But in all honestly, I truly think R-Truth would be the best option to walk into Mania as WWE Champion and here are several reasons why.
Begin Slideshow

»
R-Truth has two intangibles you can't teach or learn: mic skills and charisma. Oftentimes, It looks like people confuse the two for being the same thing, but It's also rare to find someone who has one but lacks the other.
However, there is a great instance of that in today's WWE and his name is Dolph Ziggler.
Dolph doesn't lack mic skills, but he doesn't have the charisma to go with those skills to make himself really stand out like Punk, Christian and Truth do. Whenever he's on the mic, he speaks a great game, but it always feels so...empty that it takes away from him greatly, in my opinion.
Can he develop some charisma? Who knows. It'll take some time, but he's young.
R-Truth, however, is a seasoned veteran. He knows what clicks and what doesn't, and he knows what to say and how to say it. He also knows how to play with the crowd, which a lot of guys don't even take the time to do. CM Punk usually gets to the ring and calls out whoever is on his mind, and that's all fine and dandy, but a bit boring.
Truth comes out, and you know you're about to be entertained. I can't really think of one bad promo I've seen from Truth in a long time.
A lot of people can claim to have a unique look.
CM Punk is all tatted up, Rey Mysterio is of small stature and Latin origin and even Cena can claim to look different than his peers. You don't see too many guys built like Cena in the WWE anymore.
R-Truth is no different. African-American descent, (speaking of which, I don't think WWE has ever had an African-American WWE Champion,) well-muscled, out-there hairdo and unique ring attire all come together to make Truth unlike any WWE Champion in a long time.
Oftentimes we of the IWC complain that old guys are taking spots from young guys when they're still on the roster and pushing 40, but I think with the way things have been going, that thinking isn't right anymore.
I've always stood by one simple thought: Talent shines through regardless of adversity.
Now, I will admit, WWE tends to rely on old guys far too much. At the same time, I think certain stars should be able to garner more attention by what they've done, that WWE will want to put them in spots beyond the legends and veterans.
The Miz and R-Truth are perfect examples.
R-Truth made a great heel and was arguably better in his brief main-event title run than Miz was. Truth got a great deal of heat during his heel days, and I think it goes back to him connecting more as a heel with the crowd. Miz got heat, but I don't really think he got as much as he could have. Truth was getting massive heat during his rambling promos.
Miz, at his young age, should know ways to get great heat like Truth did. This is an instance of talent shining through. Despite his age, R-Truth delivers—n the mic, in the ring and with the fans.
So he's an old guy. As long as he has some type of draw, I don't think age should be an issue and his veteran status only helps him.
If R-Truth is anything in the ring, it's entertaining.
The guy has a great mix of speed and power. He can brawl with the likes of John Cena and he can fly with Kofi Kingston and Chris Jericho. This particular combination makes for an interesting visual representation—to say the least.
His moves almost never fall flat, he's not terribly botchy and he knows how to work a crowd. I think Truth can be a good ring general given the chance. But, I'm not going to lie and say he's the best technical wrestler in the world or even call him a submission specialist.
What I will say is that if you ever want to see a little something flashy, a little something interesting, maybe something you don't see every day, then you gotta watch this guy in the ring.
R-Truth is the best candidate for the WWE Title for a lot of reasons, but I think his potential is the biggest one. There are so many ways WWE can go with R-Truth walking away as WWE Champion, and they're all very good choices to have at Mania.
R-Truth vs. Dolph Ziggler
If WWE decides to put Dolph back in the main-event scene, I could see Ziggler continually pointing out Truths' age and how it's his time and not R-Truths. Truth could call Dolph a child and point out how young he is and childish—just to name a few possibilities.
Honestly though, I don't see WWE thinking Ziggler is ready to main-event Mania.
The Miz vs. R-Truth
This feud practically writes itself. In fact, it has written itself.
Miz could claim Truth is in the spotlight because of him, and him alone and if not for Awesome Truth, he'd be nothing. Truth could counter that he got there on his own and also poke fun at Miz on several levels. (Looks, lack of friends, losing streak, etc.)
R-Truth vs. CM Punk
This is one I actually think would be better than CM Punk and Chris Jericho in terms of promos. CM Punk could point out that while both of them are unconventional, only one of them is "The Best in the World."
Truth could twist his words around and make it seem like that's his title. The fans could slowly get behind Truth until Mania, where Truth retains and CM Punk can finally be a heel again. (I think he works best as a heel.)
Kofi Kingston vs. R-Truth
R-Truth vs. Kofi Kingston is sure to be a high-octane match. It would be very fast-paced and exciting, and I think Truth could do most of the legwork in the promos leading up to it. This could sort of be like Kofis' moment.
That would be something Truth could stress, similar to how Cena stressed Punk had to win at SummerSlam to make himself legit.
R-Truth vs. Chris Jericho
Another good promo feud here, and again, we can go the same route as Punk and Truth with the twisting of the words.
However, we could also have Jericho constantly illustrate instances of R-Truth failing and himself succeeding. He could underestimate R-Truth as an opponent—R-Truth would become downtrodden before overcoming the odds and beating Jericho at Mania to solidify his career.
R-Truth vs. Sheamus
Or lets say Sheamus decides to go to RAW and take on Truth. I could see this as similar to a more well-rounded Morrison/Truth feud.
Friends becoming rivals and such, with Sheamus constantly downplaying R-Truth as a competitor (unknowingly), and with R-Truth slowly turning heel as the weeks go by until he finishes his turn at Mania by cheating to keep his title.
I think all of these are good programs, and there's a lot more they can do. WWE just has to be creative in it's approach.
I know full well the chances of R-Truth winning in two weeks is slim to none at best, but I honestly think he'd be the best choice for the match.
Let me know what you think. Thanks for reading.