Arsenal: Why Laurent Koscielny Is the Gunners Most Improved Player This Season
February 8, 2012
Paul Gilham/Getty Images
It's funny how things work. This time last year, I was extremely annoyed that Arsene Wenger wasn't dipping into the transfer market for a solid central defender. Fast forward a year later and the lack of full-back cover seems a problem.
How did the central defensive area become one of the strongest positions for Arsenal? The emergence of Laurent Koscielny has to stand out as the main reason. You could then add that on the arrival of an experienced German international in the form of Per Mertesacker.
Laurent Koscielny is by far the team's most improved player this year. Other than Robin Van Persie, no other Arsenal player—meaning the ones at the club since last season—has stood out like Koscielny.
Koscielny's has shown increased confidence, consistency and composure in all areas of his game and that has shown on the pitch.
He has gone from being the player whose name caused me discomfort when reading an Arsenal lineup to being one of our most important players, and most likely our best defender this season.
Last season he had his blunders and did not look like an Arsenal- or Premier League-quality player.
So far in 2011/12, Koscielny has probably been the most composed defender wearing an Arsenal shirt and has made the least mistakes.
His reading of the game has led him to leading Arsenal in interceptions per game, 4.2. That, along with his composure and his speed, generally puts him in the right position to clean up any defensive messes.
The Frenchman has shown his new attacking confidence, too. Vermaelen still does more in that regard, three goals and two assists to Koscielny's one goal and two assists, but that's not what I mean.
Koscielny now does with his technical attributes what we've come to see Vermaelen do with his. There are times in the game where he drives the team forward with the ball at his feet and has some positive end product.
He may not have Vermaelen's left foot but these runs are the sign of a defender confident in his skills and his role.
Statistically, Koscielny has been good. We've already talked about how he leads the team in interceptions per game but there's more.
His tackling is among the best in the EPL as shown in an article earlier this year. His tackle success rate is 93 percent and he comes away with the ball 63 percent of the time. He is ranked first and ninth in these two categories.
Koscielny is now a key part of Arsenal's strength down the middle. Alex Song and Robin Van Persie are the other two.
That shows in the fact that the only non-goalkeepers to appear in more games than him have been Robin Van Persie, Aaron Ramsey and Theo Walcott.
Koscielny and Song both have the most appearances as starters though with 29. Again, that is minus Wojciech Szczesny.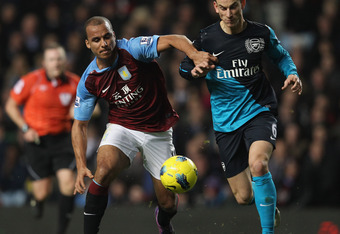 Clive Mason/Getty Images
Overall, Koscielny has a done a very good job so far this season and it's weird to think that an injury to Vermaelen may not be as scary now with him around.
However, he is still not our best defender. Vermaelen has been injured and played out of position and Bacary Sagna had his lengthy layoff.
Still, he brings a lot more confidence to a fan like me than he ever did before. Is it already time to wonder what would have happened with a Koscielny/Vermaelen centre-back partnership all year?
Koscielny's confidence and composure has led to his full use of his physical and mental attributes to very positive effects for Arsenal.
Arsene Wenger trust in him has paid off so far and should continue as the season goes on.
Keep up the good work Koscielny.