Freddie Freeman: 10 Bold Predictions for Sophomore Season with Atlanta Braves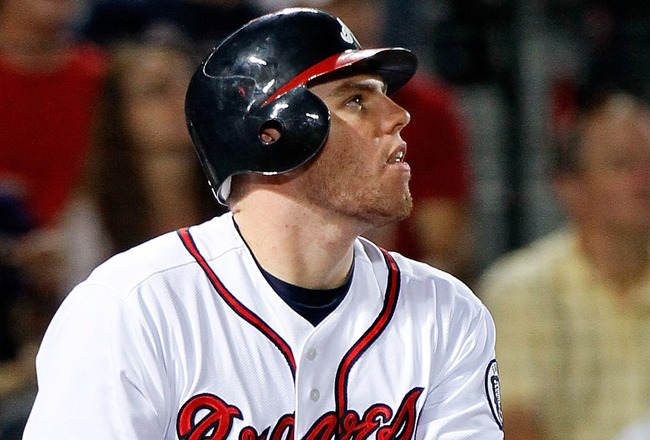 Freddie Freeman has only started to scratch the surface after a big rookie year.
Kevin C. Cox/Getty Images
Despite a slow start to his rookie season, Freddie Freeman managed to put together a strong enough season to prove that he was in fact worth the hype he received as a prospect. At age 21, Freeman more than held his own in the big leagues by hitting .282 with 21 homers and 72 RBI, and only missed out on winning the National League Rookie of the Year due to teammate Craig Kimbrel being dominant.
This article takes a look at 10 bold predictions for Freeman's sophomore season.
Freeman Avoids the Sophomore Slump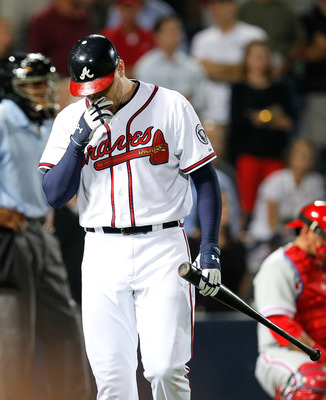 Freddie Freeman isn't likely to slump as a sophomore.
Kevin C. Cox/Getty Images
In sports many young players that find success as rookies struggle in their second season. Jason Heyward and Buster Posey are just two recent examples from last season of hyped prospects that enjoyed success as rookies but failed to live up to expectations in their second season.
The reasons for the dreaded sophomore slump are many, from opponents getting more scouting data, to the player not working hard enough after tasting success early, to even luck as a rookie. I believe that Freddie Freeman will not be a player that falls into this sophomore slump.
Freeman is too good of a contact hitter with a natural swing and great baseball instincts to fall into the slump. Watching his best friend Heyward struggle last year only gave him more motivation to keep working hard this offseason, as it let him see firsthand that hype and early success do not guarantee sustained success.
Freeman Hits .300
Freddie Freeman could hit .300 this year.
Daniel Shirey/Getty Images
Freeman hit .282 as a rookie, but has the room to make enough improvement this season. Freeman could have challenged for .300 last year, but he struggled to adjust to life in the big leagues in April when he hit just .217. He also wore down in September, due to the wear and tear from his first full season, and only hit .226 that month.
If you take out those two months, Freeman hit .311 over the four middle months of the season. Now that he's adjusted to life in the bigs and understands how to play a full season, he should be able to avoid such weak months to start and end the season.
Freeman Leads the Braves to the Playoffs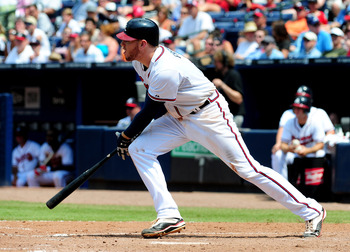 Freddie Freeman will lead the Braves into the playoffs this year.
Scott Cunningham/Getty Images
The Braves as a team went through a historic September collapse and a loss on the final day of the season cost the team a playoff spot. Making things worse is the fact that the team that beat them out for the wild-card spot, the St. Louis Cardinals, won the World Series.
Not only will Freeman's emergence help the Braves reach the playoffs, but he will be a key part of the team's playoff run.
25 Home Runs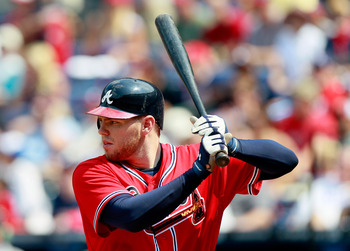 Freddie Freeman could hit 25 homers this year after hitting 21 last year.
Kevin C. Cox/Getty Images
Considering Freddie Freeman hit 21 home runs as a 21-year-old rookie last year, predicting him to hit 25 homers isn't much of a stretch. Freeman also hit 32 doubles and slugged .448 last year, numbers he could easily improve upon as he develops further.
While Freeman wasn't expected to be a power threat while he was in the minor leagues, the power he showed in his rookie season caught some by surprise. Hitting 21 homers at his age makes him a much better power threat than what people expected last year, and now there is reason to believe he could hit 30 homers in his prime.
Fewer Strikeouts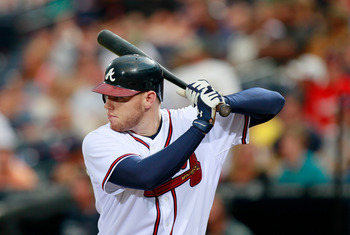 Freeman should be able to drop the strikeouts this year.
Kevin C. Cox/Getty Images
As a rookie, Freeman struck out 142 times, a number that while higher than expected wasn't a total surprise for a player so young. Freeman averaged 76 strikeouts per season in his three full minor league seasons, so that is likely closer to what to expect from him when he's in his prime.
While I won't call for Freeman to drop his strikeouts to his minor league rate this year, I could see him cutting down to the 100 to 110 range in 2012 with room for further growth in future seasons.
At Least 90 RBI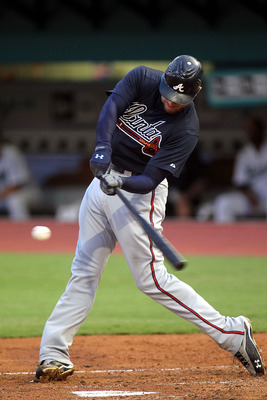 Freddie Freeman should be able to increase his run production.
Marc Serota/Getty Images
Despite having a successful season last year, Freeman only managed to bat in 76 runs. For a whole host of reasons I expect Freeman to increase his run production in 2012.
First of all, he will likely be hitting closer to the middle of the lineup than we saw last year since he's no longer a rookie. He's also likely going to be better with an offseason to improve. The addition of Michael Bourn for a full season will only help give him chances to knock runs in, as would a return to rookie form for Jason Heyward and bounce-back seasons from Dan Uggla and Martin Prado.
There's certainly reason for optimism for Freeman's run production in 2012.
A Better On-Base Percentage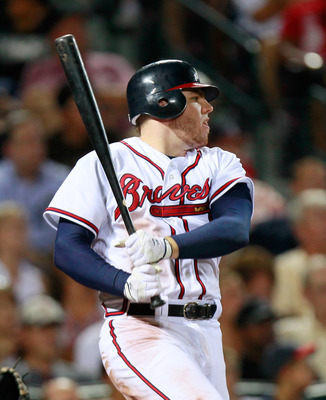 Freeman should be able to increase his on-base percentage this year.
Kevin C. Cox/Getty Images
Another one of Freeman's numbers that didn't measure up to his minor league numbers was his on-base percentage. Freeman got on base at a rate of .346 last year, which is strong for a rookie, especially one his age.
Freeman's minor league on-base percentage was .363, meaning there is room for him to improve. He went through some uneven production with two months worth of slumps in April and September, and was also adjusting to life in the big leagues.
An increase in his on-base percentage shouldn't be too hard for Freeman to accomplish. I'd expect him to be at least above .350 in 2012.
Improved Defense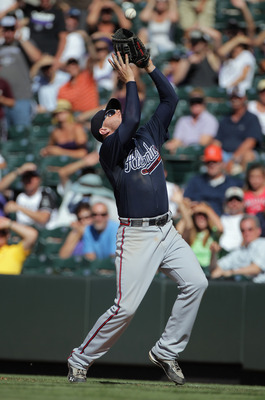 Freddie Freeman should improve his defense this year.
Doug Pensinger/Getty Images
Despite making only six errors in 2011, Freddie Freeman still has room to go on the defensive end. His .996 fielding percentage only tells part of the story, as his range leaves something to be desired. His range to his right was especially an issue.
Freeman has a solid base of skills with the glove, and if he is able to improve his range he could become one of the better defensive first basemen in the game. I won't call for that this season, but I would expect him to have put some work into that this winter, which should lead to some improvement.
Freeman Will Take Chipper's Lineup Spot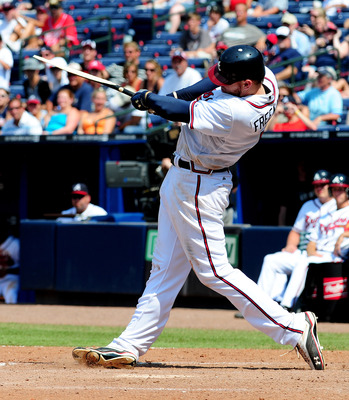 Freddie Freeman could take Chipper Jones' spot in the lineup.
Scott Cunningham/Getty Images
As long as he's been healthy Chipper Jones has been the No. 3 hitter for the Braves, but now that he's older he has slowed a bit and is no longer an elite hitter. Even though he has started to decline, Bobby Cox never moved him out of the lineup slot. However, Fredi Gonzalez is now managing the ballclub.
While Freeman isn't going to start out in the No. 3 hole, his production will force Gonzalez to make a move to be competitive. Gonzalez is smart enough to use his best all-around hitter in that spot, and that's why I predict that Freeman will take Chipper's lineup spot.
Freeman Will Become an All-Star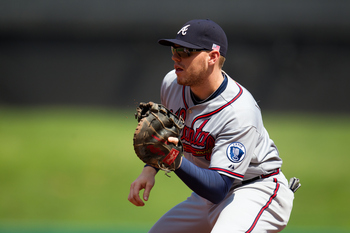 Could Freddie Freeman be an All-Star this year?
David Welker/Getty Images
The boldest prediction is that I am calling for Freeman to make his first All-Star team. Partly due to his own emergence and partly because both Prince Fielder and Albert Pujols left for the American League this winter, Freeman's path to the All-Star team is less blocked than it was a few months ago.
Sure, Joey Votto is a near lock to make the All-Star team, but after him there aren't any slam-dunk candidates. Ryan Howard is hurt, Mike Morse will be playing in the outfield and Lance Berkman is old. If Freeman plays at the same level we saw last year, he could make the All-Star team this year.
Keep Reading

Atlanta Braves: Like this team?