Fantasy Football 2012: How High Could Wes Welker Go Next Year?
February 7, 2012

Chris Trotman/Getty Images
Assuming wide receiver Wes Welker re-signs as a Patriot, how high could he go in 2012 fantasy football drafts?
Welker's Stats
Excluding Kenny Britt, who missed most of the season due to injury, Welker finished 2011 as the No. 2 receiver in fantasy with a 13.9 FPPG average.
In PPR leagues, his numbers are even better since he led the league in receptions with 122.
From an NFL standpoint, he was second in receiving yards (1,569) and tied for sixth in touchdowns.
These stats were no aberration, either. In 2009, Welker finished first in receptions (123) and second in receiving yards (1,348).
Welker had a down year in 2010, but that was due to him trying gamely to play through an ACL tear. While his participation in the season dispelled whispers he would miss the season, his production was significantly impacted.
So in terms of numbers, we can expect 2012 to more closely resemble 2009 and 2011 than 2010.
Other Welker Factors for 2012
This year was also re-assuring for fantasy owners in that we've seen Welker perform at a high level despite the commanding presence of teammate Rob Gronkowski in the Patriots passing game.
Although Welker will be 31 next season, he has said that he gets better with age as he sees defensive formations better, studies more film and takes better care of his body.
And while signing a new contract tends to make players more complacent, the big drop in Super Bowl XLVI might actually serve to counteract the new contract by motivating Welker to shut his Super Bowl critics up.
These are all positive signs for those who might be concerned about a dropoff in Welker's fantasy output for 2012.
So How High Can He Go?
Calvin Johnson will unanimously be the No. 1 wide receiver off the board in fantasy drafts next year.
Welker should be the #2 fantasy wide receiver.
A case can be made for Giants wideout Hakeem Nicks as No. 2 on the fantasy receiver rankings. It's a razor-thin margin between Nicks and Welker.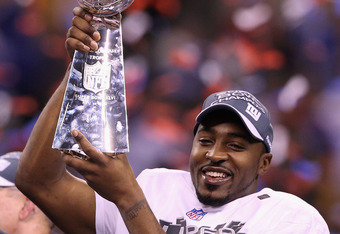 Elsa/Getty Images
But either way, the bottom line is that in typical 10-12 team leagues, after Johnson goes in the first round, Welker will go in the second round.
About No. 14 or 15 overall, to be more precise.
Because of his age and the most recent memory of Welker being the Super Bowl drop, he won't be a sexy pick come August.
It's possible Welker could get some love from a Patriots fan in your draft and be taken as early as No. 12 overall. However, that would be an outlier, not the likely average draft position for Welker.
Specifically, the following 11 players most likely will be taken before Welker:
RBs:
- LeSean McCoy
- Arian Foster
- Ray Rice
- Matt Forte
- Maurice Jones-Drew
QBs:
- Aaron Rodgers
- Drew Brees
- Tom Brady
- Cam Newton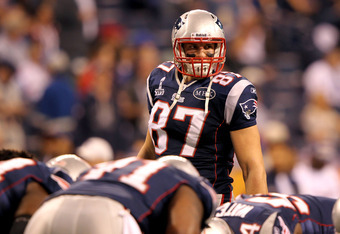 Jamie Squire/Getty Images
WRs:
- Calvin Johnson
TEs:
- Rob Gronkowski 
Note: I am not necessarily endorsing that these players be taken before Welker. This is just a prediction of what fantasy owners will do and who other cheat sheets will rank ahead of Welker. My own endorsements will come in future articles.
I cannot envision Welker being taken in any fantasy draft before any of these 11 players. So that means the highest that Welker could go is at No. 12 overall.
Keep in mind, though, that while he could go as high as No. 12, he will more likely average out to around No. 14 or No. 15.
Also, if Welker signs with a different team, then all bets are off.