Ryan Howard and the 5 Most Overpaid Players in the NL East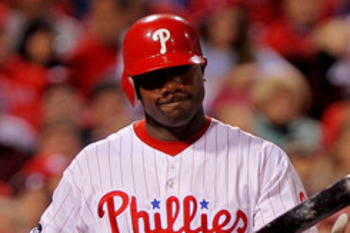 The National League East is loaded with more star-studded players than ever, with teams like the Miami Marlins and Washington Nationals opening their checkbooks to land some of the top free agents in MLB.
The Philadelphia Phillies are once again the Vegas favorites to win the NL East and the National League, but don't be surprised if the Phightin's have to sweat a bit more in 2012 once September rolls around.
The Phillies' path to another NL title may conceivably be easier in 2012 with the departures of Albert Pujols and Prince Fielder and pending 50-game suspension of reigning NL MVP Ryan Braun.
With teams in the AL throwing mind-boggling wads of cash to players, it may leave outsiders thinking that the NL East is cheap. There are some huge contracts in this division and leave fans shouting, "He's overpaid!"
Here is a list of the top five overpaid players in the National League East.
Carlos Zambrano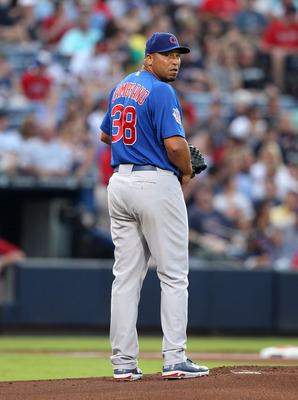 Mike Zarrilli/Getty Images
The above photo of Carlos Zambrano is the hard-throwing righty walking off the mound at Turner Field in Atlanta.
He decided in Zambrano-esque fashion to announce that he was retiring and refused to go back out and pitch.
The Chicago Cubs put him on the DQ list, and he was forced to surrender $3 million in salary.
If Zambrano hasn't given the Windy City enough headaches, the transaction requires the Cubs to pay $15 million of the $18 million owed to Zambrano in 2012.
$18 million for a headcase that can at any minute ruin a clubhouse—or retire—is ridiculous. It doesn't help matters that he was 9-7 with a 4.82 ERA in 2011, either.
Chicago Cubs president of baseball operations Theo Epstein said it best:
"I'll just say that the people who have been around the situation over the years heard before there would be change," Epstein said. "They heard before there would be a new attitude, and they have been burned. Physical altercations, deserting the team, that type of thing. The best way to put it is there was a breakdown of trust. It would have been very difficult to re-establish that trust."
Let me get this straight, Miami—you added Jose Reyes and Carlos Zambrano to your roster in one offseason? Good luck with all that.
Jayson Werth
Mike Ehrmann/Getty Images
When you think of the words overpaid and NL East, automatically you think of Jayson Werth.
As a Philadelphia Phillies fan, this one is too easy—and pretty sweet as well.
Werth demonstrated his talent, speed, athleticism and power while with the Phillies, but it seemed the entire baseball world was shocked when super-agent Scott Boras was able to land the over-30 RF a monstrous seven-year deal worth $126 million.
The Nationals were ready to open their checkbook for a guy that was a proven winner and would teach their relatively young roster what it takes to do the same.
The Nationals were surprised to learn that hitting .232 with 58 RBI was championship material.
$13.5 million in 2012 for Werth before the numbers start getting scary big. The Nats can try to "take back their park" all they want, but Citizens Bank Park South (Nationals stadium) will still be filled with thousands of Phillies fans who will heckle No. 28 and chant "Werth-less."
It's what we do.
Jason Bay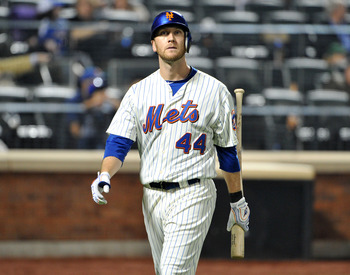 Christopher Pasatieri/Getty Images
Things are pretty bad for the New York Mets right now.
The fact that they owe Jason Bay $18.125 million in 2012 and 2013 doesn't help matters.
Arguably the worst contract in all of baseball will be coming off the books in 2014, so they've got that going for them.
Bay is being paid to be an elite player and one of the game's best outfielders (like he was in Boston). His numbers have been abysmal since arriving in New York, and a .245 average with 12 HRs and 57 RBI certainly won't appease any fanbase.
Good thing New York has the Yankees.
Jason Bay's contract at this point is laughable, but were many laughing when the Mets doled out $66 million for a guy who hit .267 with 36 HRs and 119 RBI with the Red Sox in a contract year?
Ladies and gentlemen, your New York Mets.
Johan Santana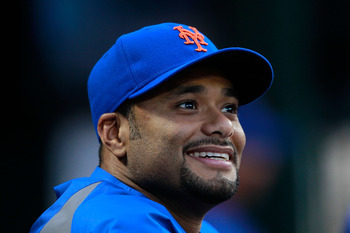 Chris Trotman/Getty Images
Johan Santana missed the entire 2011 season and still was able to collect more than $20 million for his time.
Aren't MLB guaranteed contracts the greatest?
When healthy, Santana is as good as any pitcher in MLB, but he appears on this list because he wasn't in 2011.
It's hard to imagine Santana earning anywhere near his $24 million paycheck with all of the health-related issues he has dealt with, but the good news for him is that he will keep getting paid regardless.
At a certain point, it stops being funny and starts becoming a little sad with the New York Mets.
Nah, it's still really funny.
Ryan Howard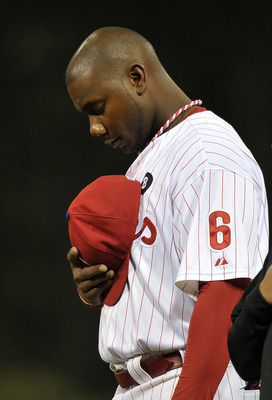 Drew Hallowell/Getty Images
Before this past offseason, it could be argued that Ryan Howard was one of the most overpaid players in MLB.
Now he can thank Albert Pujols, Prince Fielder, their agents, the Detroit Tigers and Los Angeles Angels of Anaheim for making his contract not seem so ridiculous.
Howard is still considered one of the game's best power hitters, and the ridiculous amount of years and dollars thrown around for Pujols and Fielder make Howard's contract tolerable now. Howard's five-year, $125 million extension kicks in this season.
GM Ruben Amaro had this to say to Rich Hoffman about Howard's contract in regards to Fielders' and Pujols' deals:
"I'm kind of happy, Really happy. Because if I would have had to put an eight- or nine-year deal on Howard's deal right now, that would be a little disconcerting. Right now, we have Howard for the next five years. I kind of like that idea rather than having to do an eight- or nine- or 10-year deal.

"You can say what you want about Ryan Howard and how he stacks up against those guys, but there's not too many people who, over the last several years, have had this kind of production—and he's right there in the mix with those guys."
Howard may still make more money than his offensive output warrants, but Amaro was able to sign the team's premier power hitter to a deal that won't hamstring the team for the next decade.
Now, if the Phillies are unable to re-sign Cole Hamels because they gave Ryan Howard too much money...
All of Philadelphia (myself included) will be back to shouting about his contract extension. I said it before, it's what we do.
Keep Reading

Philadelphia Phillies: Like this team?