Tennessee Football: Projecting the 2012 Depth Chart After National Signing Day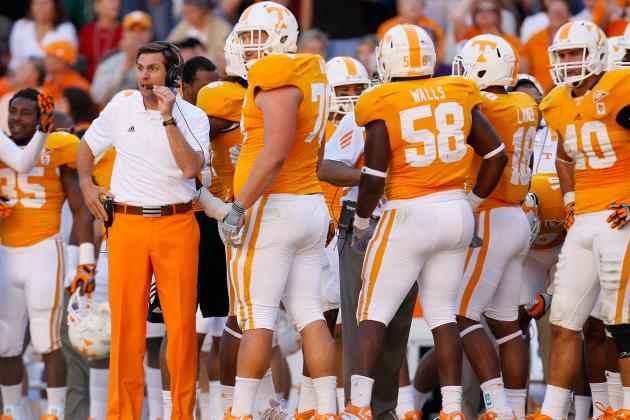 Kevin C. Cox/Getty Images

With 2011's bowl-less, under-.500 campaign all but a horrible memory, it's time to look into the not-so-distant future. A little more than a month away from the beginning of spring practice, the Vols and head coach Derek Dooley have a renewed focus and an almost entirely new coaching staff.
The new blood among the coaching staff and the potential of the Vols top 20 rated signing class has Tennessee fans ready to belt Rocky Top yet again.
Last year's youthful team is another year older and has plenty of valuable experience from 2011's seven loss season. That, along with the infusion of another super-talented signing class, should give hope to every orange-clad Volniac from Chattanooga to Clarke Range.
Here's a peek at what the depth chart could look like when the Vols kickoff the season in Atlanta on September 1.
Begin Slideshow

»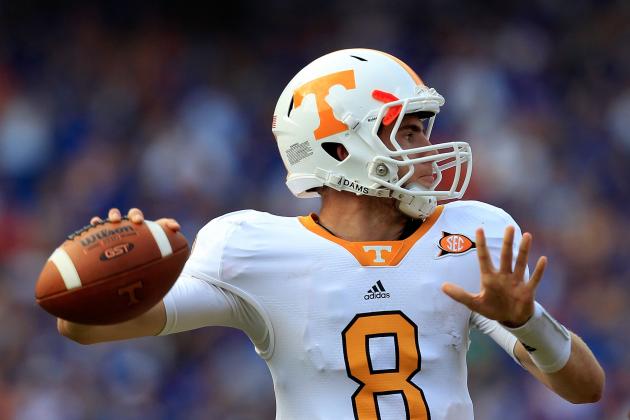 Sam Greenwood/Getty Images

Tyler Bray
Justin Worley
Nathan Peterman
Tyler Bray should be ready to explode onto the national scene in his junior season. Bray was on the verge of doing some special things in 2011 when he lost top target Justin Hunter to an ACL injury in the Vols third game of the season.
Bray was injured just two games later against Georgia. After missing five games, four of which were Vols losses, Bray looked rather shaky against Vanderbilt and Kentucky.
This could be Worley's only full season as a backup if Bray plays as well as expected and ends up in the 2013 NFL draft.
Sam Greenwood/Getty Images

Marlin Lane
Rajion Neal
Davante Bourque
We only saw momentary glimpses of Marlin Lane's ability in his freshman season. But those momentary glimpses revealed what could be an explosive playmaker out of the Vols backfield for the next couple of years.
Lane has good field vision and hits holes with the speed necessary to be a consistent threat at tailback. His pass-catching ability adds another dimension to his potential.
Ben Bartholomew
Channing Fugate
The highly touted Fugate was reduced to a back-up role last season, as Ben Bartholomew was just better all the way around. Bartholomew might not run as well as Fugate, but he was more effective as a blocker.
There may be a position change coming for Fugate. Late Wednesday evening, Patrick Brown of the Chattanooga Times Free Press posted the following to his Twitter account: "so apparently Channing Fugate wrote on his Facebook status that he's 'excited about making the move to linebacker."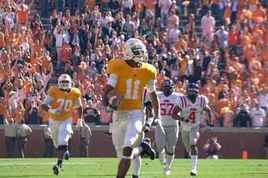 Justin Hunter
Vincent Dallas
Jason Croom
The Vols offense tanked when Hunter went down for the season last September, but the team's biggest playmaker is back and ready to make this offense one of the SEC's best.
Vincent Dallas picked up some game experience last year, but the much more physically gifted Croom could unseat the sophomore in the two-deep between now and kickoff.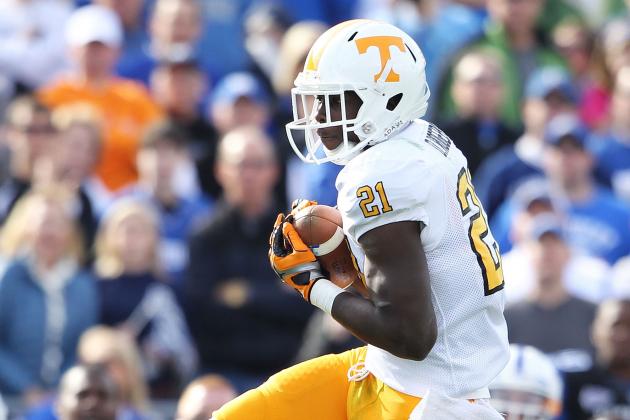 Andy Lyons/Getty Images

Da'Rick Rogers
Rajion Neal
Drae Bowles
Da'Rick Rogers proved he can handle the load of being the go-to guy after Hunter went down last season. There were a few key drops and some attitude issues, but the junior should be ready to form his half of one of the most talented receiver duos in the country.
Rajion Neal showed glimpses out of the receiver spot last season, and with a little more consistency, he could provide some much-needed insurance in case of injury. Neal is also the backup running back, so expect to see plenty of freshman Drae Bowles in 2012.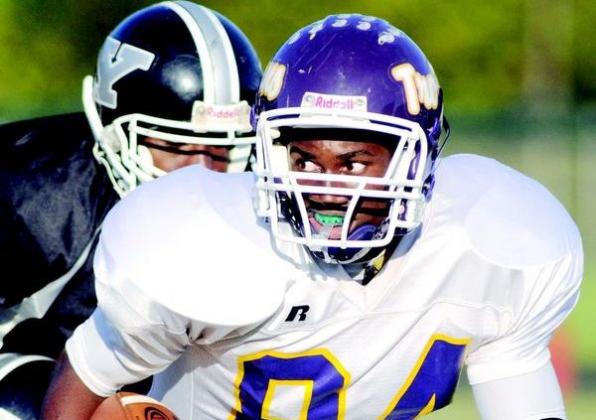 Cordarrelle Patterson
Zach Rogers
Alton Howard
If Patterson, a 2012 5-star prospect, lives up to the hype this Tennessee offense could be downright deadly in the three-receiver sets. His addition gives Dooley some wriggle room in case of another injury to one of the Vols top skill players.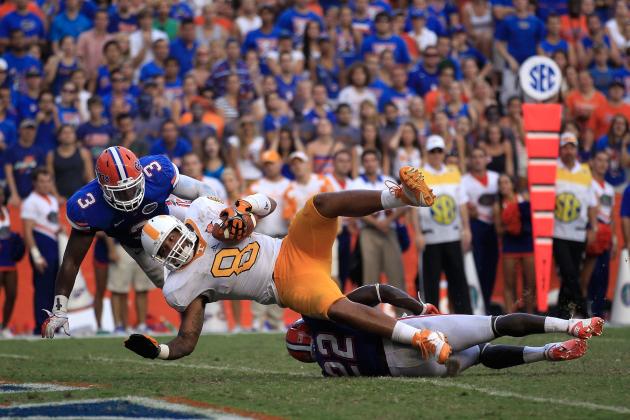 Sam Greenwood/Getty Images

Mychal Rivera
Cameron Clear
Brendan Downs
Mychal Rivera turned into a dependable target in his first year as a starter. That is, until he was forced to stay back and help block due to the Vols ongoing struggle running the ball.
With those issues hopefully in the rearview mirror, Rivera could have a breakout year in this Vols offense.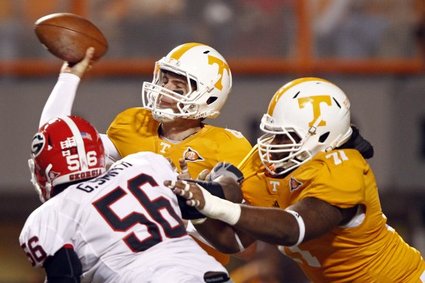 Dallas Thomas
Antonio Richardson
The key to Dallas Thomas' career on the line has been consistency. The senior is set to start his 26th consecutive game at left tackle in 2012.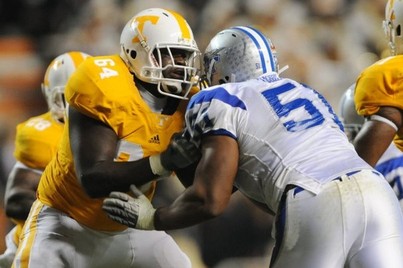 James Stone
Marcus Jackson
This may be a bit of a reach, but Dooley has to get Stone on this line. As a sophomore, Stone was replaced at center due to issues snapping the ball, but he is simply too good not to get the opportunity to prove himself elsewhere on the line.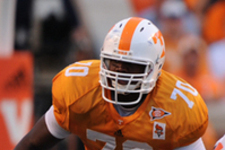 Alex Bullard
James Stone
Alex Bullard replaced stone at center last season, starting six games at the position. Bullard, a former transfer from Notre Dame, played well enough to hold onto to his starting position in 2012. If Dooley decides to give Stone another shot this season, Bullard will start elsewhere on the line.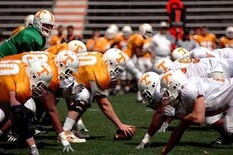 Marcus Jackson
Zach Fulton
As a true freshman in 2011, Jackson played in all 12 games and started five last season. Fulton will certainly battle for this spot and should help provide this O-Line with some valuable depth throughout the season.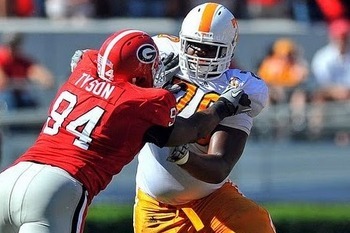 Ja'Wuan James
Antonio Richardson
Ja'Wuan James has been another consistently valuable member of the Vols O-line since his freshman year. James has started every game since arriving on campus in 2010. Expect All-SEC honors from the junior in 2012.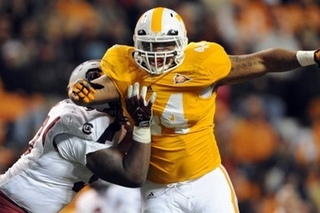 Maurice Couch
Marlon Walls
Corey Miller
New Vols defensive coordinator Sal Sunseri plans to make the Vols defense more multiple in 2012, meaning a 3-4 look will be utilized in addition to the 4-3. In the 3-4, the Vols will probably use the defensive-tackle-built Couch at one end.
Walls is built more typically as a 4-3 end and will likely be used at one of the ends in the 4-3 look.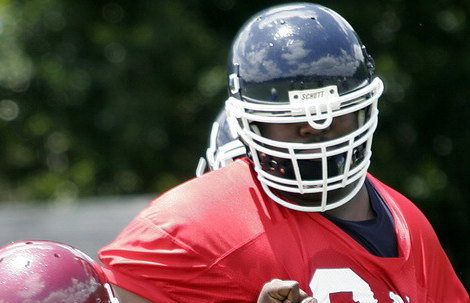 Daniel McCullers
Daniel Hood
Danny O'Brien
How'd you like to look across the line and see 6'8" and 380 pounds ready to crush two gaps at a time? The Vols will have that luxury in 2012. McCullers was one of the keys to the 3-4 move, and he'll figure prominently in the Vols defensive plans.
Hood is a monster in his own right and could be a valuable member of this unit in both the 3-4 nose and 4-3 tackle spots.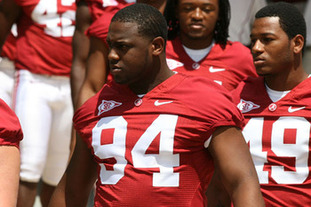 Darrington Sentimore
Marlon Walls
Willie Bohannon
Sentimore played one season at Alabama before going the junior college route. In the first of his two seasons in Knoxville, look for the 6'3' end to make his mark on the Vols defensive plans.
Walls and Bohannon provide Tennessee with a depth they haven't had on the defensive line since the end of the Fulmer era.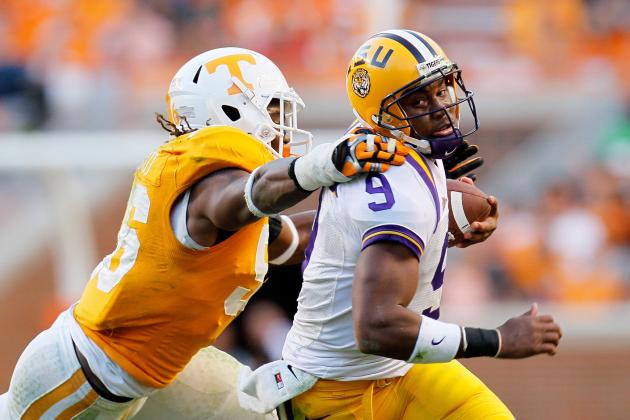 Kevin C. Cox/Getty Images

Curt Maggitt
Dontavis Sapp
Maggitt made quite the first impression as a freshman last season. Look for that to continue no matter what set the Vols multiple defense plays out of.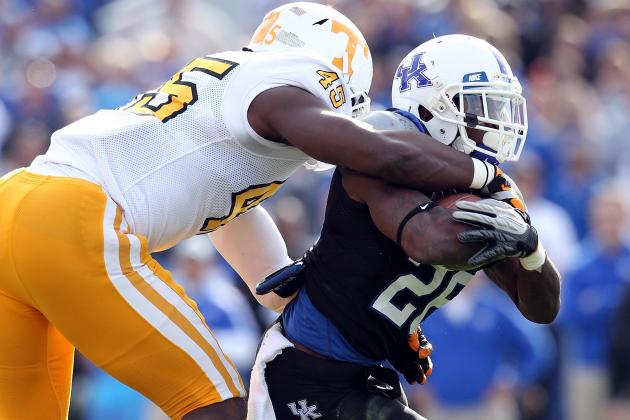 Andy Lyons/Getty Images

A.J. Johnson
Jordan Williams
A.J. Johnson built a reputation as a strong, powerful hitter in his freshman season. He's a bruising linebacker with tremendous athletic ability. He'll likely vie for all-conference honors in 2012.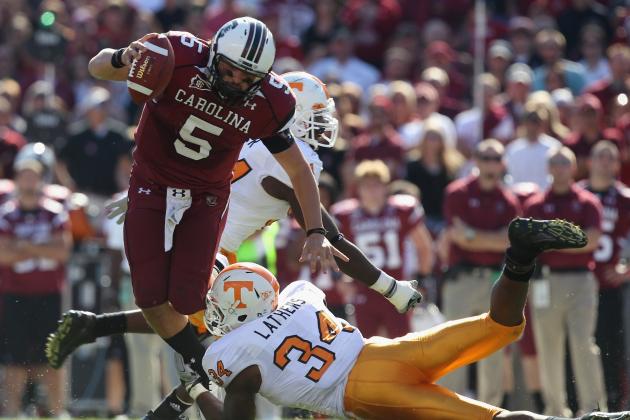 Streeter Lecka/Getty Images

Herman Lathers
Raiques Crump
The Vols lost Lathers to a foot injury before fall drills ever started in 2011. The middle linebacker started 12 games as a sophomore in 2010 after garnering freshman All-Conference honors in 2009. Having a healthy Lathers will be a huge shot in the arm for Sunseri and the UT defense.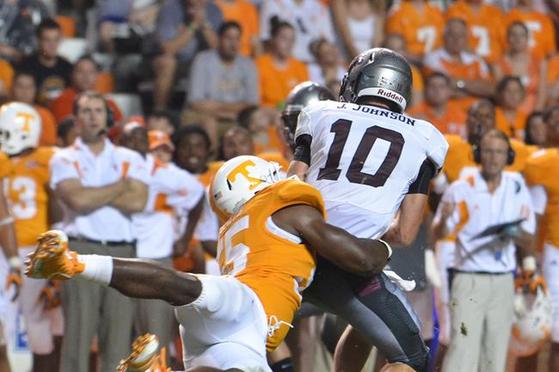 Jacques Smith
Nigel Mitchell-Thornton
Jacques Smith has largely been inconsistent at defensive end through his first couple of seasons at Tennessee. But the 3-4 multiple switch could be a blessing for the junior. Smith could very well realize his enormous potential from the outside linebacker spot in 2012.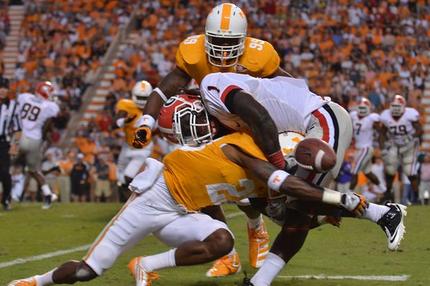 Prentiss Waggner
Justin Coleman
With any luck, the Vols will be able to utilize Waggner at cornerback all season. Injuries and lack of depth at the safety position has forced the senior to split time between cornerback and free safety.
Waggner led the team in interceptions in 2010 with five picks. That number will likely be surpassed in his senior season.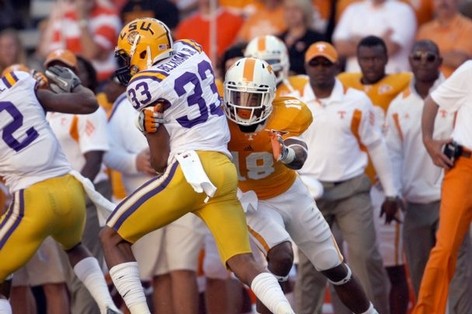 Izauea Lanier
Marsalis Teague
Izauea Lanier played well in his first season in Knoxville. There were moments where he didn't appear as ready as you might like, but considering the number of times Teague has been beaten deep, Lanier was, and is, by far the better choice on the other corner.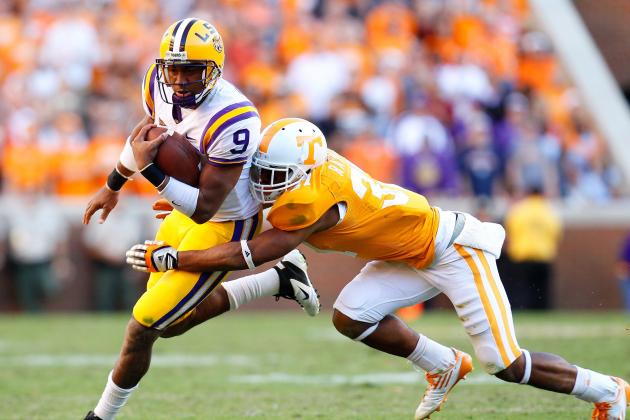 Kevin C. Cox/Getty Images

Brian Randolph
Byron Moore
As a freshman in 2011, Randolph showed some real potential to be the next great Tennessee safety. The Marietta, Ga. native made eight starts last season, and that experience should prove incredibly valuable in his upcoming sophomore season.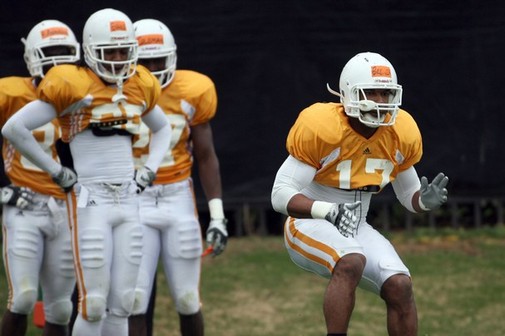 Brent Brewer
LaDarrell McNeil
Brewer went down with an ACL injury against South Carolina in 2011. In his 14 starts over the last two seasons, Brewer has shown more than enough ability to hold on to his safety spot, barring another injury.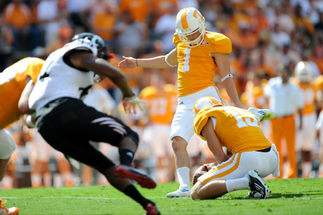 Michael Palardy
George Bullock
Palardy's sophomore season was, at best, inconsistent. At worst, it was pretty awful. If he struggles getting the ball up in 2012, freshman and Knoxville product George Bullock will get every chance to win the placekicking job.
Bullock may be used to kickoff all season.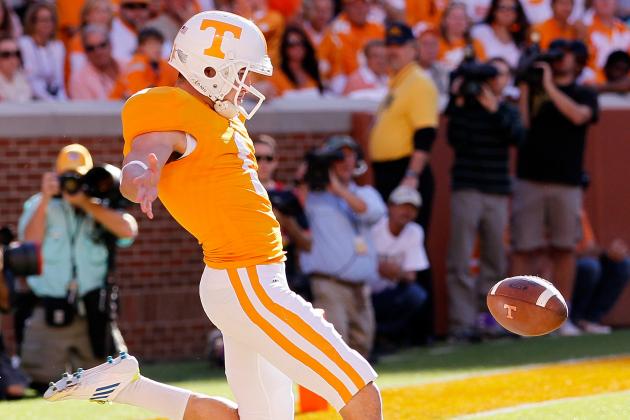 Kevin C. Cox/Getty Images

Michael Palardy/Matt Darr
Matt Darr/Michael Palardy
If Palardy has one thing going for him, it's versatility. He can punt pretty well. He and Darr will be used interchangeably throughout the 2012 season.