Carolina Panthers 2011 Season Review: The Offensive Line
February 7, 2012

Christian Petersen/Getty Images
Today I'm going to wrap up my review on the offensive side of the ball with a look at how the offensive line performed for last year's 6-10 Carolina Panthers. 
In short, I think the offensive line did a more than serviceable job in 2011. How much criticism can you give to a group that lead the way for the league's third-best rushing offense, allowed just 65 quarterback hits and was in the bottom half in the league in sacks allowed despite having a mobile rookie quarterback. 
The one thing I will say is that while the Panthers have a strong starting five, they do need to add some depth at the guard and tackle positions. They are solid at center and will be for a long time, as Ryan Kalil has quietly become one of the best centers in the league and hasn't missed a start in the last three seasons. 
Outside Kalil though, only the left side of the o-line is set. Jordan Gross is one of the better left tackles in the league, starting in all 135 games he's played for the Panthers. Left guard Travelle Wharton has done some impressive things in his eight years with the Panthers. 
However, head coach Ron Rivera was forced to mix and match some pieces to Kalil's right in order to field a healthy offensive line every week. Jeff Otah, the team's 2008 first-round pick, hasn't made the Panthers' lives any easier. After showing flashes of Pro-Bowl talent his first two years in Carolina, Otah has only managed to make four starts in the past two seasons and has yet to play through a full season without injury.
But Otah is a guy the Carolina coaching staff refuses to give up on. Despite suffering knee injuries each of the last two seasons, Rivera and company still believe that Otah can get healthy and continue to develop into one of the stronger tackles in the league. If this is the case, then the Panthers could potentially field one of the better offensive lines in football.
Geoff Schwartz started all 16 games for Carolina in 2010 (11 at right guard) and missed last season with a hip injury. While his presence was missed, it's not like the offense flourished behind the line that saw him and Garry Williams (who also missed last season with an injury) anchoring the right side of that line. 
With the injuries to Otah, Schwartz and Williams, the Panthers relied heavily on undrafted rookie Byron Bell and free-agent signee Geoff Hangartner.
Hangartner was drafted by the Panthers in 2005 and spent four seasons in Carolina before his two-year stint with the Bills. After the Panthers signed him to a one year deal, he fit easily back in at the right guard position where he started all 16 games. I'm not sure he'll be anything more than a 2011 band-aid in Carolina—with several players coming off injury and the need to cut down salary. However, if a player or two suffers a setback in their recovery, the Panthers might be interested in bringing back Hagartner for another season. 
Bell is another matter. The New Mexico product brought size and surprising athleticism to the right tackle position—filled the void left by Otah very well—and has a locker room presence beyond that of a rookie. Even if Otah returns completely healthy, Bell has a chance to compete for the starting guard job alongside Schwartz and Williams. The Panthers have him under contract until 2013.  
Mackenzy Bernadeau has been a consistent backup during his four-year career and should continue in that role in 2012. Former Auburn Tiger Lee Ziemba also has a chance to add some depth to the line next fall.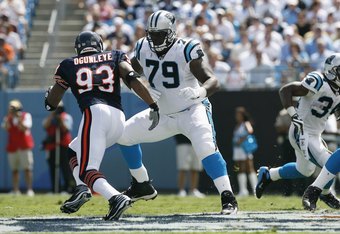 Kevin C. Cox/Getty Images
But whether or not the Panthers could look for another starting talent depends on Otah. I've always liked him and still believe he has the potential to be a very good, if not great, offensive lineman. However, I just don't think he'll ever be able to stay healthy enough to be relied on.
Personally, I'd choose to part ways with the Pittsburgh grad. The Panthers need to cut salary regardless, and I'd love for them to take someone like California tackle Mitchell Schwartz in the second round. While that might be a reach, Carolina doesn't have a third-round pick, and he's someone who can come in and start immediately. 
But like I said, the Panthers organization is fiercely devoted to Otah and could be very reluctant to call it quits just yet. Maybe they'll take someone like Virginia Tech's Jaymes Brooks in the later rounds to add depth.
But even if they don't address it in the draft, there should be enough returning talent to duplicate 2011's successes. 
Assuming everyone returns from injury without setbacks, it'll be very interesting to see the position battles in training camp. The way I see it, there are four players competing for two spots on the right side of the line—five if they bring back Hagartner.
2011 Performance Grade: A
I know I've given high marks at nearly every position thus far, but how much can you criticize the league's seventh-best offense? The fact that the offensive line was able to be as productive as it was despite losing three starters during the season...really remarkable. 
UP NEXT: Linebackers