New England Patriots: Kevin Faulk Tweets That He's Unsure about Retirement
February 7, 2012

Scott Halleran/Getty Images
Just days after being inactive for Super Bowl XLVI, New England Patriots running back Kevin Faulk is up in the air regarding his future with the Patriots and in the NFL. 
Faulk sent out a tweet on his official Twitter account that he's undecided about retiring.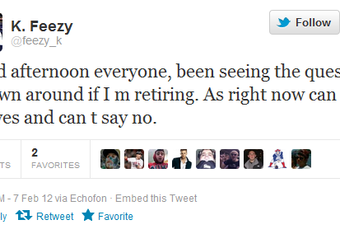 The 35-year-old played in just seven games this season for the Patriots after recovering from a torn ACL. Faulk compiled just 57 yards but averaged 8.1 yards per carry and failed to score a single touchdown.
Faulk is just one of three remaining Patriots that were on the roster of all of New England's three Super Bowl wins in the early 2000s and is certainly more of a leader than player at this point of his career. 
The Patriots tried to send Faulk out on top with a Super Bowl victory against the New York Giants, but they fell just four points short, 21-17. 
Faulk has been with New England since 1999, as he's racked up 3,607 rushing yards with 16 touchdowns as well as 3,701 receiving yards and 15 touchdowns, which made him on of the league's premiere third-down running backs. 
If he does choose to retire, it's a shame that he wasn't able to go out with yet another Super Bowl ring. 
Be sure to check out Tony Santorsa's blog: PatriotsPlus