Oregon Football: The Offseason to-Do List for the Ducks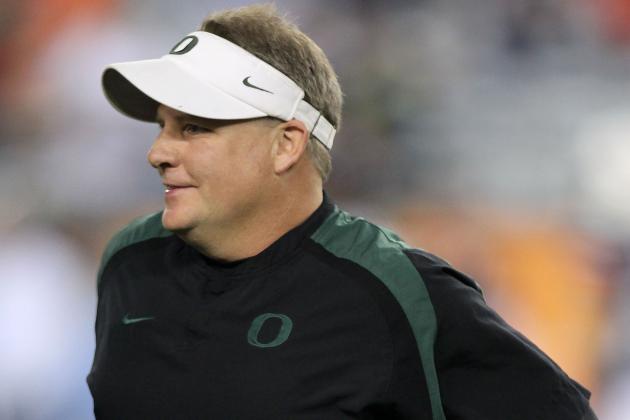 Jonathan Ferrey/Getty Images

Phew. What a wild and crazy ride it's been to be an Oregon Ducks football fan this past year.
From the agony of the LSU loss on Labor Day weekend, to the pure joy of the Rose Bowl win last month, it's been non-stop chills and thrills.
College GameDay appearances, the high of the beatdown of Stanford at their place, followed oh-too-quickly by the low of losing to the hateful Trojans at our place—it's been a year most will not soon forget.
Now that National Signing Day has come and gone, and the 2012 playing field is somewhat settled, I still can't stop thinking about the Ducks.
Here are my thoughts on what they need to do in the offseason before we crank this whole roller coaster up again.
Begin Slideshow

»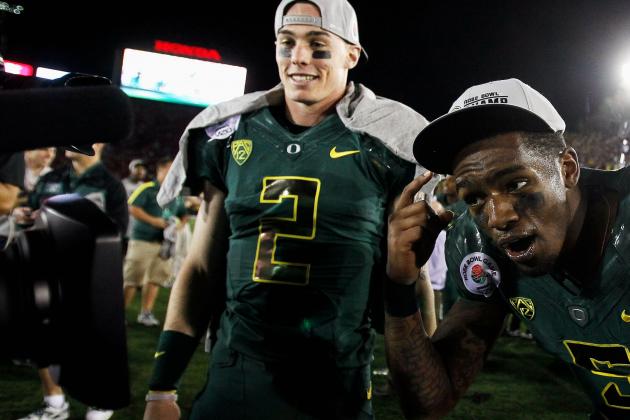 Jeff Gross/Getty Images
Will Bryan Bennett take over the leadership reins from Darron Thomas?
Several of the Ducks' strongest leaders are gone. Without Darron Thomas, LaMichael James, Terrell Turner and Mark Asper, who will step up to be the team's leaders in 2012?
I don't feel that we've seen enough of Bryan Bennett yet to know if he has leadership qualities or not. Same with Marcus Mariota if he should win the QB competition.
Kenjon Barner, I believe, will step into his new role as Oregon's lead back with style and grace. But will he be vocal in the huddle?
I'm going to guess that crazy man John Boyett will be the leader for the defense. I would certainly do whatever he told me to do.
Hroniss Grasu made his presence felt as a red-shirt freshman, so there is clearly some steel in this guy.
I have trouble seeing De'Anthony Thomas slow down long enough to lead.
Whether you feel leaders are born or made, I think you will agree that the Ducks must spend some time on leadership development during this offseason.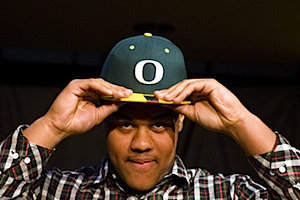 When you watch video of new DE recruit Arik Armstead, who signed with the Ducks on National Signing Day, you may notice how he can occasionally appear lazy on the field.
Sometimes he saunters back to position and seems disinterested. I write it off to lack of competition and high school attitudes.
But, just to make sure that Armstead is fully ready for the next level, I would like to see Oregon's conditioning coach Jim Radcliffe spend extra time with this guy. I want that big young body to be as fit as it can be by Sept. 1.
Ditto for all the new recruits.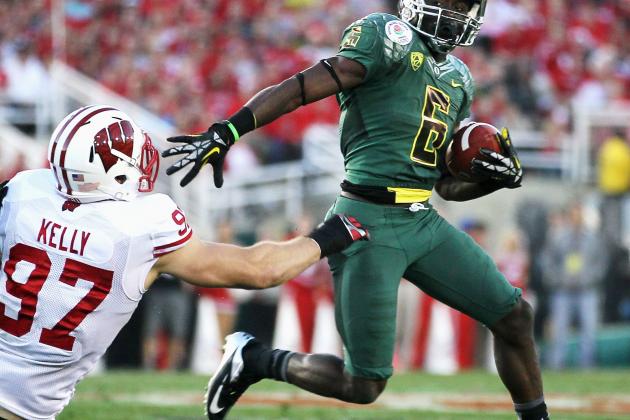 Jeff Gross/Getty Images
Get away from me, Badger
I am a marketing person by training, and I would start the "De'Anthony Thomas for Heisman" marketing campaign right now.
I will boldly offer than there isn't a single person who saw DAT play last year that doesn't believe he is the best college football player in America.
C'mon, Nike, give us what you've got, and let's get the hype started.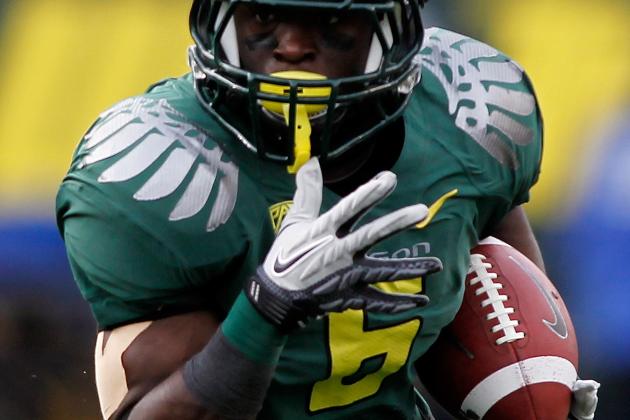 Jonathan Ferrey/Getty Images

With his stunning record of scoring touchdowns in relation to times he touched the rock last season, it's clear even to novice football fans that this kid should get the ball more often.
DAT had 55 rushes for 595 yards, a gaudy 10.8 per carry. His longest run was, of course, the 91-yard beauty in the Rose Bowl.
A side note here: I was actually watching De'Anthony when this play started, and he broke it so fast, that my naked eye could barely follow him.
His 55 rushes resulted in seven touchdowns, but his receiving stats are even more unbelievable. DAT racked up 46 receptions for 605 yards, for an average of 13.2 yards per catch. Tack on another nine touchdowns from receiving.
The kid is no slouch on special teams either.
So, Chip, what's it gonna be? I have a vision of you huddled in your office at this very moment designing new plays for De'Anthony.
We can hardly wait.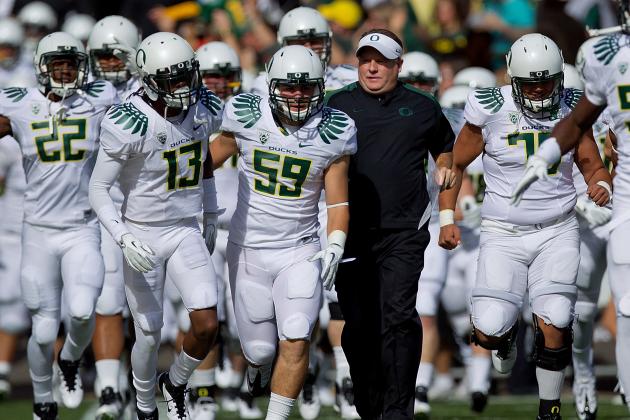 Justin Edmonds/Getty Images

Dear Rob Mullens,
Please do everything humanly possible to make sure Chip Kelly is happy.
Have him over for a barbecue.
Paint his house.
Wash his car.
Mow his lawn and weed his flower beds.
Give him a raise.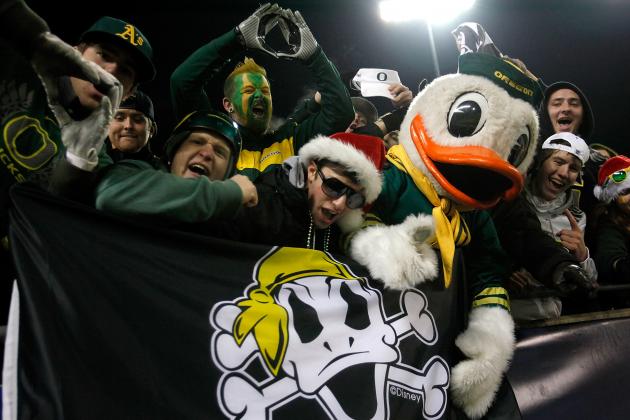 Jonathan Ferrey/Getty Images

Perhaps it's unrealistic to request that the U of O design and build new permanent seating to venerable Autzen Stadium in just a few months.
But I like where you were going last season with letting Nike genius Tinker Hatfield loose to attempt a temporary solution.
I hope that the U of O is working with Hatfield in the offseason, and will let his creativity have free rein to add additional seating to Autzen.
Let's make it even noisier in 2012.