Tom Brady Not to Blame for Patriots Loss in Super Bowl XLVI to New York Giants
February 7, 2012

It's becoming a little less fun hating Tom Brady these days.
Oh, used to be you could point to the three Super Bowl rings, the two season MVPs, the hot model wife. The famous cleft chin.
One could even understand other NFL quarterbacks envying Brady, with his gaudy NFL records, his behemoth offensive line, and his place among perhaps the best-run sports franchise in America.
But on Sunday. On Sunday, well, you just had to kind of feel sorry for the guy.
Really, you did.
Tom Brady did everything he could to will his team to victory.
He completed 16 straight passes, a Super Bowl record. He did that while leading his team to 17 unanswered points. He also completed 65 percent of his passes throughout the day, going 27 of 41 for 276 yards.
And, most importantly, he did with a cadre of receivers that dropped at least four catchable balls, and whose greatest long threat was a 34-year old head case who caught 15 passes all season. I'm speaking, of course, of Chad Ochocinco.
Deion Branch does not scare anyone. Neither does Matt Slater.
Wes Welker, on the other hand, lead the league in catches this season, with 122.
But it was Welker who wilted on the biggest stage in football, dropping the biggest pass of his career Sunday.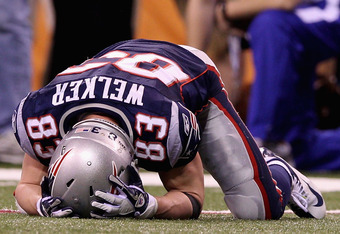 Elsa/Getty Images
And for that we should feel sorry for Tom Brady, despite his hot wife and big bank account and imminent place in the football Hall of Fame.
Now, granted, Welker was no threat to outrun the Giants secondary on Sunday — unless it was a sprint to the dance floor, but ...
To be fair, Welker did take the blame for his team's loss in Super Bowl XLVI on Sunday.
As well he should.
Because if you want to hate on someone, if you want to cast blame for the Patriots coming up short once again versus these New York Football Giants, it all came down to Welker.
Any receivers coach in football will tell you — if the ball touches your hand you should catch it.

If the ball touches both of your hands you should make love to it.
Welker, and the rest of his receiving corps, went out and made love to the dance floor Sunday night.
Let's go back a moment to the fourth quarter. The Patriots lead 17-15 with just over four minutes left in the game, the Giants are already down to just one timeout, and on second down inside Giants territory, Brady quickly spots a wide open Welker in the flats.
Brady throws off Welker's left shoulder when the play was intended to be a simple seam inside off his right.
Welker turns, has it in his palms, and flat out drops it.
Welker, as commentator Cris Collinsworth said after the play, "makes that play a hundred times out of a hundred."
That is a routine catch that NFL receivers must make. A catch Welker has to make. It's the kind of catch champions make.
So, while it's still fun to hate Tom Brady for many out there, do not pin this Super Bowl loss on him.
In fact, you should feel kind of sorry for him now.
Even with that cleft chin and all.