Florida State Football: Who Are the Top 5 Recruits of the 2012 Class?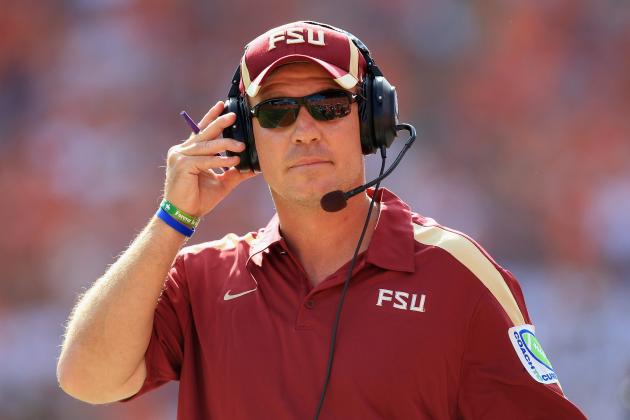 Streeter Lecka/Getty Images
Jimbo Fisher brought in another great class, but who are the best of that group?
Another year of recruiting is in the books and Jimbo Fisher has reeled in another top class to Tallahassee.
The reviews of this class are stellar and brimming with praise for the prospects who will be donning the garnet and gold for the next few years.
The already talented defense is reloading with one in the chamber as they brought in more defensive talent to continue the trend of dominating opponents' offenses.
Even if you are worried about Jameis Winston's defection to the MLB, then take solace in the fact that these five guys are coming to wear their Seminole jerseys for a while.
And without further ado:
Begin Slideshow

»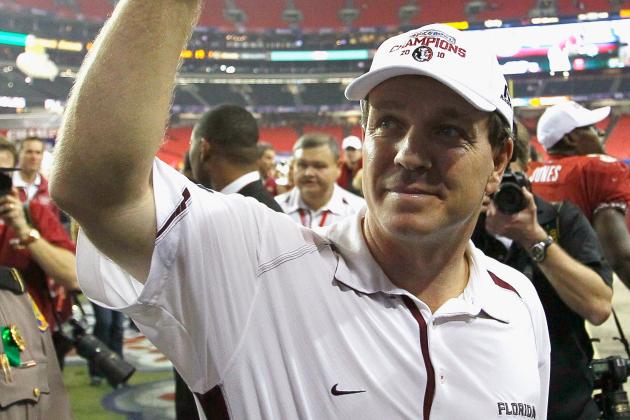 Kevin C. Cox/Getty Images
Fisher will utilize Bracy's speed on offense in the near future.
Einstein posited that faster-than-light travel was impossible, but Einstein never met Marvin Bracy.
This athlete out of Central Florida is an Olympic sprinter who will bring track speed to the football field this fall.
Florida State has often fielded teams with speed, but not Marvin Bracy's speed.
He will give the Seminoles a boost in the receiving corp, as he will be burning corners who try to get cute in coverage.
While not possessing the preferred size of a receiver (Bracy is only 5'9", 168 lbs), his speed and agility will be an equalizer for the 'Noles offense when he gets reps on the field.
Look for him to be an X-factor the way Percy Harvin was for those reptiles from Gainesville for so many years.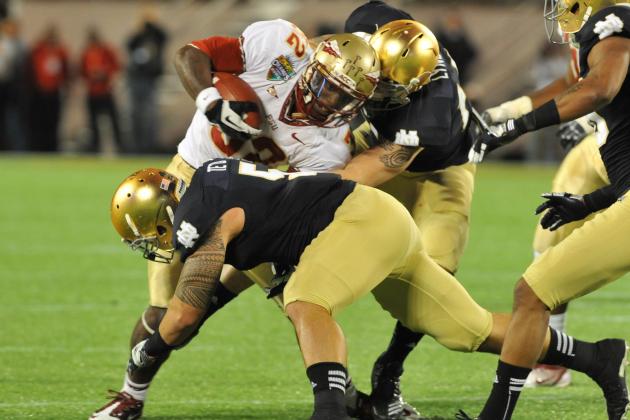 Al Messerschmidt/Getty Images
Pender will be assisting James Wilder, pictured, in the backfield this season.
A year ago, I believed that the FSU backfield would be a cornerstone of the offense in 2011.
I was wrong.
Granted, the offensive line didn't help matters much, but the Seminole running backs were nothing short of underachievers last season.
Mario Pender is hoping to reverse that trend with a little help from Devonta Freeman and James Wilder Jr. in 2012.
Pender is a strong back with good speed and elusiveness, all of which makes for a great combination.
The addition of Pender will be helpful in the running attack this season.
Al Messerschmidt/Getty Images
Eddie Goldman will be a difference maker for the Seminole defense.
The nation's capital produced this premier defensive tackle who will be headed south for the fall.
His commitment brought a load of cheers from the FSU recruiting day "War Room" because of the sheer talent he possesses and the anchor he will be for the next few years in the middle of the defensive line.
Even with all the talent in front of him at Florida State, he will get his chance and will make the most of it when it comes.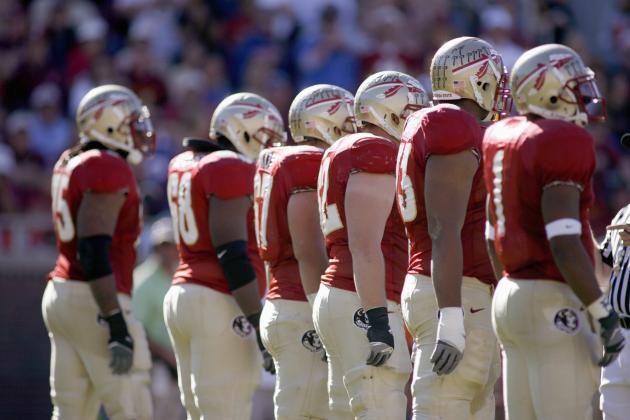 Marc Serota/Getty Images
Look for Watson to join this group early in the 2012 season.
Watson is the recruit you more than likely haven't heard of.
He was a 3-star JUCO prospect who is the sleeper of this class.
At 6'7" and 320 lbs, Watson will be a dominating presence on an offensive line that needs improvement after being depleted by the injury bug in 2011.
The real reason this Brit makes the second spot is because of his abilities with footwork and speed.
Even at his size, Watson has been clocked with a 4.6 in the 40.
I'll let that sink in for a moment.
That speed along with his huge frame allows him to break to the second level for great protection, especially on screens.
Watson could very likely see early playing time this upcoming season if his output is as good as projected.
Scott Halleran/Getty Images
Mario Edwards Jr. will follow his father, pictured, as a great Seminole defender.
The top recruit of the 2012 class gets the top spot on my list, too.
Like it was going to be anyone else.
Mario Edwards is nothing short of a man in the trenches and will likely be seen on the field this upcoming season even with an already deep defensive line squad.
The defensive prodigy out of Texas has the highlights of a future pro and the NFL pedigree from his father, Mario Edwards Sr., to back it up.
Even if Edwards doesn't see much playing time this season, he and Goldman will be leaders up front in the near future, which bodes well for Mark Stoops' defense.