2 Moves Chicago Bulls Must Make to Overtake Miami as Championship Favorite
February 7, 2012

Rob Carr/Getty Images
The Chicago Bulls are having another amazing season and are once again one of the top teams in the NBA. This is a remarkable feat and speaks volumes about the quality of the Bulls' depth since they have compiled this record despite the fact that Derrick Rose, Loul Deng and Richard Hamilton have all missed a sizable amount of time.
Chicago management must be commended because it has done a great job of assembling a championship contending team. Built around Derrick Rose's offense,Tom Thibodeau's defensive genius, a core of above average players and a great team chemistry, the Bulls are neck and neck with the Miami Heat for the title of team to beat in the East.
If a seven game series were played between the two rivals today (and both were healthy), the Bulls and Heat would probably end up in a 4-3 series finish. The victor? My guess would be Miami half the time and Chicago half the time if the series were played 100 times.
Now you are asking yourself, what can the Chicago front office do to ensure that its team wins that series the majority of the time?
Simple. By making one free agent signing and one trade with Minnesota.
Step One. Lock down J.R. Smith once he is eligible to sign with an NBA team.
I have never been a big fan of Smith, was against the idea of the Bulls possibly signing him over other shooting guards like Hamilton this past off season, and I would be against the Bulls signing him to a multi-year deal. That being said, I would love for the Bulls to bring him in for the remainder of the season as a bench player. Chicago would only need to pay him a prorated salary and he would be playing for a contract next year. That means J.R. should be motivated to not only put up good numbers and help the Bulls to a championship, but he should be on his best behavior.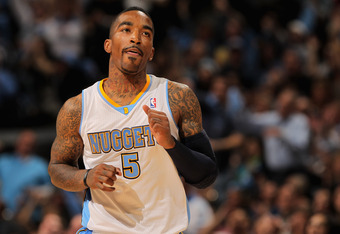 Doug Pensinger/Getty Images
Smith would add scoring depth off the bench. His offensive skills would be particularly valuable if the Bulls were to be without Deng or Hamilton for any string of time, whether over the remainder of the season or during the playoffs. Between Smith's size at 6'6" and his athleticism, he could be a disruptive force on the defensive side of the ball, even if he is not the greatest individual defender.
J.R. has the ability to be an explosive scorer, he can create his own shot and is a very strong three-point shooter. Those attributes could all help the Bulls defeat Miami if Smith is willing to play within the Bulls' system. His presence on the court could take a lot of pressure off Rose in the final minutes as he would add another true scoring threat to the lineup.
Think of this idea for a moment. Considering Chris Bosh's relatively soft inside game for his size, Chicago could elect to play with a small lineup at the end of games against Miami, and play Deng at the four spot. The Bulls could put Hamilton on LeBron and Smith on Wade. By having Deng, Hamilton and Smith all on the floor with Rose, the Heat could not double team Rose on the offensive end. Chicago would have three other players on the court with the ability to hit an open shot or create a shot for himself if Miami helps on Rose.
To bring in Smith, the Bulls could sign him and not make any other roster changes, since Chicago currently has one open roster spot. However, management is hoping to use that spot to sign an additional big (Bulls have already offered a contract to Joel Przybilla). Therefore, it would seem likely that the Bulls would try to trade one of its shooting guards or small forwards to keep that open roster spot available for additional depth in the front court.
Logically, the addition of Smith means that Kyle Korver would be the player most likely traded. Ronnie Brewer would still be needed for his defense and Jimmy Butler is young with a bright future. Korver's skills, however, could be replaced by Smith's ability to hit the long ball. Therefore, one would assume that if Smith were signed that Korver is the man on the chopping block.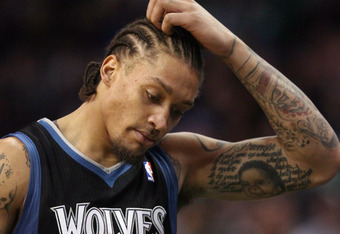 Elsa/Getty Images
Step two. Trade Kyle Korver ($5M) to Minnesota Timberwolves for Michael Beasley ($6.2M).
I know what you are thinking. Why would the Bulls' management risk team chemistry by bringing in not only J.R. Smith, but also Michael Beasley?
Simple. The Bulls have such a strong core already that the locker room could handle it. Chicago is such a tight team with sound leadership that they could keep the two players in check. This is especially true since both Smith and Beasley are in the final year of their contracts and are playing to get new deals. Nothing motivates like the idea of a new deal.
Like Smith, Beasley is an enigmatic NBA player. Taken number two in the draft immediately following Rose, Beasley has all-world talent, but has never been able to put it all together for an entire season. Whether on or off the court, Beasley always seems to be getting into trouble and acting immature. That being said, he could provide additional depth to the Bulls' front court and scoring off the bench for the remainder of the season.
At 6'10", Beasley is a very large small forward who could add depth to the front line. His primary role would be to backup Deng and score off the bench. However, he could start at small forward should Deng's wrist become a bigger problem later in the season. Either way, Beasley is an explosive offensive player and could add some firepower to the bench.
Furthermore, Beasley's size, athleticism and offensive skill set would make him a valuable asset in a Miami series. He could keep pressure on the Heat defensively with his offensive attack, and he would be another player Chicago could throw at LeBron on the defensive side of the ball to wear him down and tire him out (he is 6'10", athletic and has 6 fouls to give).
Conclusion.
Though Beasley and Smith are both somewhat risky pickups for a Chicago team who is already playing at such a high level, their addition would be a calculated risk worth taking. Smith and Beasley are both very explosive offensive players who can be dynamic at times, if kept in check. The culture in the Chicago locker room, together with the fact that the Bulls' core would remain intact after theses moves, leads me to believe that Smith and Beasley would stay in line and these moves would work out.
Bottom line, both players are rentals for the remainder of the season. Both players are looking to play well and show teams around the NBA that they deserve nice new contracts at season's end. If they cause problems then Thibs can decided not to play them. If the problem is too big then the Bulls can cut them. Seems pretty win-win.
At the end of the day these moves are a calculated risk. If adding Smith and Beasley increases the Bulls' chances of beating the Heat then the risk is worth the reward.
Don't you think?