New York Giants Parade 2012 TV Info: Where to Find Big Blue's Triumphant Moment
February 7, 2012

Nick Laham/Getty Images
After beating the New England Patriots in a wild Super Bowl that was very reminiscent of the team's 2008 World Title, the New York Giants are ready to party.
With a city full of fans ready to take to the streets to celebrate the momentous win, those unfortunate enough to be stuck working will be lucky enough to see it live on TV.
When: Tuesday, February 7, 11:00 a.m. ET
Where: New York City, NY
Watch: NBC Sports Network, ESPN and NFL Network will also have coverage.
What to Expect
With a city that that is on the edge of every craze and phenomena, you know that New York will blow out the parade and the party afterwards. This is the kind of celebration that makes playing in New York worth it for these athletes.
After all of the money that the fans have shelled out as well, this is as much for them as it is for the players. While the players gave their blood, sweat and tears on the field, the fans live it for a lifetime.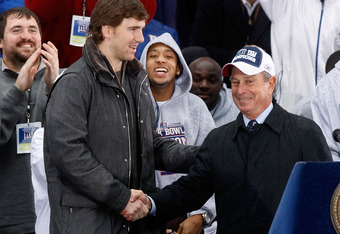 Nick Laham/Getty Images
With a plethora of everyman-type players on this year's Giants, there are plenty of fan favorites that will get a major pop from the crowd. I expect a crowd that won't stay calm as their heroes come driving by one after another.
After the parade, there will be a ceremony at City Hall Plaza where the Giants will receive the key to the city from New York Mayor Michael Bloomberg.
There are a few strong personalities on the Giants and watching them give the city the kind of speeches that it loves will be amazing to see.
It's definitely a can't-miss event.
Check back for more on the National Football League as it comes, and check out Bleacher Report's NFL Page to get your fill of all things football.