NBA Trade Rumors: NY Knicks Don't Need Jonny Flynn with Jeremy Lin Dominating
February 7, 2012

Chris Trotman/Getty Images
The emergence of Jeremy Lin makes the trade rumors surrounding the New York Knicks and Houston Rockets regarding point guard Jonny Flynn laughable.
According to ESPN, a few teams, including the Knicks, have expressed interest in acquiring Flynn from Houston.
This would be a terrible move for the Knicks, because they cannot afford to be giving up assets for a point guard when they have bigger and more important issues to address on their roster. The fact that Lin has stepped up so well over the last week is exactly what the Knicks could have dreamed for.
Lin's fantastic play of late means the Knicks have found their answer at point guard from within and don't have to expend players and/or draft picks to find one. For what it's worth, veteran Baron Davis will also join the team at some point this season when he's recovered from his injury.
The Knicks need a center or a power forward to give them depth in the frontcourt, and they really missed out when free agent forward Kenyon Martin decided to sign with the Los Angeles Clippers instead. Martin would have been perfect for the Knicks, but he chose to play with former Denver Nuggets teammates Chauncey Billups and not former Nuggets teammate Carmelo Anthony.
If the Knicks were going to acquire a top-tier point guard and use Lin's recent success as trade bait, that would be fine, but trying to trade for someone as overrated as Flynn makes absolutely no sense.
After a decent rookie season with Minnesota in 2009, Flynn has battled a hip injury and has not been the same player the past couple seasons. This season, Flynn is averaging 3.1 points and 2.4 assists per game in seven games played.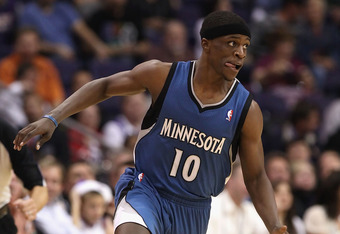 Christian Petersen/Getty Images
Flynn isn't a consistent outside shooter, he doesn't have amazing quickness, he won't shut down opposing point guards on defense and he won't score 15-20 points per game consistently.
There's zero need for Flynn right now, even as a backup. The Knicks are better off having Toney Douglas or Iman Shumpert playing backup point guard than Flynn.
Flynn's overrated talents and his history of a hip injury at such a young age should prevent the Knicks from acquiring him, but with the pressure to make the playoffs so high this season in New York, the team may panic and pull the trigger on a dumb trade or two.