5 NHL Teams Who Can Make a Surprise Push for the Postseason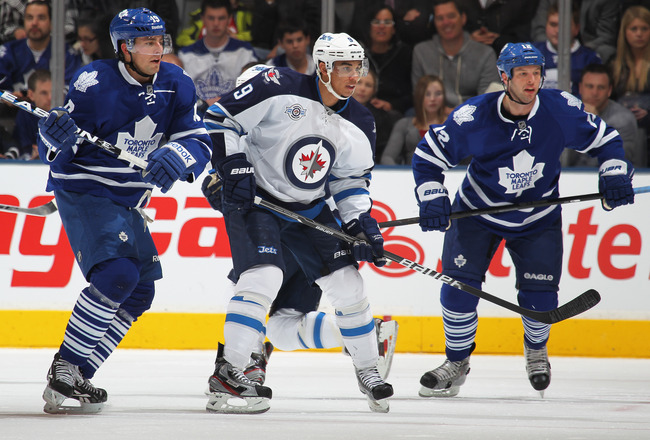 Claus Andersen/Getty Images
With only two months left in the NHL regular season, the playoff field is far from set. However, there are those who have established themselves as the early favorites to capture Lord Stanley's Cup in both the Western and Eastern Conferences.
Perhaps more intriguing are the playoff races in the lower half of the league, where many teams are still fighting for a playoff berth in both conferences. There are five teams in particular who have a great shot at making a push for the postseason.
If their stars can remain hot and their supporting cast can pick up their level of play, postseason hockey is a real possibility.
Here are the five teams who can make a surprise push for the postseason over the next two months.
1. Washington Capitals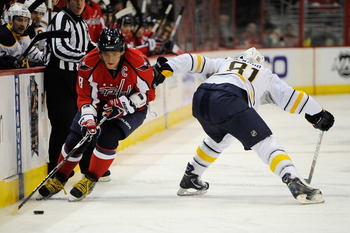 Patrick McDermott/Getty Images
The Caps currently sit in ninth place in the Eastern Conference and are 4-4-2 in their last 10 games. They have certainly fallen off the pace in the East and are in danger of missing the postseason if they continue their uninspired style of play. Alexander Ovechkin has not had the type of stellar season he is used to.
However, at times we have seen this team play to the potential of the other elites in the National Hockey League. It seems that this team has enjoyed nothing but regular season success over the past several years, only to disappoint fans come playoff time.
Perhaps entering the postseason as underdogs will provide the Capitals with a sense of motivation and the desire to prove themselves when the stakes are highest.
2. Winnipeg Jets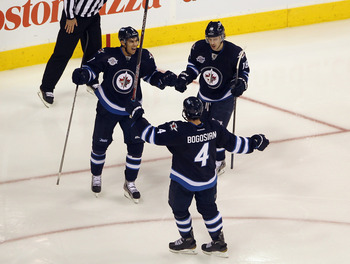 Bruce Bennett/Getty Images
Canada's new sweetheart got off to a rough start this season after the uncontainable excitement of being granted their team back.
For the past month or so, the Jets have been hovering around the ninth and 10th slot in the East, but have yet to break through in to the top eight and go on a streak. They have an impressive home record at 15-8-2, but they will need to improve on their 9-16-4 away record if they wish to make the postseason and have any success well in to April.
Kyle Wellwood and Evander Kane have both put together impressive seasons in Winnipeg and will surely be the ones to lead them to a playoff berth. If Winnipeg can put together a couple of respectable winning streaks through February and March, they will deliver a gift to their fans come playoff time.
I'm sure even the most optimistic of Jets supporters could not have imagined that prospect when the season began.
3. Edmonton Oilers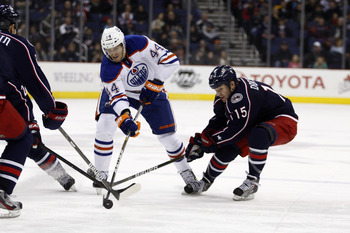 John Grieshop/Getty Images
It's difficult to say whether or not the Oilers' season has been a disappointing one. They are still a very young team that is learning to play together, but I am sure there were many who felt they could potentially replicate the Blackhawks when they made waves with a young roster. Jordan Eberle, Taylor Hall and Ryan Nugent-Hopkins are certainly the up-and-coming stars of the NHL.
With about two months left in the regular season, the Edmonton Oilers sit 11 points back of the Minnesota Wild for the eighth spot; definitely a tough task.
However, if they can replicate how they played against the Detroit Red Wings this past Saturday then they could make a push, especially with a handful of divisional games remaining.
4. Dallas Stars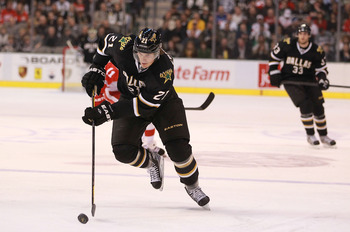 Ronald Martinez/Getty Images
The Dallas Stars are currently in ninth place in the Western Conference, just two points behind the Wild. Jamie Benn and Loui Eriksson have been leading the team up to this point, but they are going to need more help from their wingers and centers if they have any hope of playing in the postseason.
Their division has certainly been a mediocre one this season, so there is no reason why the Stars can not move up in the standings.
What will vault them in to a playoff seed will be improving their road record, where they have been a sub-par 12-13 this season.
It is possible that they can move in front of their division rival, the Los Angeles Kings, if the second and third lines start contributing to the scoring attack.
5. Toronto Maple Leafs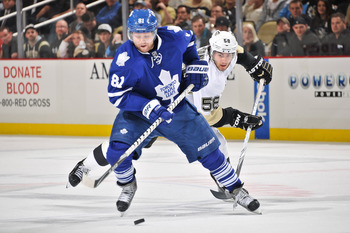 Jamie Sabau/Getty Images
Canada's Team has not experienced postseason action since before the NHL lockout. They seem to come up just short of missing the playoffs year after year. However, this year brings a new wave of optimism to the Air Canada Centre.
Phil Kessel and Joffrey Lupul have combined this season to form a deadly duo for the Leafs and were rewarded with a trip to the All-Star Game last week in Ottawa.
In order for Toronto to notch their first playoff appearance in several years, these two must remain hot. In goal, it is important that a clear No. 1 choice must emerge between James Reimer and Jonas Gustavsson as the playoffs approach.
If the Maple Leafs earn a spot in this year's postseason, it will be a time of great excitement and enthusiasm for diehard Leafs fans who have waited an eternity to see their team challenge for the Stanley Cup.
Keep Reading

Toronto Maple Leafs: Like this team?