Purdue Boilmakers vs. Ohio State Buckeyes: A Win Isn't the Only Goal for Purdue
February 7, 2012

Jonathan Daniel/Getty Images
The last time Purdue and Ohio State met, it was on February 20, 2011. Purdue was ranked 11th in the nation, while the Buckeyes were ranked second.
It was a great matchup where Purdue ended up winning in style. Mackey Arena was on fire, as was E'Twaun Moore who had 38 points. Purdue fans in attendance likely have this game at the top of their list of Purdue games. It was simply unbelievable, but the tides have turned.
After losing JaJuan Johnson and E'Twaun Moore to graduation, the Boilermakers have yet to rediscover the key to success.
While the Buckeyes are still one of the best in the nation, the Boilermakers are struggling to make the tournament.
Matt Painter summed up the issue with this squad in an interview after the loss to Indiana at home:
We're inconsistent, we don't have a balance. That's the actual issue. We're an inconsistent basketball team on both ends of the court.
In a loss that seemed to be gut-wrenching for both players and fans alike, it seemed like the Boilermakers lacked intensity, effort and focus. 
This is scary for a Purdue program that prides itself upon making the extra play to save the ball or get the steal on defense. 
In the same interview, Matt Painter said his team lacked intensity and Indiana wanted it more.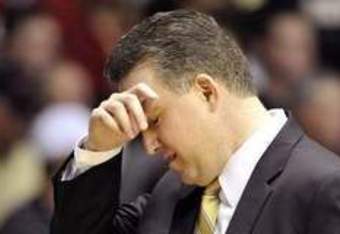 With the lack of NBA talent on this squad, they are going to have to do those extra things to be successful in conference play and beyond. 
The only player that seemed to really care was D.J. Byrd. 
Byrd was 5-of-10 from the field for 15 points, two rebounds and a block before fouling out. Byrd was diving for loose balls, hustling up and down the court—all while keeping Christian Watford in check for most of the game. The issue is that it's going to take more than Byrd. 
With the shooting woes this team is having, it's going to take some serious luck to get out of Columbus with a respectable performance.
If Purdue comes out like they have in the last four or five games, this one is going to be over before it starts.
This game isn't necessarily a complete loss if Purdue doesn't win, however. Sure it goes as an "L" in the loss column, if it's a loss. But the heart of this team will really show in Columbus. 
With Purdue likely to be a 10-point underdog in Columbus, where the Buckeyes haven't lost since 2010 to the Boilers, it will show how much fight this team has left in it.
Matt Painter put this pretty well:
I don't mind the struggle, I just want to fight. You are going to struggle. I just want guys to stay together and fight.
Struggling is fine, but giving up is unacceptable.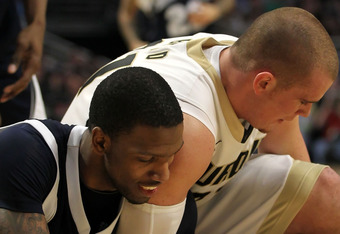 Jamie Squire/Getty Images
Following Purdue for a while now, it isn't unforeseeable to see them surprising a few people tomorrow night.
If the Boilermakers can get out of this shooting slump, it could be a huge momentum swing for the season.
Against Indiana, the starting lineup for Purdue shot just 22 percent from the field. As a team, they were outrebounded by 14.
Purdue has a lot to work out against Ohio State. Win or lose, something positive can come out of this game.
We're going to see if this team is ready to give up, or if there is still hope for the rest of the season.