Monday Night Raw Results 2/6/2012: The Top 7 Questions Going Forward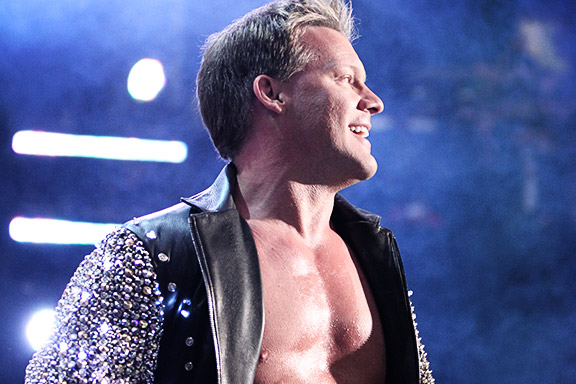 www.wwe.com
I'll settle this argument between CM Punk and Chris Jericho: Classic Joey Mac is the best in the world!
Tonight, we witnessed NASCAR, a five-pack match and a throw-in segment of Kane.
As I do every Monday night following Raw, I present the "Top Questions Going Forward."
These questions are meant to stimulate conversation and give us pause so we can examine current storylines.
Shall we have it?
Begin Slideshow

»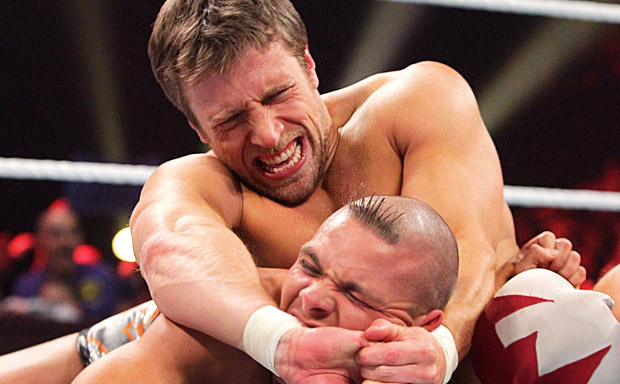 www.wwe.com
The Vegan Heel: Super idea or just super annoying?
The job of every good heel is to get a strong, negative reaction from the audience. You want to get the crowd to hate you by the end of the night. However, I still tend to think that the best heels are those that we jeer but are also forced to respect at the same time.
I am beginning to question if Daniel Bryan is connecting enough for the fans to both resent him and respect him. His gimmick is beginning to feel more annoying, and I am not sure it is intentional.
Inserting the word "vegan" into your promos will not incite a negative reaction from the crowd. Is his gimmick supposed to be a guy who is vegan and that should cause meat-eating, blue-collar fans into hating him?
Daniel Bryan is starting to feel forced. In the WWE, the last thing you want to be labeled as is "forced," and you can ask Alberto Del Rio how that feels.
Bryan is one of those guys that a lot of cult fans wanted to see succeed. He has, and I wonder if those same fans are happy with his current gimmick or not.
Is Daniel Bryan a good heel?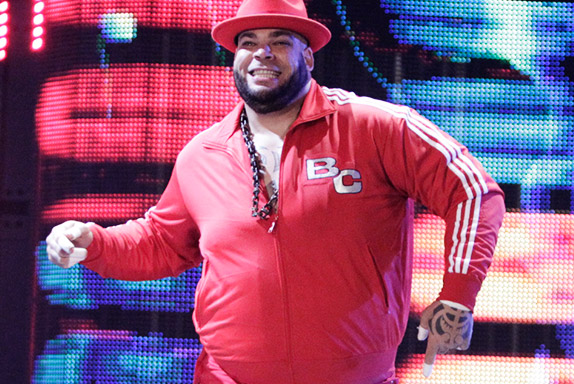 www.wwe.com
Anyone else notice that the "Funkasaurus" was missing in action tonight?
It actually did not hit me until Raw ended that we did not see a two-minute squash match from Brodus Clay. Unless...when I went to go get that snack, his match was on. If he did have a match and I just missed it, then please move forward to the next slide.
For those of us who did NOT see a match involving Brodus Clay, we will now sit here and try to figure out "Why not?"
I polled my readers last week and wanted to know when Brodus Clay needed to fight someone more challenging. The most common response I received on the subject was "He better fight a real opponent soon."
I honestly do value every one of your opinions. So many people seemed to love Clay's gimmick because it was fresh and reminded us of guys like "The Hurricane" and "The Godfather." Those gimmicks are enjoyable but tend to get old fast.
Has the WWE given up on Brodus Clay's gimmick already? More importantly, have YOU given up on Brodus Clay's gimmick yet?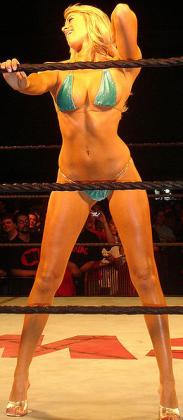 http://wrestlechat.net/kelly-kelly-named-to-the-maxim-hot-100-list-for-2011/
I honestly thought I was watching the Royal Rumble. I am pretty sure the divas had the exact same match tonight on Raw as they did at the Rumble. They even wore the same ring gear!
When I realized it was indeed Raw, I started to get upset because I am so sick of seeing these meaningless divas matches. I would rather see a No. 1 contender's match to determine who will face Beth Phoenix.
Then it hit me: this match is only happening because Kharma is going to come down and destroy everyone. She was going to send a message to Beth Phoenix tonight!
And then that never happened. I had forgotten that I was STILL watching the WWE and they do not care about the divas.
This was another waste of time. Do you think a "Snuka Splash" is going to excite me? Is this the early '80s?
Did anyone else want Kharma to come down and own?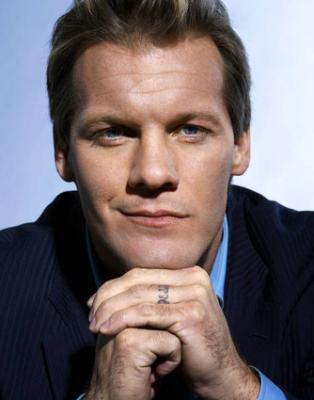 http://www.wrestlingvalley.org/chris-jericho-biography/
Chris Jericho finally cut a promo, and you have to give the man credit since he can still handle a mic.
While cutting his promo in the ring, he spoke ill of his competition that he will be facing at the Elimination Chamber. He labeled them, and everyone in the crowd, as "wanna bes." In fact, he said that everyone is copying him, especially CM Punk.
Is that the best argument Chris Jericho has?
Really, Chris? Really? Oh wait, I am not being original right now!
The point is Chris Jericho copied off of guys like Shawn Michaels, Ric Flair and Ted DiBiase, among others. In fact the average WWE fan realizes that every superstar has replicated something of a wrestler that came before him.
"Imitation is the sincerest form of flattery."
I will give credit to Jericho as he has proven that he can still perform and still cut a promo, but I expected more from Chris Jericho.
Is it wrong that I am still waiting for an explanation for his cryptic promos?
My favorite part of Jericho's segment was when he bragged about outlasting 28 other guys in the Royal Rumble. You lost, bud.
Jericho keeps trying to justify his greatness but the arguments get less and less convincing. He was the first Undisputed Champion and that was 10 years ago now.
Should the fans want more from Chris Jericho?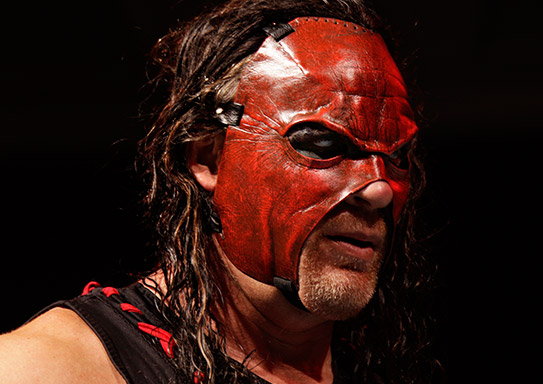 www.wwe.com
If you turned off your TV after Chris Jericho won the six-pack challenge then you missed the big promo involving Kane and Eve. By "missed," I mean you missed the headache that the rest of us received after watching it.
"I'm afraid for myself." That was the last line Kane recited. What he should have said was that he was afraid for the fans because they probably are insulted at this point by the disappointing rivalry he and John Cena are having.
A throw-in segment like that, on top of the pathetic match Cena and Kane had at the Royal Rumble, has caused me to cringe every time I see one of them at this point. What is my motivation to care about this feud when the writers do not care enough to even give it air time?
Maybe if the WWE wasn't constantly brainwashing us to buy WrestleMania, they would have more time to develop better storylines.
We all know John Cena is going to "rise above hate" and destroy Kane at Elimination Chamber. The man is the face of the company, an ambassador for the "Make a Wish Foundation," and is now involved in NASCAR.
He is not turning heel any time soon. This feud is just something for Cena to do until the Rock comes into play.
Personally, I feel cheated. Most of 2011 through now has been nothing more than a marketing campaign for Cena and the Rock's match.
It is one match and it will NEVER satisfy all of the fans and the fact that WWE has banked everything on this match makes me sick. Storylines have suffered for the last year because the WWE is so focused on one match.
Does anyone really think the WWE would have Cena lose all momentum and have Kane win before his match against the Rock?
How can anyone enjoy this feud when we all know the ending already?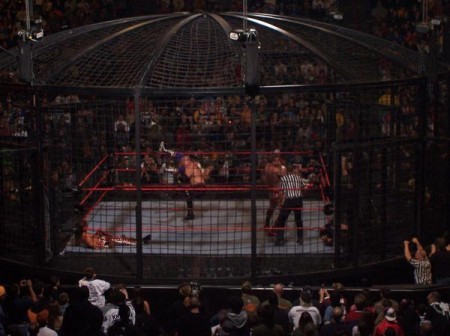 http://www.breakingglobalnews.com/wwe-elimination-chamber-ppv-preview/12215990
I was very entertained tonight by the main event on Raw. So entertained that I do not have a reason to buy Elimination Chamber and watch the same match again.
Now I realize that tonight's match will not be as good as the one at Elimination Chamber for obvious reasons. I just find it hard to believe that there was not a better way to determine who would be the last competitor to enter the Chamber.
Why do you have to have a match involving everyone when we are going to see this match in two weeks?
My idea would have been to have a singles tournament that stretched over the next two weeks of Raw. Whoever won the tournament would be proclaimed the last man to enter the Chamber.
The match itself tonight was actually fairly boring considering how much time the wrestlers spent on the outside doing nothing. I also hope that R-Truth is not too hurt, because I am not sure who the WWE would get to replace him.
I will give props to the WWE for the fact that they are building a feud between CM Punk and Chris Jericho nicely.
The end of the match was particularly enjoyable in the manner that Jericho won and got the best of CM Punk. Jericho had to do something, especially after the brilliant promo by CM Punk earlier in the night.
Will you buy Elimination Chamber?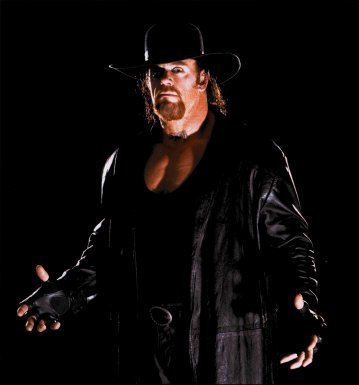 http://tvtropes.org/pmwiki/pmwiki.php/Main/TheUndertaker
Is the Undertaker's streak still important?
I am old enough to remember when the streak was not even referred to as "the streak." It was merely a coincidence that the Undertaker was perfect at WrestleMania.
As the years went on, the writers realized that he had never been defeated at that particular pay-per-view, and hence they have marketed it as "the streak" ever since.
It wasn't until tonight where I truly began to realize that I no longer care about the streak as much as I care about the Undertaker's true legacy.
For me the Undertaker is more than an irrelevant streak; he is the true icon of wrestling. The streak is only a small part of what has made the Undertaker's legacy so celebrated.
How important is the streak when the Undertaker has not been seen in the WWE since that LAST time he wrestled at WrestleMania? Having him continue the streak is not as significant as having the Undertaker around on a regular basis. If he cannot be the Undertaker full-time, then it is time for him to retire.
I know a lot of fans think the streak is the greatest accomplishment in the world, but the Undertaker is so much bigger than that. His persona has captured the attention of millions of fans and never has gotten old and that is just unheard of.
It did not matter if he was a heel or a face, he was always the Undertaker. As a fan you always got excited when he made his entrance to the ring no matter what version you were getting.
Shawn Michaels is my favorite wrestler of all time. Greg Maddux is my favorite baseball player of all time. The one parallel Michaels and Maddux have is that they were the best at their sport at one time and retired before they got too old.
Both could have performed for another year or two, but rather than become shells of themselves, they left with some dignity.
Beating the Undertaker does not mean anything if he is just going to be on vacation for a year and make his return for the billionth time right before the next WrestleMania. He is so much more than that.
So I will ask once again: Is the Undertaker's streak still important? Or is preserving his legacy?
Let me know your opinion on this and every question I have asked in the comment section below. Remember to list the question you took out of Raw as well. Also remember to follow me on Twitter at ClassicJoeyMac.
Keep it classic!