Philadelphia Flyers Rookie Matt Read Courageously Challenges Teammates
February 7, 2012

Paul Bereswill/Getty Images
The weekend of Philadelphians' discontent began with NFL Commissioner Roger Goodell's snickering response to an honest question about the potential for a Super Bowl in Philadelphia. It ended with the anathema of a Super Bowl victory for the New York Giants, a 9-7 team that lost to backup quarterback Vince Young and Philadelphia Eagles. Interspersed between that misery and humiliation were two losses by Philadelphia's hockey team against New York-area rivals.
On Saturday, the Flyers allowed three goals in a controversial first period to the New Jersey Devils and trailed 6-0 after the second period before mustering four goals in what became an exciting third period. Backup goaltender Sergei Bobrovsky allowed all six goals, which arguably were all the fault of poor defense, unstoppable shots, and questionable officiating.
On Sunday, the Flyers failed in their fourth attempt to beat the New York Rangers. Ilya Bryzgalov, who played well in relief on Saturday, allowed a soft goal to sniper Marian Gaborik in the waning moments of a tied second period. Flyers' forward Wayne Simmonds tallied on the power play early in the third period, but Bryzgalov put the Flyers back in the hole as he was unable to stop Michael Del Zotto's shot on a 3-on-2 rush moments later. Game over. Forget that the Flyers allowed two more goals, including an empty netter, because in effect, the Flyers' chances to win ended with that failed attempt by Bryzgalov.
Goaltenders of winning teams make big saves at big times. Yes, it is a bit cliche, but it is a fact. Despite Bryzgalov's recent surge (two goals allowed on prior 59 shots faced entering Sunday's game), the goal-tending woes have re-emerged. Only now, both goaltenders have resembled Swiss cheese in recent games.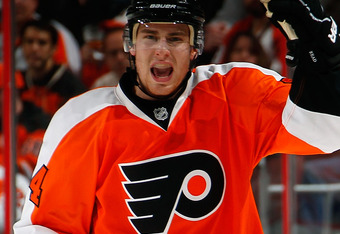 Paul Bereswill/Getty Images
Team defense clearly needs to improve as well as the Flyers continued to lose 50/50 puck battles to the Rangers, got outworked on the boards, and committed egregious turnovers which lead to two of the four goals on Bryzgalov in Sunday's tilt.
Veteran Kimmo Timonen bluntly stated, "The goal-tending" in response to a reporter's question about the difference between the Rangers and Flyers this season. Timonen is the Flyers' de facto captain, and he should be making such brutally honest statements. This should not surprise people.
How about when a rookie calls out his teammates?
Matt Read, a 25 year old first year NHL player, told a congregation of reporters that, "Everyone has to show up to every game. You can't have two passengers." The goaltender is an obvious passenger, but who might be the other? Perhaps that question will lead to a spirited but constructive team meeting.
Read captained Bemidji State University, and he has shown wisdom and poise beyond his professional experience level while on the ice. Now, he has thrust himself into a leadership position by taking an important stand during a lull.
The Flyers will complete the trifecta of facing the New York metropolitan teams on Tuesday night at the Wells Fargo Center, a place that has been far from a sweet home this season (12-8-4 mark).
The Rangers' faithful serenaded the Flyers off the ice on Sunday at Madison Square Garden with a stinging chant, "You can't beat us." The Flyers cannot afford to capitulate more points on home ice, and Flyers' fans cannot fathom another loss to a New York-area team. Otherwise, that refrain may resonate to mind-altering levels.
The Flyers will need 19 (assuming the backup goaltender does not have to play) drivers, operating in concert on Tuesday night against the Islanders. One thing is for certain: Matt Read will be among the active participants.