North Carolina Basketball: Why Tyler Zeller Is Key to Team's Tournament Hopes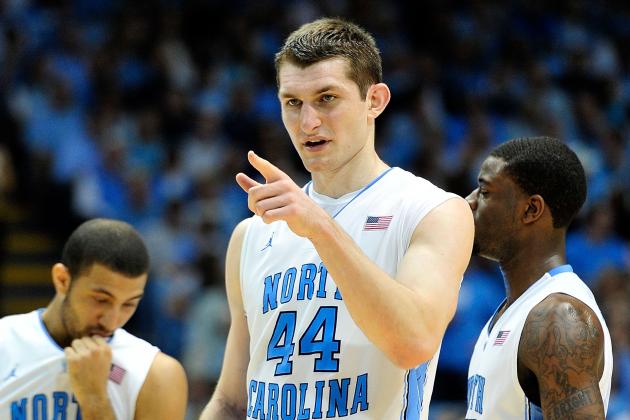 Grant Halverson/Getty Images

At the beginning of the season, the North Carolina Tar Heels were the consensus No. 1 team in America.
The squad returned all of its key players from its run to the Elite Eight last year and seemed poised to win a national championship.
Don't get me wrong, the Tar Heels are still one of the top teams in the country. It's just that they have not separated themselves from the pack the way many predicted they would.
An early-season loss to the UNLV Rebels and an all-too-recent blowout at the hands of the unranked Florida State Seminoles had some questioning just how good North Carolina really is.
On a team filled with at least three surefire first-round NBA Draft picks, there is one player who stands out as a potential key to the Tar Heels' success in the NCAA Men's Basketball Tournament: Tyler Zeller.
Zeller is almost averaging a double-double this season with 15 points and 9.6 rebounds per game.
But the seven-foot center has an unfortunate habit of disappearing in games and getting pushed around by bigger players.
For North Carolina to have the kind of success most predicted they would, Zeller has to step up.
Begin Slideshow

»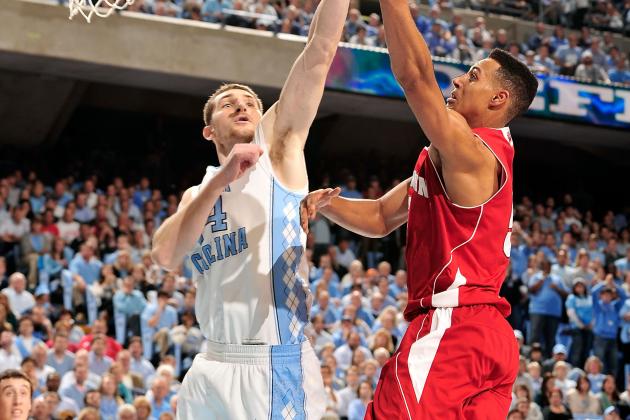 Grant Halverson/Getty Images

The North Carolina Tar Heels are ranked first in the nation in points per game and rebounds per game and are No. 4 in assists. Their offense is clicking the way one would expect it to with the talent that the team has.
But North Carolina has one glaring problem—defense.
The team is giving up 67 points per game, which is quite a high number considering the two giants they have protecting the rim.
While it is not in Tyler Zeller's job description to bail out his teammates every time a guard drives into the lane, as a senior leader of the team, Zeller should be eager to do so.
He should be active around the basket, sliding in to play help defense, blocking shots and taking charges. Simply having a big body between a guard and the basket should help North Carolina's defense dramatically.
Zeller's play should set a tone for the rest of the team. He should refuse to allow easy layups by challenging every shot and should get every rebound.
The Tar Heels need to prove that they can clamp down on teams at the end of games and it all starts with Zeller.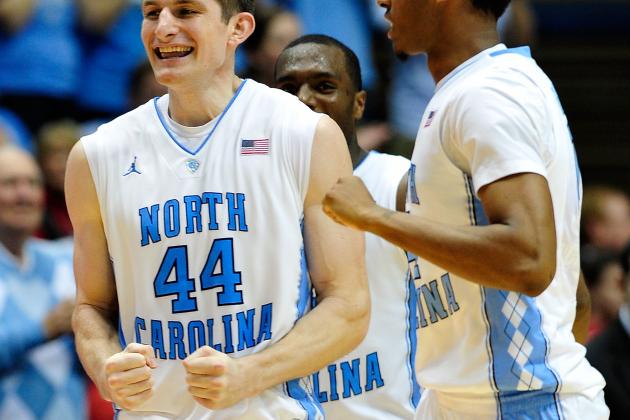 Grant Halverson/Getty Images

It is not common for a lottery pick in the NBA Draft to chose to stay in school one more year to chase a championship.
But Tyler Zeller is a rarity: a senior leader who chose to finish his education and keep playing college basketball instead of cashing six-figure paychecks in the NBA.
Because of his decision to stay in school, Zeller, along with junior teammate John Henson, are the undisputed leaders of the North Carolina Tar Heels.
Zeller is counted on to provide guidance and support for sophomores Harrison Barnes and Kendall Marshall and even more so for freshmen P.J. Hairston and James Michael McAdoo.
Leadership for Zeller should not just be defined as being a vocal leader—although that is an important part of his job. Zeller must be counted on to lead through his play.
In the embarrassing loss to the Florida State Seminoles, Zeller had to be the player to take it to the Seminoles and score points, hopefully boosting his team along the way. He failed to do so and his team lost.
If North Carolina faces adversity in the tournament, Zeller has to step up and will the team to a big win.
Grant Halverson/Getty Images

One of the most underrated, yet important, skills that a team needs to succeed in the NCAA Men's Basketball Tournament is keeping teams off of the offensive glass.
When a player (or an entire team for that matter) can put back misses and extend a possession by getting a rebound, it allows the team to run clock and deflates the defensive squad.
Despite their tremendous size, the North Carolina Tar Heels are allowing their opponents to grab almost 10 offensive rebounds per game, which ranks a lowly 188th in the nation.
For a team to have two (almost) seven footers and allow that many offensive rebounds is embarrassing.
Tyler Zeller must step up to help the Tar Heels. He needs to find his man and block out on every possession.
Zeller does not have great leaping ability so if he is out of position, chances are he won't come down with the rebound.
He must focus on mechanics and pushing his man out of the way so that no one will be able to challenge him for the boards.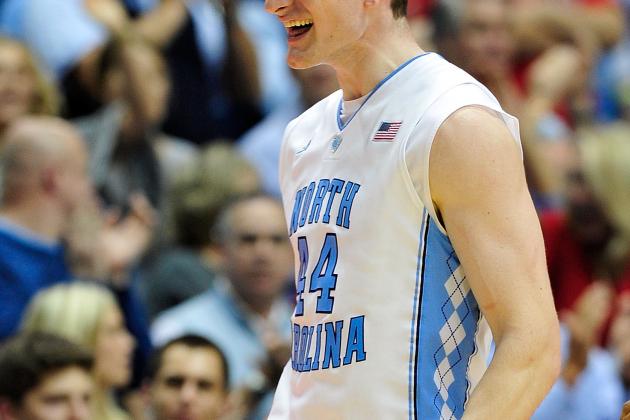 Grant Halverson/Getty Images

The North Carolina Tar Heels have been trying to dodge that pesky label of being "soft" all season.
In their blowout loss to the Florida State Seminoles, North Carolina seemed content to just sit and watch the Seminoles extend their lead, not even bothering to fight back.
If the Tar Heels are serious about winning a national championship, the team has to be tougher than that. And it starts with Tyler Zeller.
Maybe more than any of his teammates, Zeller has been berated for his unwillingness to bang down low and use his body to get position or to keep opponents out of the lane.
But Zeller has shown flashes of his ability to use his strength on the post. In certain games this season, notably a 21-point, 17-rebound performance against the North Carolina State Wolfpack and an 18-point, 18-rebound game against the Wake Forest Demon Deacons, Zeller has been assertive.
In the NCAA Men's Basketball Tournament, Zeller could be matched up against any one of college basketball's elite big men. There are Anthony Davis and Terrence Jones for the Kentucky Wildcats, the Michigan State Spartans' Draymond Green and Jared Sullinger from the Ohio State Buckeyes.
Whether or not North Carolina will succeed in games like those depends on Zeller's productivity. If he allows himself to be pushed around and gives up baskets on defense, the Tar Heels will not get far.
If, on the other hand, he is able to score points and rebound consistently, North Carolina will be tough to beat.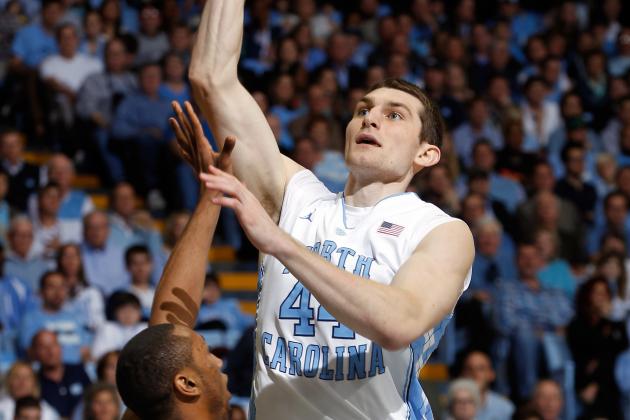 Streeter Lecka/Getty Images

Tyler Zeller is the second leading scorer on the North Carolina Tar Heels basketball team and one of just three players averaging over eight points per game.
Yet Zeller has a tendency to disappear.
He scored 31 points against the Appalachian State Mountaineers then followed that up with two games of seven and eight points respectively. In the Tar Heels' first loss of the season to the UNLV Rebels, Zeller had just five points.
If Zeller scores somewhere around 12 points per night, North Carolina will probably win games. That is, assuming the rest of his team plays well too.
But when Zeller scores 15-20 points the Tar Heels are virtually unstoppable.
In North Carolina's recent five-game winning streak, Zeller has averaged 18.4 points per game. He has looked like the most dominant player on the floor while showcasing a variety of moves in the post.
That is how Zeller must play in the NCAA Men's Basketball Tournament.
Not only does his offensive production energize the team and take the scoring load off of Harrison Barnes, it also forces his man to play good defense, which could tire him out on the offensive end.
In the 2010-11 and 2011-12 seasons combined, when Tyler Zeller has scored more than 15 points the Tar Heels have a record of 26-3.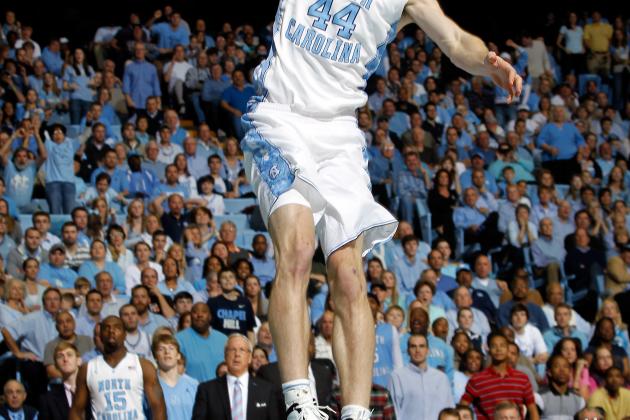 Streeter Lecka/Getty Images

One of Tyler Zeller's strengths that sets him apart from other big men is his ability to run the floor.
Zeller is deceptively fast for such a tall guy. Despite the fact that he is often playing right around the basket, he can sprint past defenders on a fast break and get easy baskets.
North Carolina Tar Heels' point guard Kendall Marshall is a great facilitator. He knows where his open teammates are going to be and he gets them the ball.
North Carolina is ranked first in the nation in points per game, meaning that not only does the team score well, but they can score quickly. A big reason for that is their skill in the open floor.
When Zeller is streaking down the court and finishing fast breaks, he has an advantage over almost any player in the country.
First, he is tiring out the person who is guarding him by making him run up and down the court so quickly. But also, Zeller is jump starting the Tar Heels' offense by getting quick and easy baskets.
If Zeller can gain confidence by getting a few fast break dunks, he could be in for a huge game.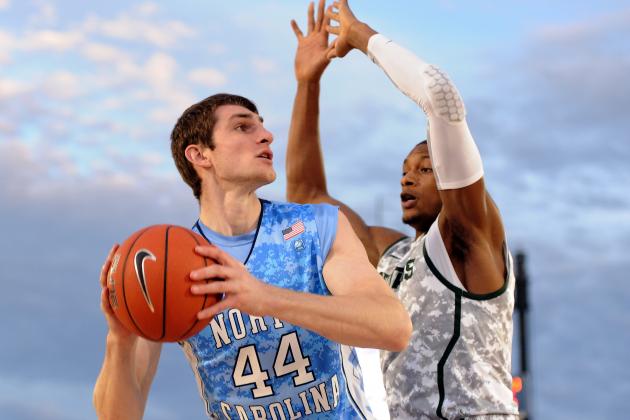 Harry How/Getty Images

One of the areas in which Tyler Zeller could make his game even better is in passing the basketball.
For centers and power forwards, learning how to make crisp passes to teammates out of the post is often a hard skill to negotiate.
It's not as if Zeller has to average five assists per night, though. He just needs to know where to look. He knows the game of basketball well and is good at anticipating moves and cuts so Zeller should learn quickly.
To top it off, Zeller has tremendous advantages playing for the North Carolina Tar Heels that many other centers do not.
To begin with, he has a 6'11" teammate in John Henson. If Zeller and Henson could perfect high-low passing, the two would be almost impossible to guard. Especially since Zeller can hit shots from 15 feet out, he would be lethal from outside.
Also, Zeller has teammates that can flat out shoot. When he gets doubled, Zeller must learn to dribble out of the trap and look for an open Harrison Barnes or Reggie Bullock.
Either player can knock it down from deep and would benefit from Zeller perfecting his ability to kick the ball out.