NBA Rumors: Jeremy Lin Will Keep NY Knicks From Making Another Horrible Trade
February 7, 2012
Chris Trotman/Getty Images
Sometimes a savior comes from the most unexpected place, just ask the New York Knicks.
While Jeremy Lin can't be officially anointed a savior until he registers over 100 minutes of game action, it looks like Lin is here to stay.
His 25-point, seven assist, five rebound performance off the bench on Sunday fired up the crowd to the point where they began chanting the 23-year-old's name. The 36-minute night was 16 more than his next longest appearance in a Knicks uniform, and it looks like he is becoming a staple in Mike D'Antoni's rotation after beginning the season without a team.
On Monday against the Utah Jazz not only did he start, he scored 28 points and notched eight assists in 45 minutes of action in a 11-point win without Carmelo Anthony or Amare Stoudemire.
This is a huge development for the team because it means making a stupid trade isn't a priority anymore. With the latest setback for Baron Davis, it's no secret the Knicks are dying to bring in a competent point guard that is able to play some semblance of defense unlike Mike Bibby.
This week they have been rumored to be interested in trading for Jonny Flynn, which would be a horrible idea. Despite getting drafted in the top 10 in 2009, he has already been traded once and is currently averaging 3.1 points on the Houston rockets. He would add to the problem, not solve it.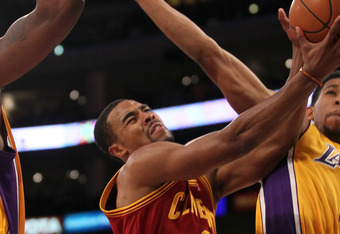 Stephen Dunn/Getty Images
The Knicks were also rumored to be interested in Ramon Sessions, another mediocre player that is nothing more than an average role player that provides you with a chunk of solid minutes at a time. In both instances the Knicks would have likely given up draft picks which is the last thing they need to do right now.
Lin is the guy. He is the first player of Asian-American decent to play in a regular season game in over five years and he graduated from Harvard. He knows how to overcome adversity and has the brains to be a terrific play-making point. His 46-percnt shooting percentage is abnormally high for a guard because he doesn't shoot many three-pointers. He attacks the rim and doesn't settle.
This is a rare guy that the Knicks have stumbled on and expect Lin to be a part of the rotation for the remainder of the season. With the elbow injury to Davis, he is an essential piece to the puzzle for the foreseeable future.