Fantasy Baseball 2012: 11 Good Players to Avoid on Your Fantasy Team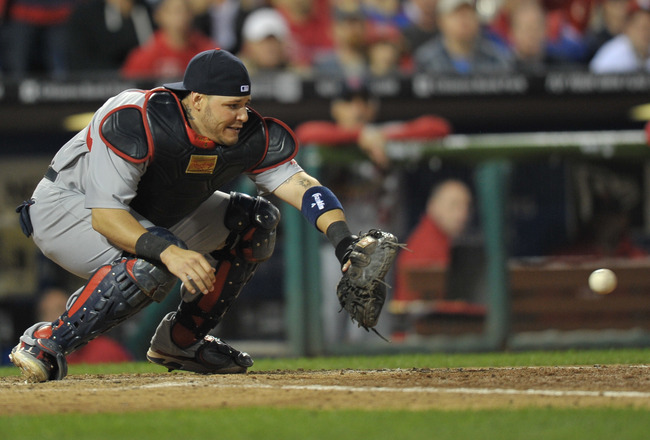 Yadier Molina is way more valuable to the Cardinals than to your fantasy team.
Drew Hallowell/Getty Images
There are players out there who have much more value to their real team than to a fantasy team.
Whether they're an aging veteran, a guy who just hits for average or a great defensive replacement, some ballplayers are more useful to MLB managers than fantasy owners.
When it comes down to it, some of these guys shouldn't find themselves on fantasy rosters.
Continue reading to see the list of the top 11 good players you should stay away from for fantasy.
Yadier Molina, C, St. Louis Cardinals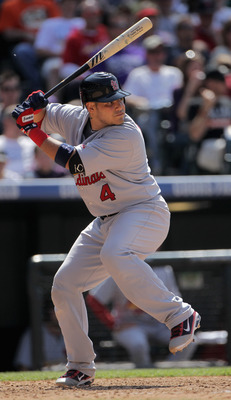 Molina is a great all-around player.
Doug Pensinger/Getty Images
Yadier Molina is a two-time World Series winner, a three-time All-Star and a four-time Gold Glove recipient.
But, you won't see him ranked high on anybody's preseason fantasy lists.
Molina is a decent option at the catcher position; I'd rank him barely in the top-10. He is much more valuable to the Cardinals, though.
He is a career .274 hitter and his defense is spectacular. Molina had just five errors and six passed balls in 137 games in 2011, and he carried the ninth-best catcher's ERA with 3.87.
Gerardo Parra, OF, Arizona Diamondbacks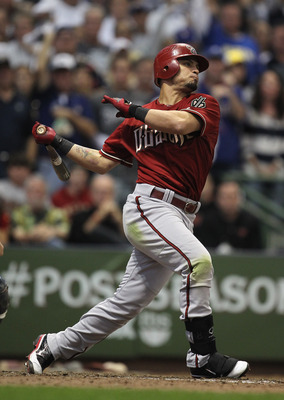 Parra is important to the D-backs.
Jonathan Daniel/Getty Images
Gerardo Parra is a very good outfielder, but he won't be worth drafting in 2012. Why? He most likely won't even start for the Diamondbacks.
Parra has been in the league for three years and has put up pretty solid numbers. He hit .290 or higher in two of those three seasons and he is a great defensive player.
He is highly regarded in the UZR. UZR stands for Ultimate Zone Rating, which ranks players on various defensive stats.
A zero UZR rating is considered average, and Parra ranked third-highest in 2011 with a 9.8. So while he's not going to mean much to your fantasy team, he's a very complete ballplayer.
Brett Gardner, OF, New York Yankees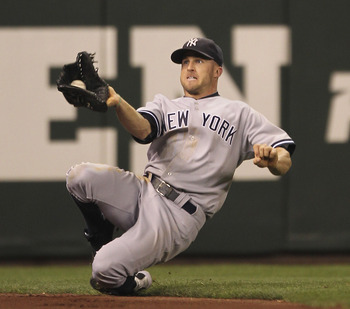 Gardner is one of the fastest players in the MLB.
Otto Greule Jr/Getty Images
Speaking of UZR, Brett Gardner is the king.
Gardner is the best player according to UZR—by far. Gardner ranked first with a 25.2 rating in 2011, which was 14.7 points higher than Alex Gordon in second place.
Gardner's defense, speed, surprisingly strong arm and ability to hit lead off makes him much more valuable to Joe Girardi than to your fantasy team.
Gardner could swipe 50 bags this year, but he's too inconsistent to be a fixture day in and day out on a fantasy team. He hit over .300 in June and July last year but hit under .250 in April, August and September.
Carlos Ruiz, C, Philadelphia Phillies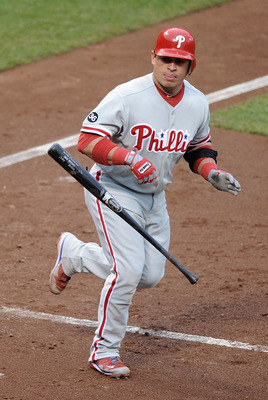 Ruiz is one of the best defensive catchers in the game.
Harry How/Getty Images
Carlos Ruiz does a great job handling a pitching staff—a stat that doesn't show up on fantasy boards.
Ruiz had the best catcher's ERA last year with a mark of 3.06, which was more than a half-run better than Brian McCann who was in second (3.61). Ruiz also had the best fielding percentage amongst MLB catchers (.996).
While these stats make Ruiz a great option for the Phillies, he doesn't have much fantasy value. At the moment, I'd rank Ruiz outside of the top-20 for catchers.
Although Chooch is a career .265 hitter, he came up clutch for the Phillies in the 2008 World Series, hitting .375 with three RBI in five games.
Derek Jeter, SS, New York Yankees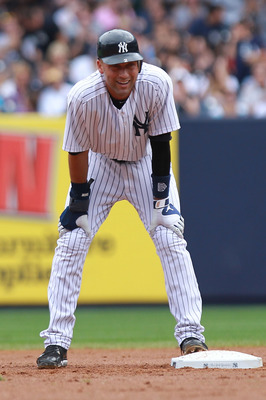 An aging Jeter isn't as valuable as he used to be.
Nick Laham/Getty Images
Derek Jeter will go down as one of the best baseball players in MLB history. He's just not very useful in the fantasy world anymore.
Jeter has become not only an icon for the Yankees, but for the MLB as well. He's become one of the greatest postseason hitters of all time and will be a first-ballot Hall of Fame inductee.
Jeter still means a lot to the Yankees, but he shouldn't be considered as a top-notch shortstop anymore. Sure, he's still better than half of the shortstops, but I would rank him barely in the top-15.
Even if Jeter hits for .300 again, that's about all you'll get from him. The homers won't be there and you'll be lucky to get 15 stolen bases
Alberto Callaspo, 3B, Los Angeles Angels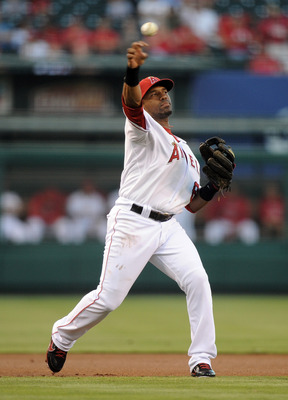 Callaspo has some of the best range at third base.
Harry How/Getty Images
Alberto Callaspo had the third-highest range factor at third base in 2011, and he also had the most runs saved as well.
Callaspo is versatile and can play many infield positions, making him very valuable to manager Mike Scioscia.
Unfortunately, you won't find these sabermetric defensive stats in fantasy leagues. This is why Callaspo provides very little value in the fantasy realm. While he can hit around .290, he won't have double-digit home runs or stolen bases.
Callaspo is an emergency option for fantasy, but he fits right in with the Angels.
James Loney, 1B, Los Angeles Dodgers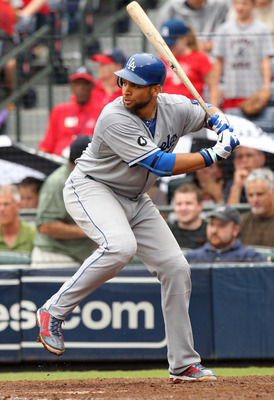 Playing first base, Loney doesn't put up good fantasy numbers.
Joe Murphy/Getty Images
James Loney is a career .288 hitter and averages 14 home runs per season. Those numbers are very respectable, but the only problem is the position he plays.
At first base, Loney has almost no value. There are a plethora of great first basemen, especially guys who can hit for 25-plus home runs and hit for a .275 or better average.
There is nothing wrong with Loney. He's a decent five-hole hitter, and he had the eighth-best fielding percentage amongst MLB first baseman last year. There's just no spot for him in a very deep position.
Martin Prado, OF, Atlanta Braves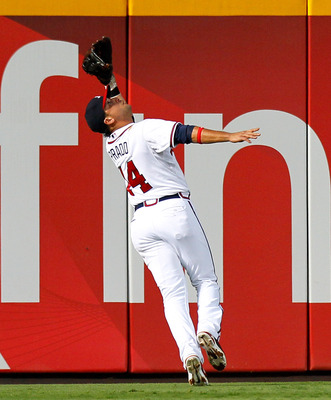 Prado is a spark for the Braves, but not your fantasy team.
Kevin C. Cox/Getty Images
Martin Prado is a good all-around ballplayer.
Prado made the move from second base to outfield a smooth one. He ranked 10th on the UZR last year, and has the second-highest rated arm (behind Alex Gordon).
Offensively, Prado is a career .293 hitter. But, that's the only plus you'll get from him. He has never stolen more than five bases, and his career high in homers is 15 (2010).
Prado is a great option hitting second for the Braves, but he's not very helpful for your fantasy team.
Placido Polanco, 3B, Philadelphia Phillies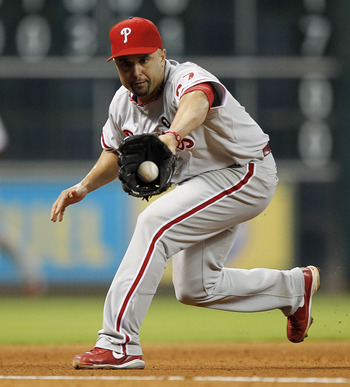 Polly is not the fantasy force he once was.
Bob Levey/Getty Images
Placido Polanco has had a very successful MLB career. He's a lifetime .301 hitter and should surpass 2,000 career hits this season.
Polly is still pretty sharp with the glove. He had the highest fielding percentage of third basemen last year with a mark of .977. But while Polanco's veteran leadership is important to the Phillies, his production isn't good enough to warrant a spot on a fantasy roster.
Polanco is no doubt a very good player, but age and injuries are catching up to him, and he's in for a season where he'll hit around .285 with five home runs and five stolen bases.
Franklin Gutierrez, OF, Seattle Mariners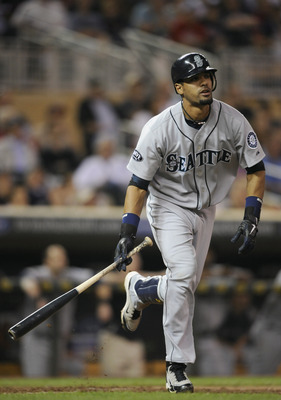 Gutierrez covers a lot of ground at Safeco.
Hannah Foslien/Getty Images
There's a reason why Franklin Gutierrez's nickname is "Death to Flying Things." There's plenty of space at Safeco Field and Gutierrez tracks most balls down.
Gutierrez won the Gold Glove Award in 2010, was ranked first in defensive WAR (Wins Above Replacement) in 2009, and had the third-highest range factor of all MLB outfielders in 2011.
The biggest problem with Gutierrez is his bat. He had a breakout year in 2009 when he hit .283 with 18 homers, but he hasn't hit above .250 since that season.
When it comes down to it, Gutierrez is extremely important to the Mariners because he can cover so much room in a very spacious outfield. He's just not going to have value for fantasy leagues.
Casey Kotchman, 1B, Cleveland Indians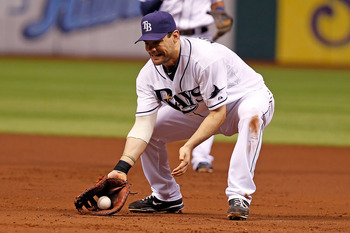 Kotchman has always been known for his glove.
J. Meric/Getty Images
Casey Kotchman might have underachieved after being selected 13th overall in the 2001 draft, but he's still had a pretty good career.
Kotchman is a career .268 hitter and enjoyed one of his best seasons last year with the Rays when he hit .306 with 10 home runs.
While Kotchman has struggled with the bat, his defense has always been spectacular. In his eight years in the big leagues, Kotchman has just 11 errors, and three of them came in his first 34 games played.
Like Loney, Kotchman doesn't mean much to your fantasy team because first base is packed with superstars. Kotchman will certainly help the Indians this year, but he won't help your fantasy team.
Keep Reading