Floyd Mayweather vs. Miguel Cotto: 10 Bold Predictions for the May 5 Fight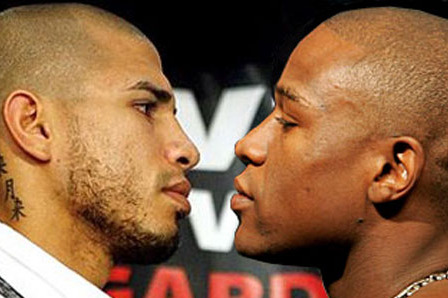 The May 5th encounter between Floyd Mayweather and Miguel Cotto is not the fight that boxing enthusiasts and even non-boxing enthusiasts are desperate to see; however, that doesn't diminish it as an intriguing and potentially fantastic match.
Both fighters are coming off wins in their most recent bouts—Cotto in a convincing battering of an apparently plaster glove deficient Antonio Margarito, and Money in not quite a battering, but nevertheless bizarre win over Victor Ortiz.
Not only will the fight give indication as to just how close Cotto is to regaining his former rising status as potentially one of the top pound-for-pounders in the world, but it will also answer the recurring public question of just how focused Mayweather can remain in the swirling circus of rumors and personal plight that he subsists through.
Beyond, a handful of bold as ice predictions for May 5th at the MGM Grand in Las Vegas.
Begin Slideshow

»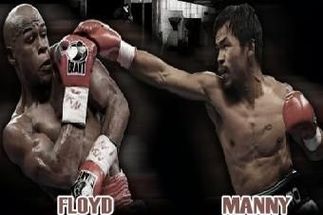 Obviously this has nothing to do with Cotto v. Mayweather. Although, of course, the speculation will persist through the buildup to May 5th, as well as immediately following the match.
Rather, this is my way of decompressing the continued disappointment from all the speculative reports that simply will not die, by channeling my inborn pessimism to come to terms with the reality that the most mega of all mega fights will never take place.
Unfortunately, the closest the viewing public will get to seeing these two fight are Photoshop doctored photos and YouTube clips of them doing battle in the virtual world of Fight Night Champion!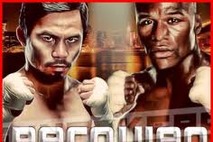 As much as my pessimistic side informs me that there is no earthly way that this fight will ever get close to a contract signing ceremony, the frosted side of this Mini-Wheats metaphor (my optimistic side) tells me it will be the next fight following Mayweather v. Cotto.
This is also predicated on the assurance that Mayweather doesn't get shanked in the stoney lonesome.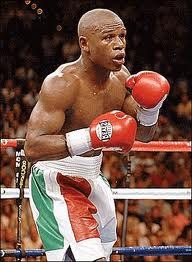 In an honorarium to Cinco de Mayo and possibly great Mexican fighters of the past (we'll never really know for sure), Floyd will come into the ring in Mexican flag trunks and a sombrero, accompanied in a shameless and ethnically questionable taste by Los Lobos playing "La Bamba."
In a further continuum of his ethnically dubious approach, he will drop trou, or rather drop trunks in between rounds, mid-fight, to reveal Puerto Rican flag trunks. This results in not only confusing those Mexican fans cheering for him for his previously loyal wardrobe choice, but also causes consternation among those Puerto Rican fans wondering if their hatred of Mayweather was somewhat harsh.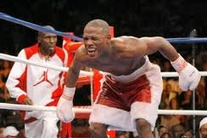 The few times that Mayweather hit the canvas during his career were mainly due to slippage, including the most recent incidence of this against Zab Judah during their bout in 2006.
Furthermore, the only significant window towards a potential knockdown by any of his recent opponents was exposed by Shane Mosley in a furious second round of their fight back in 2010—which proved to be extremely short lived as Mayweather won in an unanimous decision.
Cotto is not necessarily known as a knockout punch type fighter, despite his 30 knockouts in 37 victories. He does move well and is adept at finding angles, and will also be fighting at a weight (154 pounds) far more natural to him than Mayweather.
The combination of the catch weight in addition to the amount of time that has passed since Mayweather has had a legitimate opponent, as well as Cotto's peaking confidence, will provide an early tumble to the canvas for the man they call "Money."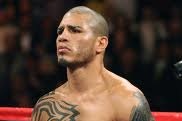 Despite the fact that both of these fighters have, between themselves, numerous fights that have gone the full 12 rounds, this fight will not make it to the final bell of the final round.
The early rounds will most likely be colored by a frenzied pace with action that will include some good physical exchanges, despite Floyd's propensity to be allusive and disengage.
Though by the middle rounds the pressure of Cotto continually coming forward and looking for angles, will either result with his delivering a well-placed parting shot, or getting caught with a shot relative to his over aggression.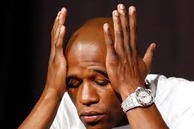 There are numerous reasons for the unblemished record that Mayweather retains, not the least of which is his ability as a mover and defender in the ring. Both qualities put him on par with the greats in these categories historically, as well as accounting for his perpetually clean countenance following fights.
The fight with De La Hoya was probably the last instance of him being involved in fairly physical exchanges throughout, although the Golden Boy was more aggressive to the body of Mayweather than the Pretty Boy face.
Cotto is already an aggressive fighter, but showed what the combination of this quality in tandem with the feeling that he has something to prove can do to his opponents face (i.e. Margarito). Granted, the aforementioned Antonio provides more of a walking target—still, Cotto is in this fight to prove he is as formidable an opponent as Pacquiao, as well as a legitimate contender for the pound-for-pound crown. This should result in some wear-and-tear of the prettiness of Pretty Boy Floyd.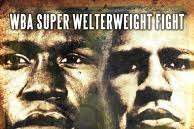 The fight between De La Hoya and Mayweather had a buy-rate of 2,400,000—this fight will definitely not come close, although it will be the biggest PPV of Cotto's career.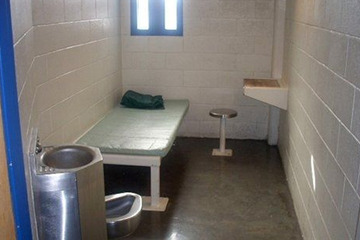 With seemingly nothing in front of him but soft time in a minimum security posh prison, Money will call it quits following the fight with Cotto.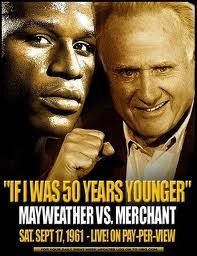 This time involving HBO relic, Larry Merchant. Following the uncomfortable exchange between Merchant and Mayweather in the post-fight interview following the Ortiz fight, and based on Merchant's threat that he would do damage to Maywether if only youth were on his side, Mayweather will request and be granted a restraining order against Merchant.
The wily albeit senile commentator will cleverly maneuver around the binding legal document, dressing up as one of the members of Los Lobos (see: shabbily constructed connection to slide three), accompanying Mayweather to the ring in the beginning of the fight and ultimately becoming too wrapped up in his enjoyment of being a part of the song "La Bamba" to make a move on Mayweather.
There a very few opponents that Mayweather wouldn't be the odds-on favorite to beat—in fact, there is literally only one currently, and the fight on May 5th will be no different.
Floyd proved that he could block out the calamities of his personal life and shake off the rust of a significant layoff from the ring to beat Victor Ortiz, albeit not entirely convincingly.
Cotto is a far more focused and seasoned fighter, who has fought and beaten established and significant names in his career, and is in his prime in terms of self belief—as well as having more time with still fairly new trainer Pedro Luis Diaz.
The combination of Cotto's great head space and the chip he will feel as the second choice on the opponent list, as well as Mayweather's lack of quality opponents recently and the mental weight of looming time in the clink and other personal issues, will provide enough separation between the two, in an unexpected yet deserved win for Cotto.