Los Angeles Galaxy: Ins and Outs, February 6, 2012
February 7, 2012


Tommy Meyer Time at the Toolbox
For 2012 MLS SuperDraft selection Tommy Meyer, his forays into the world of professional soccer have been nothing short of successful. Fresh out of completing a successful career at Indiana, Meyer has impressed the coaching staff and his teammates with his skills.
"This has been a dream for a long time," Meyer told Larry Morgan of LAGalaxy.com. "And now that's finally come true. But you have to keep working.
"The one unexpected thing so far is the constant speed of play. You have to stay sharp throughout training or you get punished for it."
Manager Bruce Arena knows that placing too much on the rookie's shoulders is the kiss of death.
"He's starting to pick up on things," Arena said. "Obviously, the transition the players make in any sport in this country, going from the collegiate level to the professional level, there's an adjustment period to the speed of the game, mentally and physically.
"He's making that transition. He's doing a pretty good job."

Pat Noonan and the struggle for minutes
Veteran forward Pat Noonan knows Arena very well, having been given a chance to represent the United States in a number of international matches.
So when Noonan was given a chance to reunite with his old ball coach, he naturally jumped at the opportunity in signing with Los Angeles.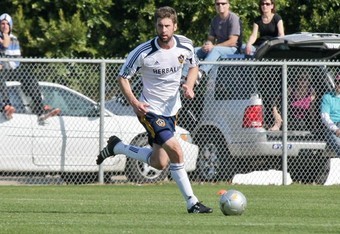 "I was happy for the opportunity," Noonan told MLSsoccer.com's Luis Bueno last week. "Bruce was the one who gave me a chance with the national team years ago, and I always admired the style of play, the training sessions. He's done a good job of getting the right kind of players for their system."
Noonan will rely on his league experience to help the younger players settle in.
"In certain times, training sessions, the sharpness, [you have to] make sure guys are prepared in training and in the game settings," Noonan explained. "With a lot of young faces and a lot of rookies, just making them feel comfortable with the ball and not doing the things that make a guy nervous.
"There is a lot of talent on this team, some good depth now and hopefully I will get those opportunities."