WWE: Why Are There No More Hometown Heroes?
February 7, 2012

Mark A. Wallenfang/Getty Images
In the past few years (with one very notable exception that I will go into later), Vince McMahon has taken a lot of pleasure in making talent lose, not win or be downright humiliated in their home towns. 
The most recent victim of this phenomenon is Randy Orton at the Royal Rumble pay-per-view, which came out of St. Louis, Missouri. Now, I think this was a good decision regardless.
Randy has won the Royal Rumble match before. It would have done nothing for him to do it again, especially as his best chance on the Road to WrestleMania to win the World Heavyweight Championship is in the Elimination Chamber.
Another fairly recent occurrence of this is Beth Phoenix vs. Kelly Kelly in Buffalo, New York for Night of Champions. The Divas Championship was on the line; Kelly Kelly was champion going in. Everyone and their grandmother was behind Beth in that match, but the trigger was not pulled. 
WWE decided to do it at the next month's pay-per-view, Hell in a Cell. By which time, no one cared—all of the momentum and heat had gone into the form of a particularly cold ice cube. Two months later and they have still not been able to melt the ice cube, but maybe the warmth from Natalya's farts will help.
It will not help. Ever.
During the god-awful walk-out storyline, there was a RAW emanating from Cleveland, Ohio, which is the birthplace of one Mike Mizanin. With his family in attendance, he was fined $250,000 at the top of the show and fired at the end of it, culminating in his being thrown out of the building with his then-running buddy R-Truth.
This, at least, was a part of the scripted storyline at the beginning of the show, which is nothing compared with my main example.
The king on the hometown humiliation cake was in October when RAW came live from Oklahoma. In a segment not in the original script, the recently instated Interim General Manager of RAW, John Laurinaitis, asked Jim Ross into the ring from the announce table and then proceeded to fire him—in front of his wife no less.
Jack Swagger was also on the card in a six-man tag team match. Although he was not the one pinned, his team did lose. Vince must have thought that would have been overkill.
With Raw coming from Oklahoma City tonight, as coincidence would have it, I can see Jack Swagger losing his US Championship...perhaps to a returning Mason Ryan?
Also, I dread what they could possibly do to JR. Maybe make him Raw GM just for Triple H to take over before the night is done.
The main example, or, as Raven would say "the exception that proves the rule," is, of course, CM Punk's WWE Championship win at Money in the Bank pay-per-view, which was in Punk's hometown of Chicago, Illinois. This was the main point in a storyline that, if I was writing it, would still be going on to this day.
I will not let this get the best of me, as there is a whole article to be written on the storyline, or rather, lack thereof. Suffice it to say, I'm bitter.
The choices Vince had going in to Money in the Bank were (1) have CM Punk beat the unbeatable John Cena, and have him leave with the "coveted" WWE Championship or (2) have John Cena win and endure the almighty backlash of not just Chicago, but the entire IWC, with Punk back in the midcard by now.
Vince, in a moment of madness, realised that putting a man over in his hometown may be the best thing to do for the storyline, but also to do for the live crowd.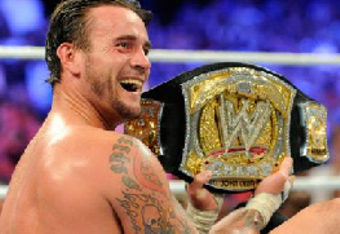 This is what is going to happen at WrestleMania 28, The Rock vs. John Cena in Miami, The Rock's hometown. No one is particularly the winner coming out of this one. John Cena beats The Rock in his hometown, to the biggest heat we're likely to ever see, or The Rock wins and makes the entire locker room look bad for years to come.
This, again, is a bigger problem of not putting over the young talent, which they have in abundance. It may just be because of a poor creative team currently.
Vince will get a horrible reality check once John Cena realises sports entertainment is no longer for him. Once he is gone, there are Randy Orton, Big Show, Kane, CM Punk and, when he's not injured, Rey Mysterio who have been not only around for longer than five years, but have been main-eventing for most of their time in the company.
Vince needs to learn that he needs to keep making main-eventers. Now, I understand talent have to "pay their dues," but, with the unnecessary burying of talent in their hometowns and frankly idiotic stop-start pushes, burials and even-steven booking, it's a miracle anyone gets over these days. 
The WWE just needs to stick with storylines or talent regardless of ratings. Ratings will not be the same as they were in 2001, say. And the fact the viewers turned off in their droves at the firing of Jim Ross angle proves they're doing things wrong to that end.
Also, I think creative just need to be more lenient with talent. Let the talent try to get over on their own, or at least let them be more open to suggestions if creative has nothing for them.
Those who don't learn from history are doomed to repeat it, which is true. But if the history the victors wrote goes ignored, they run the risk of forgetting why they won in the first place.
Read it!
Rate it!
Comment on it!
These are the Laws according to Mike.
Laters on.