Yankees Lineup Projections, Part 6 of 9: Swisher's Playing for a New Contract
February 7, 2012

Patrick McDermott/Getty Images
Yankees right fielder Nick Swisher is probably one of the happiest guys in the major leagues, and solely for the reason that he gets to play baseball for a living. Swisher's temperament about the game embodies how most believe every major leaguer should feel. Swisher genuinely respects the game and appreciates all that it has done for him.
This is one of the very many reasons Yankees fans have grown so fond of Swisher since his first season in pinstripes back in 2009.
Swisher was never even supposed to be the starting right fielder when he was acquired from the White Sox for the versatile Wilson Betemit. Initially, he was supposed to be the full-time first basemen (this was before the Yankees swooped in and signed Mark Teixeira).
Then, after the team signed Teixeira, Swisher became a super-utility player. The team was confident in the abilities of Xavier Nady in right field, and rightfully so.
After playing the first half of 2008 with the Pirates, the Yankees acquired Nady and Damaso Marte for a package centered around then-top prospect Jose Tabata. He performed well in 59 games for the Yankees, posting a .268/.320/.474 line with 12 home runs and 40 RBI.
In total on the season, he hit 25 home runs, drove in 97 runs and hit .305/.357/.510.
On April 14 of that season, Nady injured his elbow, ultimately leading to a second Tommy John surgery. This opened the door for Swisher, and boy did he capitalize.
Swisher hit .312/.430/.714 with seven home runs and 19 RBI in 22 games during April. He was one of the most feared hitters in the lineup that month and solidified his place in the lineup for the remainder of the season.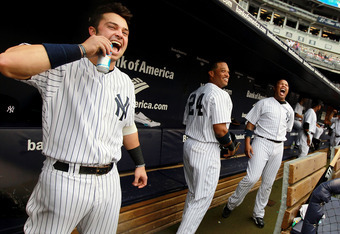 Nick Laham/Getty Images
Then, the postseason came.
Despite a World Series victory for the team, Swisher did not hit well in the series. He hit .128/.255/.234 with one home run, two RBI and 15 strikeouts.
So has been the story of Swisher's Yankee career. He performs admirably in the regular season and then goes on to perform horribly in the postseason.
His postseason totals throughout his career include a .169/.295/.323 line with four home runs, six RBI and 36 strikeouts.
Even though he's a fan favorite, Yankees fans are beginning to grow impatient with Swisher's lack of production when it matters most.
In 2012 he will be playing for a new contract—a contract he hopes to sign with the Yankees.
No doubt Swisher will be working hard to improve this offseason, but postseason hitting is not something that can be taught. Players either have the ability to hit in October or they don't.
For Swisher's sake, I hope he produces. Even with a weak regular season, a strong postseason will most likely earn Swisher a multi-year deal with the team he absolutely loves playing for.
If Swisher hits multiple home runs and lowers his strikeout rate in the playoffs, expect him to be manning right field for the Yankees in 2013 and beyond, a position that he—and the fans—will be happy to see him in.