Michigan Recruiting: The Importance of Retaining Scholarship Student-Athletes
February 28, 2012

Matthew Stockman/Getty Images
What has been the main difference between the Rich Rodriguez era and the Brady Hoke era? The so-called instant recruiting success that Hoke has had in his first two years.
Hoke has returned Michigan recruiting back to its roots by taking top talent from the Midwest to rebuild a roster that is depleted with players Hoke likes to have: big, tall, strong linemen, pro-style offensive skill players, and strong, ball hawking defensive players.
So will Hoke, the unassuming D-line coach turned head coach, be able to get the player type he wants at the talent level the Michigan faithful expect? So far, it seems to be working quite well for him with a top 10 class for 2012 and a hot start to 2013 with 13 verbal commits, ranking first in a few early team rankings.
So the questions must be asked—how strong is the Michigan brand and why did this 'talentless' team win 11 games in 2011?
First, let me say Michigan football and Michigan academics make the University of Michigan a household name and a brand to the country. .
Athletic Director David Brandon always refers to the brand as strong. Football coach Brady Hoke lives by the Michigan brand. Michigan fans reaffirm those beliefs as one of the largest bases in America.
People came to the assumption that Rich Rodriguez didn't quite understand the Michigan brand, and his three years that may have reflected that. Granted, he was changing a culture, but the 'great divide' halted any progress he was hoping to make.
Bill Martin, former Michigan athletic director, made the fatal choice in hiring Rodriguez away from West Virginia late 2007. It was Michigan being Michigan: arrogant on all fronts. The past stymieing the future to protect personal egos. The future belief that the spread-offense would win in the Big Ten, without knowledge of how Big Ten football is played—in the trenches. The marriage never got off the ground.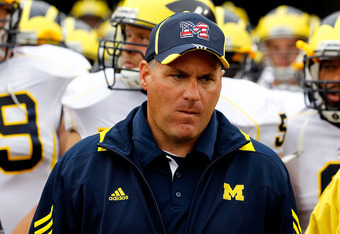 Jonathan Daniel/Getty Images
Being an outsider, Rodriguez faced an uphill battle. The ranking gurus graded his recruiting hauls as pretty good. His first two recruiting classes ranked in the top ten. He got the talent Michigan fans thought he would get. In one class he had 17 four star recruits. So what happened? Why didn't it translate on the field?
He simply didn't build his defense. That's the bottom line and probably a main reason he got fired. He wasn't going to win in the Big Ten without a defense. People started taking note. Some positive, thanks to Denard Robinson, and some negative, the porous defense ranking near dead last in Division I, an unthinkable scenario for the Michigan faithful used to tough defenses.
The image was beginning to change at Michigan. Local talent was going to Michigan State. Michigan high school coaches supposedly were not visited as often by the Michigan coaching staff. The brand was losing layers and the others were taking advantage of it.
The 2010 recruiting class was ranked 20th, full of three star talent. The blue hairs were not happy. Two poor seasons, with 'expected' talent being high, started to deepen the divide. Kids don't want to play for losing teams, even if the coaches are selling them the biggest stage in college football. Michigan was his best selling point, and all he sold was his spread offense.
The Wolverines had enough.
Brandon decided to make a bold move by picking Hoke to lead Michigan and reaffirm the Michigan brand is as alive and well as he often proclaimed it was. He knew getting the right man for the Michigan brand was more important than getting the best coach.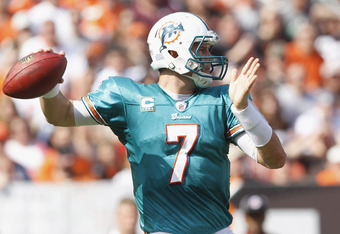 Matt Sullivan/Getty Images
An 11-2 record in his first year with a supposedly 'talentless' team affirmed they're on the right track and that Hoke was the perfect fit to return Michigan back to glory.
The brand is as strong as it's ever been given the recent amount of highly touted recruits signing their letters of intent and giving their verbal commitments to the University.
But is this story of poor talent as bad as people make it out to be?
I took a look at the recruiting classes since 2003. I wanted to know why people said/say that the talent level is so poor, given the top ten recruiting classes Rodriguez had brought into the program.
The only logical reason I could think of is poor coaching and poor talent evaluation. The latter may have been put to sleep since the 2011 team was filled with players Rodriguez and his staff evaluated, but those players didn't really perform until they were gone and Hoke was in place.  
Lets look at the 2008 class.
In 2008, according to Rivals.com, Michigan football had 24 recruits. Of those 24, five played as true freshmen (Martin, Odoms, Shaw, Fitzgerald, and Koger), nine left for various reasons, and 10 red-shirted. This class was ranked 10th in the nation. It was the first class post-Carr, and by 2011 they were able to maintain a fair amount of that talent.
The 2008 team had lost 19 players to graduation, 20 players to attrition, and were left with 79 scholarship players. 24 of them were freshmen, eight of which saw playing time. It seemed like a decent beginning.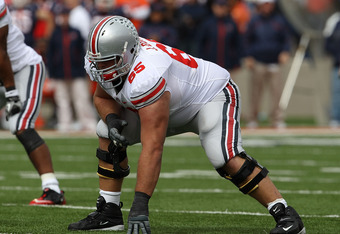 Jonathan Daniel/Getty Images
He lost too many upperclassmen though. Depth was going to be a major issue.
He didn't really make a push for defensive players on the trail; he was offense only. That was a mistake and it showed on the field. Five of the nine defensive players he recruited in the 2009 class left the program, and three played major roles on the 2011 team: Craig Roh, William Campbell, and Thomas Gordon. In the 2010 class, 14 recruits were defensive players and five played major roles on the 2011 team, with Jake Ryan and Courtney Avery, both three star recruits, contributing the most.
That's not a lot of defensive talent, with very few defensive backs on that list.
Walk-ons played a bigger role than normal at Michigan during the Rodriguez tenure, damaging the depth chart. A huge talent discrepancy was formed from first string to second, especially in the secondary. This miscalculation on the part of Rodriguez tarnished the Michigan brand, known for staunch defenses.
His inability to retain that talent and build team unity cost him. Yes, the team was united in theory, but from comments you hear after Rodriguez left, it showed he only cared about his offense. Doesn't make the defense feel that welcomed.
The faithful were beginning to splinter at an exponential rate.
Those that believed hoped for Florida speed with Midwest brawn on the commit lists to run his spread offense, with a speedy defense that would get to the ball. He would ultimately get his offense in place, but his defense never lived up to the Michigan standard.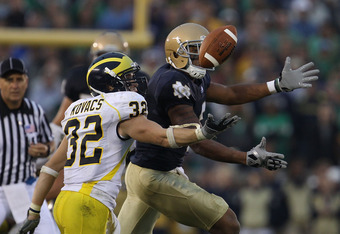 Jonathan Daniel/Getty Images
Those that didn't buy in were sick of his excuses, his defenses, and his inability to make in-game adjustments, which was just plain awful.
He had recruited top 20 talent, mixing three and four star recruits. He preferred 6-4 285lb offensive linemen. With Taylor Lewan and Michael Schofield as the exception, he recruited fast, small receivers/backs. His highest rated class according to Rivals.com was eigth in 2009.
That class was the backbone of the 2011 team. The seniors led, but it was that talent that took Michigan to the next level. They were finally responding to their coaches.
Michigan kept 16 of the 22 commitments that Rodriguez had signed in 2009 thanks to the smart transition by Hoke and his ability to keep the team together, something that Rodriguez could not do when he came to campus in 2008.
Hokes emphasis on being a team really resonated with the team. He gave seniors more responsibility. He built a family atmosphere, worrying wholeheartedly about the players, not just his star players.
He brought Michigan back to the times of Bo and Carr; handle your business responsibly and be accountable to your teammates and the results will come.
So what does all this have to do with Hoke and recruiting?
Well, I looked at what Carr did to build that 2006 team, the last team to win 11 games for Michigan.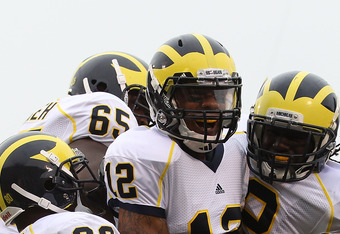 Jonathan Daniel/Getty Images
That team had superior talent all over the field. It was well coached on both sides of the ball. Players were living up to there expectations. Coaches were coaching them up.
From the 2003 recruiting class, Jake Long, Shawn Crable, Adam Kraus, Leon Hall, Garrett Rivas, LaMarr Woodley, Prescott Burgess, and Brandon Englemon were all important players on the 2006 team that almost made the national title game.
It was ranked 17th overall by Rivals.com, and most were four and five star prospects. It was a small class of 17, so that's why the rankings are lower than Michigan fans are used to. That class produced eight NFL players, plus the number one overall pick in the player draft, and one MLB pitcher, Clayton Richards. That's almost half the class!
We all know about the 2004 class, highlighted by Chad Henne, Jamar Adams, Mike Hart, Charles Stewart, Alan Branch, Morgan Trent, Tim Jamison, and Will Johnson. That class produced seven NFL caliber players.
Compare that with Rodriguez' classes; he was able to only coach up a few NFL prospects he recruited. It's not the biggest tell of poor coaching, but if you can't coach talent to become better, you're not going to succeed. It's a main reason they only won seven games in his third year, with the defense the worst it had ever been in the history of Michigan football.
In 2005, Michigan had the sixth best recruiting class in the nation according to Rivals.com. In 2006, the 13th best class. Carr's last class in 2007 was 12th in the country. Of that 2007 class, five players did not finish their careers at Michigan and only two made it to the NFL (Donovan Warren and Ryan Mallet).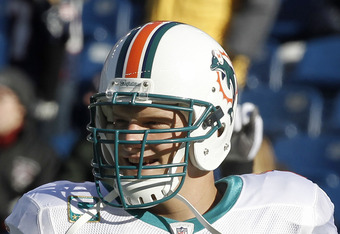 Winslow Townson/Getty Images
The 2007 team, known for it's loss to Appalachian State and remembered for beating Tim Tebow's Florida Gators in the bowl game, had 115 players on it with 83 on scholarship. The class of 2004 were able to retain 16 of the 22 commitments over the four years. That 2004 recruiting class was ranked fifth in the nation according to Rivals.com and went 36-14 over four years. They went to the Rose Bowl twice, won a Big Ten title, and went 1-3 in it's bowl games. It was the last elite team Michigan had, the 2006 team being the best of the four.
The class rankings were similar in average, with Carr being able to turn that talent into champions and stars. They built teams in the trenches, while Rodriguez built them with offensive skill players. They were able to coach up the talent they had, but Rodriguez didn't. That last class he built consisted of 20 three star recruits and four four-star recruits.
Recruiting is a gamble. You win some, you lose some. 
Rodriguez obviously could locate talent. He found Denard Robinson for god sakes. But his inability to play as a team and coach his team up was astonishing.
The 2011 team was evidence to that statement. Hoke was able to take what he was given and turn it into a top 10 defense. A year prior, it was lower than 100. The 2009 class was a huge reason why. They chose to stay as a team—a statement to Hoke's ability to instill accountability amongst teammates. 
He has turned that ability into a top ten recruiting class for 2012, featuring two five-stars and 10 four-stars. He is well on his way to crafting his vision of Michigan football.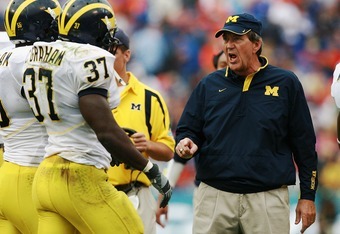 Doug Benc/Getty Images
He has returned to recruiting Michigan and Ohio, taking at least seven of the top 10 players in Michigan for the 2012 class. He found players that fit his schemes by turning to taller, bigger offensive linemen, for example.
Hoke already has 13 commitments for 2013, five offensive linemen, all of whom are 6'5 or taller, weighing between 285 and 300. That is music to Michigan fans' ears!
Many outsiders say 13 commits this early is a weird, if not a dangerous approach. They say this because those coveted senior year tapes are more indicative to the type of talent they will become. That's hogwash to this guy; he seeks them, he locates them, and he usually signs them.
Alabama has 9 commits for 2013, and they're seen as geniuses. They won two titles in three years. Always recruiting, always offering, always over-signing.
Hoke knows what he wants. It doesn't matter if its 12 months away from signing day—he is getting the players he think can play in his scheme. He is getting to that 2003, 2004 talent level again by bringing in people who know what to expect at Michigan.
His work with the seniors and juniors this year was phenomenal. Recruits saw the difference between a well coached team and a well coached offense. They saw what a great coaching staff can do for players as they prepare for the next level. They met Greg Mattison for god sakes!!
These two classes are going to be the backbone of the 2014 and 2015 teams. He is creating an environment that Carr had built over time with the success he had with turning recruits into Michigan Men.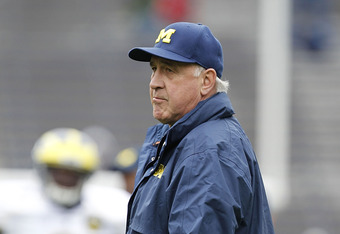 Leon Halip/Getty Images
Kids like Ondre Pipkins, Chris Wormley, Kyle Kalis, Jarrod Wilson, Terry Richardson, Royce Jenkins-Stone, Tom Strobel, James Ross, and the rest of the 2012 class understand what it takes to play at Michigan. It's not about the individual, it's about the team. 
This is that 2003 class for Hoke.
That's why these two classes are so important to Hoke. He can't miss on a ton of recruits; he needs to be as good an evaluator of talent as Carr and his staff were. This is the new foundation of Michigan football. Team 132 started it, and now it's up to the next teams to continue building onto it. 
He is selling them the University of Michigan, which he says is easy for god sakes. The recruiting classes he has put together affirm that statement, as they all find Michigan feels like home. That's a good sign they'll be there for four years to build championships and memories. If not four, hopefully two and on to the NFL as Michigan Men. You know what I'm getting at.
It's an exciting time for Michigan Wolverine fans. The future is bright. The brand is on solid ground.
Lets see if Hoke and Co. are building it the right way.
As they say, "If you build it, they will come."
So far, his building is on firm foundation.
Follow me on twitter: @My5iveCents