Florida State Basketball: Assessing the Seminoles' Chances of Winning the ACC
February 6, 2012

It's taken well over a decade under his leadership, but Leonard Hamilton has finally ushered Florida State basketball into a new era.  Football no longer reigns supreme in the Sunshine State's capitol.  
I realize the significance and gravity of that statement based on the resume and reputation Bobby Bowden built for Noles nation on the gridiron during an unprecedented run of 14 straight Top 5 finishes and two national title runs between 1987 and 2000.  
But let's look at facts.  With their first trip to the Sweet 16 since 1993 last season, the Noles of the hardwood have now advanced to the Big Dance three straight years, and have finished in the top four of the elite ACC in all three of those seasons.  
The Noles have racked up 25, 22 and 23 wins, a 70-31 overall mark with 12, 10 and 11 wins in ACC play during that span.  Only Duke and UNC have been better in the ACC.
In case you were too busy basking in the glow of yet another FSU top 5 football recruiting class, Hamilton's Noles are at it again.  
The Seminoles enter this week on top of the Atlantic Coast Conference standings and are ranked No. 15 in the most recent AP poll.  
Granted they currently share the lead with UNC, however, the Noles hold the tiebreaker over the Tar Heels thanks to that hellacious beatdown FSU put on Roy's boys in Tally a few weeks back.
This is the latest an FSU team has been perched atop the ACC since the early '90s.
The Noles have never won the ACC since joining the conference in 1991. Their best finish was No. 2 during the Sam Cassell, Bob Sura, Charlie Ward and Doug Edwards years.  
Grant Halverson/Getty Images
But Michael Snaer, Bernard James, Xavier Gibson, Okaro White and the rest of Noles nation have a legitimate shot at winning the prestigious conference's regular season crown.
FSU claimed their third consecutive victory over a ranked opponent and school-record seventh straight ACC win when they held on to beat No. 16 Virginia in front of a soldout Tallahassee crowd Saturday, 58-55.
That win came on the heels of a blowout vs. UNC with ESPN's Gameday on hand, and a last-second win at Duke that shut the Cameron Crazies up in a hurry.
Yes, things are looking up for Leonard's lads.  
Despite losing their two best players from last season—Chris Singleton (to the NBA Draft) and Derwin Kitchen (to graduation)—FSU continues to showcase lockdown defense, force turnovers by the truckload, and find just enough offense to get by.
Coming into this week, the Noles rank No. 5 nationally in field goal percentage defense (37.4), ninth in blocked shots with 134 (6.1 pg) and 16th in steals (8.9).  They also lead the ACC in steals and field goal percentage, and rank second in field goal percentage defense, scoring defense and scoring margin.
The season began inauspiciously, as the team couldn't seem to land a signature win; falling to Harvard and defending champs UConn in the Battle 4 Atlantis in the Bahamas, Michigan State in the Big Ten-ACC Challenge and Florida in their annual rivalry.  
By the time they'd dropped a triple OT decision at home to Princeton and an embarrassing ACC road opener at Clemson, this looked like a forgettable year.
But now with exactly half their ACC schedule left, the Noles are 16-6 and 7-1 in ACC play. 
This week the Noles are at Boston College Wednesday and play host to the hated Canes on Saturday.  Their last six games, they're at home vs. Virginia Tech, Duke and Clemson and on the road against Virginia, NC State and Miami. They won't see UNC again during the regular season.
The Noles should continue to see success during the final push to the postseason in the stretch of a fairly mediocre group of ACC teams.  Duke is Duke, Virginia will be very tough in Charlottesville and Miami proved they're no pushover on Sunday with their win in Cameron. But VT, Clemson and NC State should be very winnable.
The Noles have proven their brand of basketball is capable of beating anyone on any given day. 
FSU depends on creating turnovers with active hands on the perimeter and brute strength in the paint. 
Due to their depth, they're able to cycle in about 10 players on average a game, keeping the tempo and physicality high. 
Michael Snaer is their only real offensive perimeter playmaker and they'll be dependent on him to create shots and driving lanes for himself and open jumpers for Deividas Dulkys and White.
Snaer broke out in a huge way against Duke with his dagger jumper at the buzzer and is averaging a team-high 13.8 points per game.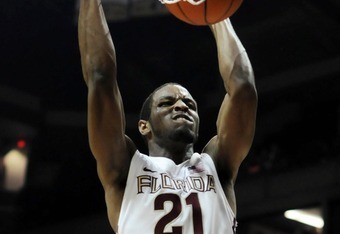 Dulkys is an enigmatic shooter, but when he's on, he can take out a team single-handedly.  Ask Roy Williams, after the senior knocked down 8-of-10 from trifecta land en route to 32 points in the 33-point annihilation of the Tar Heels.  
The Sgt. Bernard James has to be able to stay out of foul trouble to keep the paint on lockdown.  His 10.2 points, 8.6 boards, 2.1 blocks and leadership are invaluable to this unit.
But James has got plenty of help from Xavier Gibson, Terrance Shannon, Jon Kreft and to some extent Okaro White to keep the opposing team's bigs under wraps.
White could be the real X-factor in the Noles taking the ACC title. He's averaging over eight points and nearly five boards a game.  But his length on defense gives teams problems and he's shooting an even 50 percent for the season. He's scored in double digits in five of the last six games, and his 13 points vs. UVA helped keep the Cavs at bay during a huge second-half surge.
If FSU can somehow cut down on the countless, careless turnovers from Snaer, Dulkys and Luke Louks, this team could be seriously dangerous come March.  
UNC still has to play Duke and Virginia twice, including once each this week. We'll have a much better idea of the Noles' chances after those tests.
But one thing's for sure, no one wants to play these Seminoles right now.  
The Tucker Center will never have the majesty of Doak Campbell Stadium, but the fear of the Seminoles' swagger now extends to the hardwood.